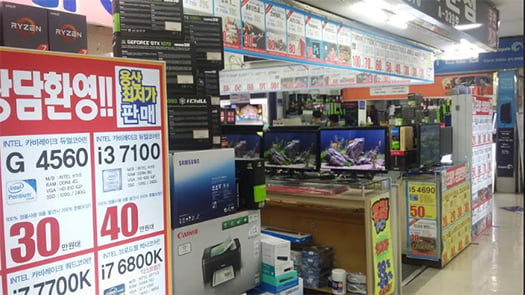 Article Posted on Coindesk: Aug 7, 2017, at 10:00 UTC by Wolfie Zhao
An electronics retail marketplace in South Korea has reportedly taken the unusual step of banning vendors from mining Bitcoin in their stores.
Yongsan Market, based in Seoul, has told merchants that they aren't allowed to mine cryptocurrencies – Bitcoin and ether, specifically — because of electrical costs, rising temperatures and the risk of fire, according to Korea Economic Daily.
According to the report, the Yongsan Market's management has also warned merchants that the subsequent jump in electricity costs will be added to their bills.
The unusual decision is notable given the size of the market (the site boasts thousands of retail storefronts) and is a reflection of the growing popularity of small-scale cryptocurrency mining, of ether especially. As such, it's perhaps unsurprising that some vendors — particularly those that sell the graphics cards needed to mine cryptocurrencies — are using their own products to reap additional income.
Still, the incident comes at a time when the country is starting to demonstrate an increasing interest in cryptocurrencies.
According to Coin Market Cap data, the Korean cryptocurrency exchange Bithumb is now ranked first in terms of trading volume across global platforms, amassing a total of over $342 million in the last 24 hours.
—————————-
A low-cost mining opportunity is available at in the USA. Check out the Firstmover Product Offer at http://bitqyck.me/389978
Alan Zibluk Markethive Founding Member