Top Cryptocurrencies Price Weekly Prediction — Next Days Will Be Rough For The Crypto Market
Not much has changed for most cryptocurrencies over the past few hours. Bitcoin is, together with Monero, the only currency in the top 10 noting a small loss, whereas most other coins have stabilized or regained some losses. Considering how the weekend is often a dreadful period for cryptocurrency trading this overall trend is rather positive. The total cryptocurrency market cap is heading toward US$90bn as well, which is a positive sign for the future.
CRYPTOCURRENCIES PREPARE FOR A STRONG WEEK
It seems evident most of the top 10 cryptocurrencies are in a good position for some notable gains over the next seven days. Even though we will see one Bitcoin hard fork materialize on August 1st, it is doubtful this will harm the price in a negative manner. Do not be mistaken in thinking Bitcoin Cash tokens come free of charge, though, as they may effectively subtract value from the actual Bitcoin price until the market stabilize.
That being said, we do see the Bitcoin price has dipped a whopping 0.19% over the past 24 hours. That in itself means very little as far as the world's leading cryptocurrency is concerned. In fact, as long as Bitcoin doesn't move by 5% or more over the course of 24 hours, there is absolutely nothing to be concerned about. A minuscule change such as this one means absolutely nothing.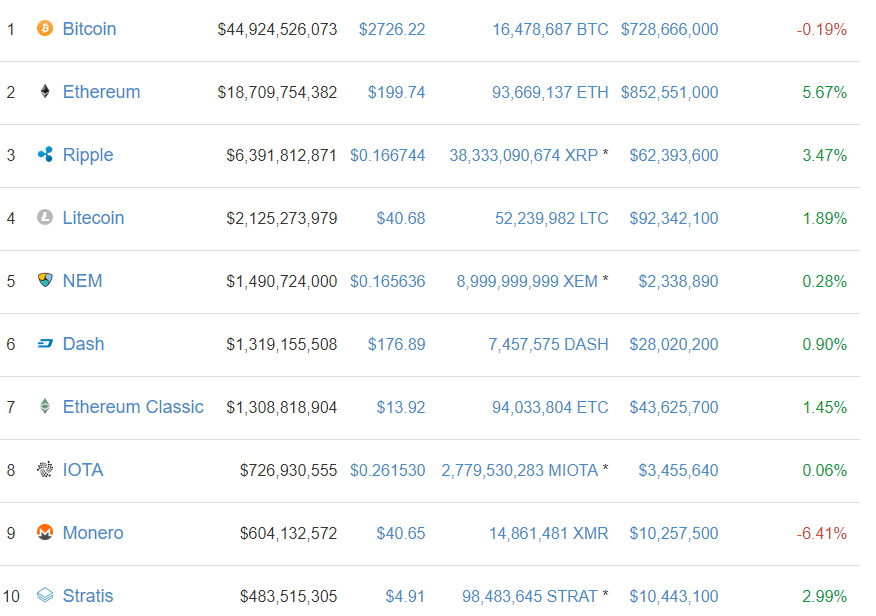 Despite the Bitcoin price "dip", most altcoins are doing quite well. Ethereum is finally showing some life signs after weeks of declines. The 5.67% gain in the past 24 hours is quite substantial, as the price seems to be heading toward US$200 once again. It is still a far cry from US$400, though, and the currency is not out of the woods just yet. Future declines in value may still be a big part of Ethereum as there is still some funds in circulation which may be dumped across exchanges in the near future.
Other top currencies are showing small gains as well. Litecoin is up by 189%, whereas NEM, Dash, and IOTA all report gains below 1%. The big winners are XRP — up by 3.47% — as well as Stratis — up by 2.99% — and Ethereum Classic, which increased by 1.45%. The bigger question is when people will realize Ethereum Classic is the true, immutable Ethereum chain without SEC scrutiny, highly controversial ICOs, and a blockchain which can be rolled back when founders' money is stake. Only time will tell if the ETH/ETC correlation will ever see proper momentum, as for now, all the hype and focus is still in Ethereum's camp.
What is rather surprising is how Monero is the only top 10 currencies to note any losses, other than Bitcoin Monero lost6.41% of its value overnight, which is quite substantial. There is no real reason for this sudden downturn other than people speculating on the other currencies and trying to make a profit. Monero is still a very powerful cryptocurrency with honest developers who aim to provide anonymity to all users. Then again, a price of US$40.65 per XMR is still more than fair, all things considered.
Looking at the individual cryptocurrency market caps, it is pretty obvious Bitcoin remains the undisputed leader for some time to come. This also results in the Bitcoin Dominance Index going back above 50%, as it currently sits at 50.5%. Not too long ago, that percentage was heading toward 40% and lower, but it seems the market has finally come to its senses once again. There is no other currency capable of rivaling Bitcoin right now, that much is evident.
David Ogden
Entrepreneur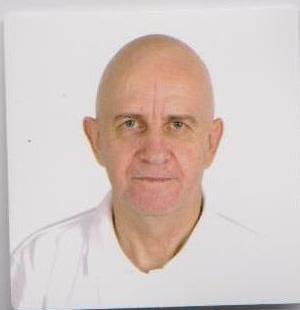 Author: Oliver Wood
Alan Zibluk Markethive Founding Member