Crypto Watch -Price Drops for Bitcoin, Ethereum, Ripple, Bitcoin Cash and Litecoin

Following a rough and tumble week where most major cryptocurrencies and altcoins were trapped in the red, brief signs of recovery on Monday have reversed as Bitcoin, Ethereum, and Ripple continue to drop in price. Recent activity on the United States' east coast also shows that hype surrounding digital currency and blockchain technology hasn't died down, despite price dips and market volatility.
Bitcoin (BTC)
The father of cryptocurrencies is swiftly rising through the ranks and sits at $8,200 at press time. In just the last four days, the currency has spiked tremendously following a huge Thursday drop to $8,250 — the lowest it's been since early April — from last weekend's trading high of $9,800.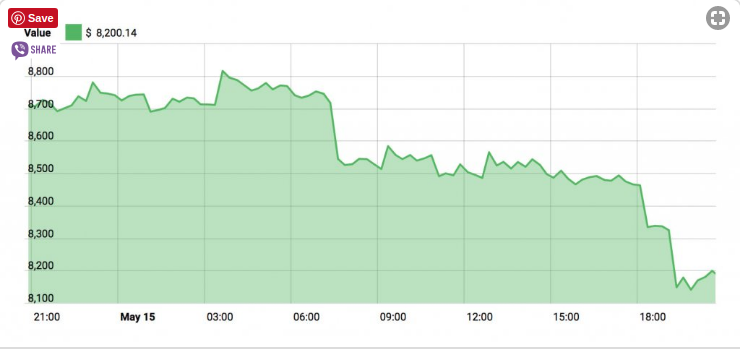 Bitcoin is down 5.77% over the past 24 hours.
One of the reasons for Monday's spike may be the Coindesk Consensus Conference, which is a three-day event that began in New York on the morning of Monday, May 14. The event's organizers expect to see over 8,500 visitors and are selling tickets for over $2,000 each. Overall, organizers are expecting revenue of roughly $17 million this year from ticket sales alone.

"It's a bit chaotic here," said Ronnie Moas, Conference attendee and head of the independent market research firm Standpoint Research. "I think they sold too many tickets."
Reports have emerged that the line for entry saw attendees occupying both the lobby and second floor of the hotel where the Conference was taking place.
"I've never seen anything like this for registration," says Jeff Denton, senior director of global secure supply chain at AmerisourceBergen in Philadelphia. Denton says he waited for over an hour to gain entry to the event. "It's expensive, but it's the largest conference in the U.S., so hopefully that brings the value for the cost."
Ethereum (ETH)
Since our last price piece, ETH has experienced a price dip and is now trading for $686.90 — about the same from where it previously stood.
Ethereum is down 5.77% over the past 24 hours.
The Ethereum Ethereal Summit took place on May 11 and 12 as part of the state's ongoing "Blockchain Week." The two-day event saw several speakers, business owners and blockchain experts joining together to offer attendees information regarding the powers behind the blockchain and how it can assist in the decentralization of modern society.

The high attendance marks for both the Consensus and Ethereum events suggest that investor interest in cryptocurrency remains high despite ongoing volatility.

Ripple (XRP)
At press time, XRP is trading for 67 cents. This is about two cents lower than where the currency sat during our last price discussion.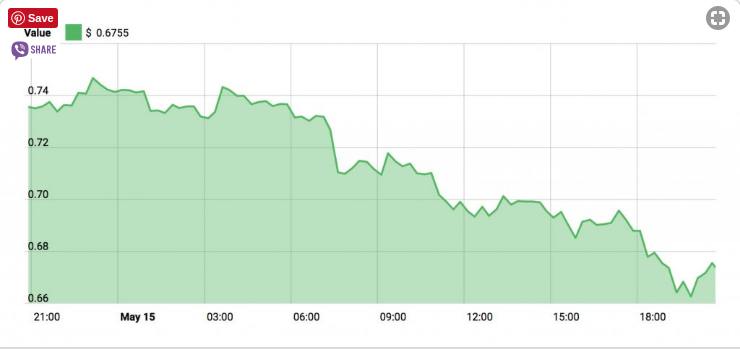 Ripple is down 8.46% over the past 24 hours.
For the most part, big things appear to be happening for Ripple. The company recently announced its new "Xpring" initiative, in which executives are targeting entrepreneurs and startup ventures to build partnerships and expand the XRP ecosystem.

According to TechCrunch, the project will be a mixture of "investments, grants and incubation to lure companies and expand the use of XRP whilst allowing Ripple to focus on its financial services business."

Bitcoin Cash (BCH)
Bitcoin Cash has witnessed a solid drop in its price since our last article. Previously trading at just over $1,400, the currency is now trading for about $1,253.86.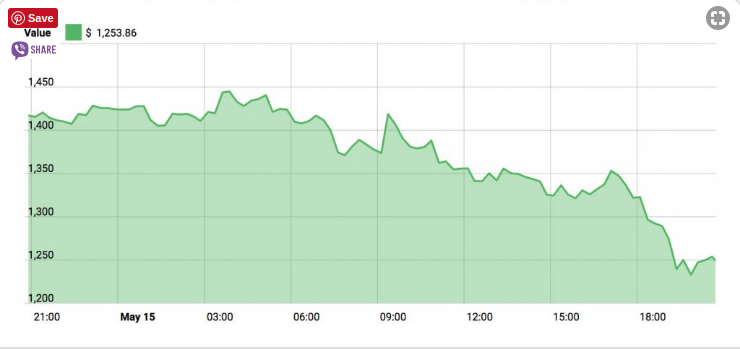 Bitcoin Cash is down 11.78% over the past 24 hours.
On Monday, the Winklevoss Twins announced they were adding Bitcoin Cash to their New York-based cryptocurrency platform Gemini Exchange.
While trading details (i.e. when the currency will be officially added) have not yet been released, the company has also stated that it will enable Zcash deposits beginning on May 19, making Gemini the first official Zcash trading platform in the U.S.

Litecoin (LTC)
Litecoin is trading for about $136. This marks a four-dollar decrease since our previous price piece.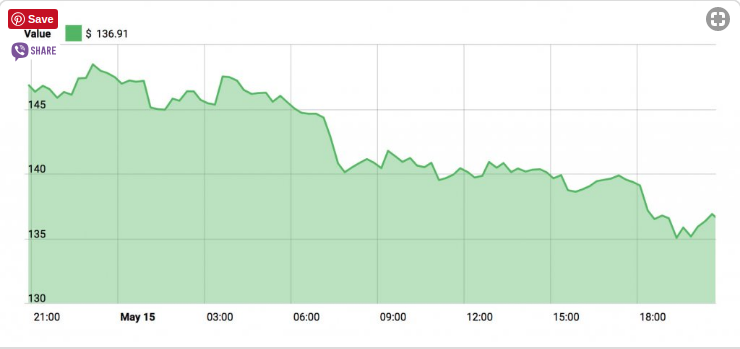 Litecoin is down 6.51% over the past 24 hours
Litecoin will be joining Bitcoin Cash on the Gemini Exchange, and while details are scarce for now, the news may have instigated the currency's
temporary rise beyond the $145 mark. CryptoSlate will bring you more on this story as it develops.
Market Summary
The total cryptocurrency market cap sits at $374 billion, roughly $12 billion lower than where it stood during our previous article.

While the market is showing signs of recovery, investors are warned that the volatility of the industry remains serious and that cryptocurrency figures are never "set in stone." Thus, they should always remain cautious during trades, and only invest what they can afford to part with.

Author Nick Marinoff
Posted by David Ogden Entrepreneur
Alan Zibluk Markethive Founding Member