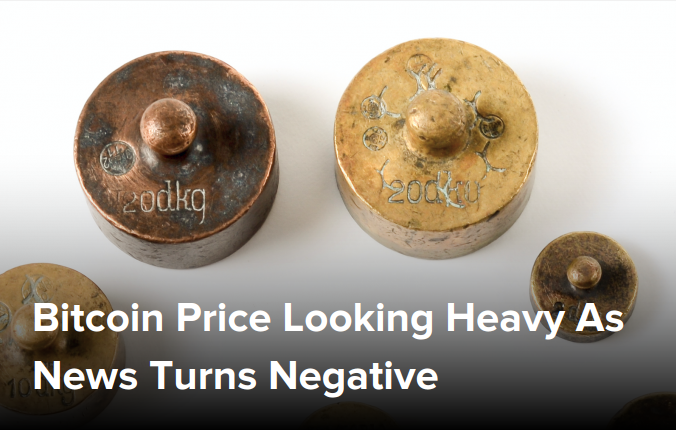 Bitcoin Price Looking Heavy As News Turns Negative
Bitcoin's possible upside appears capped by a recent run of negative news.
Following a hack against the exchange Coincheck last week, CoinDesk's Bitcoin Price Index (BPI) turned lower from $11,942 (Sunday high), ultimately hitting a low of $11,110 at 09:59 UTC Monday. Still, what may be more notable is not the recent price (which continues its sideways 2018 trajectory), but the changing narrative for potential buyers.

Though the Coincheck news did not impact bitcoin directly (no bitcoin was stolen), it does appear to have marked a change in a mainstream news narrative that has breathlessly provided tailwinds for the market since late last year.
For example, the 6.9 percent drop from the high of $11,492 may be due to concerns regarding the solvency of a startup called Tether, which provides a proxy cryptocurrency used by exchanges in lieu of the U.S. dollar.

While bloggers have long accused Tether of creating the asset out of thin air, news reports are now speculating doomsday scenarios following a CoinDesk report that suggests the startup has broken ties with an auditor acquired to calm market fears.
In the press, experts have been quoted as saying that bitcoin (BTC) price could crash 80 percent if it turns out Tether is fraudulent. And though that scenario doesn't appear likely, coupled with chart analysis, it does perhaps increase the odds of a break below $10,000.
As of writing, BTC is trading at $11,064 on Coinbase's GDAX exchange. The cryptocurrency has depreciated by 1 percent in the last 24 hours, says data source OnChinaFX.

Bitcoin 4-hour chart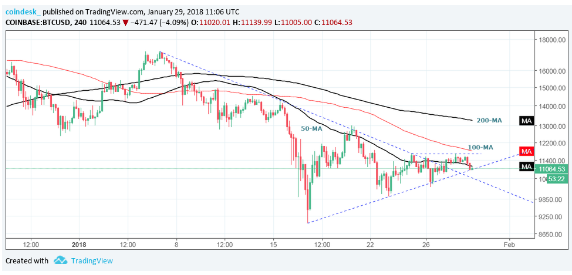 The above chart (prices as per Coinbase) shows-

Failed bullish breakout — BTC's failure to cut through resistance at $11,690, despite the upside break of the symmetrical triangle on Friday could end up strengthening the bears.
Currently, prices are threatening to drop below the rising trendline support.
50-MA, 100-MA and 200-MA are sloping downwards in favor the bears.
View
A break below the rising trendline would open doors for $10,000 and possibly extend the drop to $9,000.
As discussed in the previous update, dips below the $10,000 mark are to be viewed with caution.
On the higher side, only a move above $11,690 could yield a sustained rally to $13,000.

Author Omkar Godbole Jan 29, 2018 at 11:45 UTC
Posted by David Ogden Entrepreneur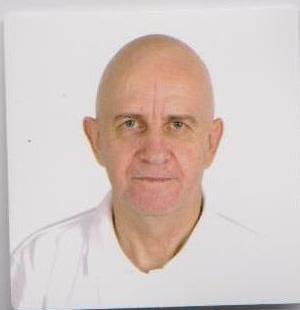 Alan Zibluk Markethive Founding Member