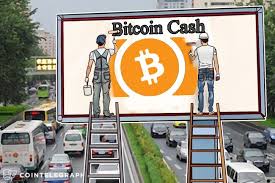 In Less Than 2 Days, Bitcoin Cash Becomes Third Biggest Cryptocurrency

Barely 48 hours since its spin-off from the Bitcoin blockchain, Bitcoin Cash has already surged past other cryptocurrencies to become the third-biggest in terms of market capitalization. How the currency will fare over time is still up for debate, as it still lacks support from several mining pools and major exchanges.

UNEXPECTED BOOM
Less than two days after splitting from the main Bitcoin network, Bitcoin Cash [BCC] now ranks third amongst the world's most valuable cryptocoins. The budding cryptocurrency has reached a market cap of more $7.7 billion as of this writing, overtaking Ripple's $6.7 billion market cap.
With a market cap of a little more than $44 billion, the original Bitcoin currency is leading the market, while Ethereum comes in second at $20.9 billion. In terms of value per coin, Bitcoin Cash is even ahead of Ethereum's current valuation of $223.54, with a per unit value of $470.27.

The surge in Bitcoin Cash comes despite a lack of support from several mining pools and major exchanges like Coinbase and BitMEX. Some Coinbase users are even threatening to sue the exchange for not recognizing the currency.
Blockchain Global's recently re-opened Australian Cryptocurrency Exchange, on the other hand, is confirming Bitcoin Cash trades and claims to have seen a huge demand for the currency. "We are receiving a lot of off-market orders for bitcoin cash — they're exploding!" venture partner Sebastian Quinn-Watson told Business Insider.

A VOLATILE CURRENCY

The creation of Bitcoin Cash was the result of an ongoing debate regarding how to scale Bitcoin blockchain transactions, and experts are currently divided on how the split will ultimately play out.
For now, this sudden increase in value is understandable. Bitcoin Cash carries all the history of the original Bitcoin platform up until the fork on August 1, which means anyone with Bitcoin now has an equal amount of Bitcoin Cash.
Eventually, Bitcoin Cash should be able to stabilize itself for market exchanges, but right now, speculation is causing a surge in initial interest. "People are selling their Bitcoin positions and buying Bitcoin Cash as a proposition that it is the 'new coin' that has more value in the future," explained Quinn-Watson. "It's a bit speculative."
No one knows for sure how long Bitcoin Cash can sustain this upshot. As with other digital currencies, Bitcoin Cash's value depends mainly on how much value investors assign to it and how easily it can be used for "real-world" transactions.
"There's no infrastructure available out of the box to support BCC," Fran Strajnar, co-founder and CEO of Brave New Coin, told CNBC. "The network needs further support and infrastructure needs to be as easy as Bitcoin; otherwise, it's over for BCC."
David Ogden
Entrepreneur
Author Dom Galeon
Alan Zibluk Markethive Founding Member