Crypto Week in Review — Bitcoin, Ethereum, Verge, Litecoin, Bitcoin Cash and Ripple Struggle
It has certainly been an up-and-down week for cryptocurrencies. Things started out relatively peaceful when allegations arose that the currency had somehow dominated its incoming "death cross," and that the slump users had been witnessing over the past several days may be coming to end. This seemed to hold true when Bitcoin rose from $6,900 to $7,100 — a $200 jump from where it had long stood.
All Barricades Defied?
the currency rose to just under $7,500 following the announcement that Coincheck — one of Japan's biggest cryptocurrency exchange platforms and the recent victim of a hack that saw over $500 million in NEM stolen last January — would likely be "rescued" by Tokyo-based exchange Monex Group.
The company issued a formal statement saying that it was in talks with Coincheck about a possible "takeover," and that a deal could be reached by the end of the week. This sent the price of bitcoin surging, as hope and enthusiasm once again found themselves fluttering through the cryptocurrency arena.
This positivity was short-lived, however, as a near $600 drop in the price occurred the following day, and bitcoin fell to about $6,800. Now, the coin has settled for $100 less and is trading at approximately $6,800, suggesting that the currency is holding its ground, but has undoubtedly been affected by recent trends.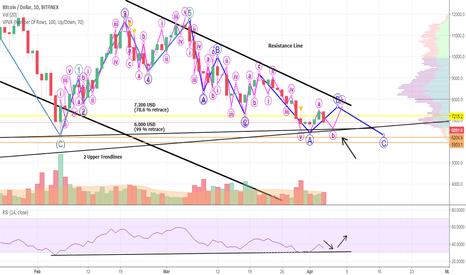 There appear to be several reasons for the latest drop, one being a hack that occurred on Verge's blockchain.
Verge is a privacy-oriented cryptocurrency, and it's alleged that hackers may have implemented several bugs in its system to walk off with anywhere between $15,000 and $1 million in company coins (sources differ greatly in how much the amount totals).
While the attack took place on an altcoin, the story raises several questions. Verge's blockchain requires a proof-of-work validation mechanism, much like Bitcoin and Ethereum, which makes users wonder if these latter blockchains are also vulnerable to similar bugs and malware.
Larger news stemming from India likely took a larger toll on the coin's position and current pricing. The country's of India's Reserve Bank has hinted that it plans to potentially ban Bitcoin trading on a whole while building its own digital currency. This has led to negative reactions among residents, who claim that a national virtual currency wouldn't necessarily be threatened by Bitcoin and other forms of crypto.
The move could be especially damaging considering India accounts for roughly 10 percent of the world's cryptocurrency trades. A full ban on Bitcoin by India may wind up affecting not only users but the country's financial stability in the global blockchain market.
Not Much Help from "Experts"
In addition, several other leading cryptocurrencies have also experienced serious drops in their prices. Ethereum is down to about $380, while Bitcoin Cash is hovering at just over $630. Ripple is hovering around $0.50. Litecoin is trading at a new low of approximately $116.
Thus far, we have experienced mixed reactions from analysts, some of whom claim Bitcoin could encounter a solid bull run by the year's end. Others feel that the coin's final days are near, and the bubble surrounding Bitcoin has officially been popped.
Author Nick Marinoff April 6, 2018
Posted by David Ogden Entrepreneur
Alan Zibluk Markethive Founding Member