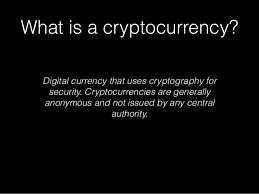 Are We Entering The Age of The Cryptocurrency
I have started taking an interest in Cryptocurrency and the fact that it offers a number of advantages over paper based currencies. Unlike paper currencies, which Governments can print at will, Cryptocurrency is restricted which means that the value of these coins increases.
Take Bitcoin, the best known coin, launched in 2008 with a value in 2009 1 BTC = 0.0001 USD and is now currently at $725. Over the years there have been quite large fluctuations :-
June 2010 1 BTC = 0.07 USD

June 2011 1 BTC = 15 USD

June 2012 1 BTC = 7 USD

June 2013 1 BTC = 100 USD

June 2014 1 BTC = 600 USD

June 2015 1 BTC = 220 USD

June 2015 1 BTC = 750 USD
It is interesting to note anyone who has held Bitcoin since the early days has seen a great increase in his asset.. I first came across Bitcoin when I moved to Cyprus in 2013. the Banks shut for days and then restricted both withdrawals and deposit and many people started to use Bitcoin because the banks stole peoples savings. The security with Cryptocurrency protects your holdings and to some extent provides anonymity.
Theft and fraud risks can be quite high when holding Cryptocurrency in online wallets or exchanges and it is recommended that is is best to use mobile wallets or even record you account details on paper. I still have to come to terms with using mobile data and until I learn how to use scan and use QR codes. Individuals cryptocurrencies are digital and cannot be counterfeited or reversed arbitrarily by the sender, as with credit card charge-backs.
One of my pet hates is transaction fees from bank and this is where cryptocurrency comes into its own There aren't usually transaction fees for cryptocurrency exchanges . Even though there's no bitcoin/cryptocurrency transaction fee, many expect that most users will engage a third-party service, such as Coinbase, creating and maintaining their bitcoin wallets. These services act like Paypal does for cash or credit card users, providing the online exchange system for bitcoin, and as such, they're likely to charge fees
Identity theft isa growing concern for example. If you give your credit card to a merchant, you give him or her access to your full credit line, even if the transaction is for a small amount. Credit cards operate on a "pull" basis, where the store initiates the payment and pulls the designated amount from your account. Cryptocurrency uses a "push" mechanism that allows the cryptocurrency holder to send exactly what you wants to the merchant or recipient with no other information.
Decentralization means the network operates on a user-to-user (or peer-to-peer) basis. The forms of mass collaboration this makes possible are just beginning to be investigated.
Since cryptocurrency is not bound by the exchange rates, interest rates, transactions charges or other charges of any country; therefore it can be used at an international level without experiencing any problems. This, in turn, saves lots of time as well as money on the part of any business which is otherwise spent in transferring money from one country to the other. Cryptocurrency operates at the universal level and hence makes transactions quite easy. There is no other electronic cash system in which your account isn't owned by someone else.
David Ogden
http://information.cryptocoin20.com
Alan Zibluk Markethive Founding Member