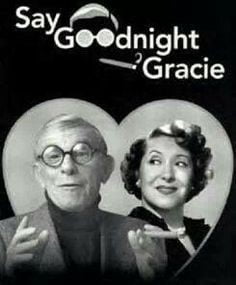 George Burns and Gracie Allen were a successful American comedy act for over forty years. Over the years, their talents extended from comedy to vaudeville to radio to film, and television. Part of Burns and Allen's charm was that they were a married couple in real life as well as in many of their acts. The pair met in 1922 and were married in 1926. Throughout nearly all of their entertainment ventures, Burns always played the "straight man," and Allen his foolish, silly wife.
The couple's first performance as a duo was at the Hill Street Theatre in Newark, New Jersey, and afterward, they brought their vaudeville act to other small town theaters. They continued their signature roles, which at the time were known as a "Dumb Dora" stereotype. While they were best known for Allen as the foolish wife and Burns as the straight man, originally, the roles were reversed. For whatever reason, audiences seemed to find Gracie to be more humorous, so they switched the roles and relied on them for the next several decades.
Burns' and Allen's careers truly took off when they began making movies. At the time, movie studios hired vaudeville actors to film short acts. As Burns and Allen had developed a reputation for being able to fill in for sick or absent performers, their big break came when they were able to fill in for Fred Allen's act in the 1929 film Lambchop. Subsequent movies featuring the twosome included The Big Broadcast (1932) and its two sequels, A Damsel in Distress (1937), and Honolulu (1939), among other films.
Their couple's longest-running act became their radio show. While they appeared for the first time on the radio on the BBC in 1929, they wouldn't begin their own show until 1934. Burns and Allen did experience minor setbacks, including a failed audition with NBC in 1930. Their luck turned in 1932 when they became regulars on The Guy Lombardo Show.
When Guy Lombardo switched networks, Burns and Allen were able to take his time slot with their own show, The Adventures of Gracie. In 1936, the show was renamed The Burns and Allen Show. For a time, the show took the name of its sponsor, which was common at the time. Thus, from 1945-1949, it was known as Maxwell House Coffee Time. Over the years, the program was broadcast on both NBC and CBS. The radio show was extremely popular, and was inducted into the National Radio Hall of Fame in 1994. Ultimately, it ran from 1934-1950.
On air, Burns and Allen once again became known for their gags and jokes, as was their specialty. One favorite running gag involved Gracie hunting for her lost brother, and she'd even end up on shows on other networks, looking for him. Gracie was known for other stunts such as running for president on a fully nonsensical "Surprise" platform, which resulted in her receiving actual write-in votes on election day.
After years on air, the end of the radio show brought the beginning of a popular television show called The George Burns and Gracie Allen Show which was also known as The Burns and Allen Show. The CBS television show was broadcast from 1950-1958. The half-hour show was a situation comedy and was extremely successful, receiving eleven Primetime nominations for Emmys. TV Guide ranked one episode of the show number 56 on its list of the 100 greatest episodes of all time (published in 1997).
The George Burns and Gracie Allen Show was initially filmed live, but eventually began being filmed in advance to increase efficiency. Over the eight years that it was broadcast, the show had four different producers and directors: Ralph Levy, Frederick de Cordova, and Rod Amateau. While the actors remained for the most part consistent, the husband of Bea Benaderet's Blanche Morton (who was also featured on the Burns and Allen radio show) was ultimately played by four different actors.
The show handled this inconsistency of actors in an upfront manner. When actor Fred Clark left the show, mid-episode, his replacement, Larry Keating, was brought on stage and introduced to Bea Benaderet as her new husband. After the two exchanged pleasantries and small talk in keeping with that of two people who have just met, Larry Keating resumed the role of her husband Harry throughout the rest of the episode, and nothing more was said on the matter. Such antics were in keeping with the show's humor and charm. Other characters on the show included Burns and Allen's real-life children, Ronnie and Sandra, who were adopted by the couple in 1935 and 1934.
As in their vaudeville act and radio show, Gracie played the zany wife to George's strait-laced demeanor, and the show thus featured a number of their signature running gags. For example, the couple's home features a closet full of hats, as guests were constantly rushing out their door and leaving their accessories behind in order to get away from Gracie's antics. The show was also unique in that George himself would watch the show take place, either from outside (in the live episodes) or on the TV in his study (in the later seasons). He would even break the fourth wall and address the viewer directly in order to comment on the show's happenings The sets for the show looked similar to Burns' & Allen's real-life residence on Maple Drive in Beverly Hills, California. Fans of the show can drive past and see that house today, as it still exists. Burns himself was a resident of the home until 1996, when he died at age 100.
After decades of success entertaining fans live, on the radio, in the movies, and on television, Burns and Allen retired from their television show in 1958. Gracie Allen embraced retirement and became a gardener and housewife and, as Burns is quoted as saying, "She deserved a rest."
George Burns was able to keep acting for one more year on his own program, The George Burns Show until he, too, retired in 1959. Though this last venture lasted only one year, Burns and Allen will be fondly remembered for over forty years of entertainment, an accomplishment of which few can boast.
Please visit our Facebook page Good Old Days for more memories.
Alan Zibluk Markethive Founding Member