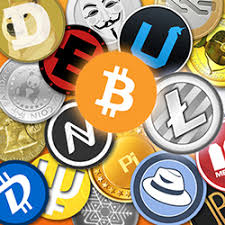 Bitcoin's Smaller Cousins Are Leading the Crypto Rally
Bitcoin's smaller cousins are outpacing the largest cryptocurrency's gains since major U.S. exchanges started offering futures.
The biggest gainers among digital assets with at least $1 billion of market capitalization in the past seven days are so-called alternative coins Verge, Tron, Qtum and Cardano, soaring at least 300 percent. Despite some wild price swings, bitcoin's price is mostly flat since Cboe Group Markets Inc. and CME Group Inc. made the derivatives available in the past two weeks.
"People were really excited about the futures coming in and bitcoin really rallied leading up to that," Joe Van Hecke, managing partner at Chicago-based Grace Hall Trading LLC, said in a telephone interview from Charlotte, North Carolina. "Bitcoin's been on a massive rally and the other coins are just now catching up as it takes a breather. Additionally some positive press around some of them added to the rally. "
Smaller Coins Have Bigger Gains
Bitcoin's smaller rivals are outpacing the largest cryptocurrency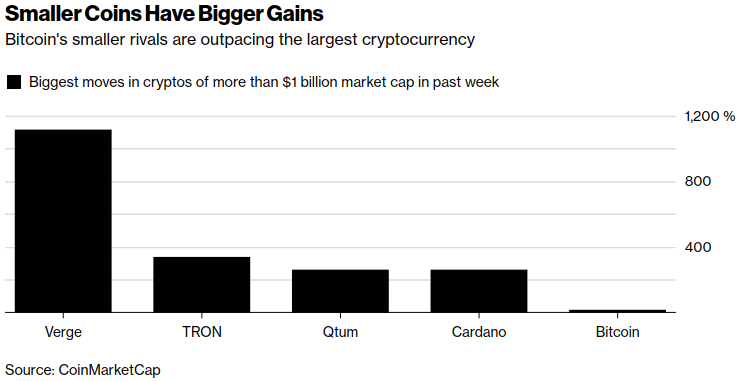 Here's a primer on these lesser known digital tokens. Most of them try to improve on the very things some see as positive in bitcoin; for those who don't like to broadcast their transactions on a public blockchain, some platforms are offering untraceable transfers. And if you're uneasy with the fact that bitcoin can't be easily regulated, there's a coin to fix that too. There's even a blockchain-less cryptocurrency that tries to eliminate fees.
Verge
Verge aims to provide individuals and businesses with fast, efficient and decentralized transactions, which was bitcoin's original purpose, but wants to improve on bitcoin by maintaining personal privacy, using anonymity-centric networks such as Tor, obfuscating IP addressees and making transactions "completely untraceable," according to its website. Verge, with a market cap of $1.07 billion, is up more than 1,000 percent in the past week.
Tron
Tron, operated by the Singapore-based Tron Foundation, wants to build a "worldwide free content entertainment system" based on the blockchain, according to its website. The protocol allows users to freely publish, store and own data, enabling them to decide how the content gets distributed and at what cost. Payments would be made in cryptocurrencies including tron's coin. Tron, with a market cap of $3.1 billion, is up 340 percent in the past week.
Qtum
Qtum wants to be the public ledger for business. The open-source blockchain project wants to combine the reliability of bitcoin's blockchain with the flexibility of smart contracts of the ethereum network, according to its website. That combination will allow it to provide stability for business applications. Qtum Foundation, which develops the project, is based in Singapore. Qtum has a market cap of $5.1 billion and is up 262 percent in the past week.
Cardano
Cardano, backed by the Zug, Switzerland-based Cardano Foundation, is a decentralized public blockchain that aims to protect user privacy, while also allowing for regulation. Cardano is a multi-layer protocol; the settlement layer will have a unit of account, while the control layer will run smart contracts and will be programmed to recognize identity, assisting compliance, according to its website. The system is designed to be upgraded so that it can evolve quickly. Cardano has a market cap of $14 billion, and is up 348 percent in the past week.
Other cryptocurrencies making waves because of their longer-term price moves and new developments:
Monero
Monero is a decentralized cryptocurrency that focuses on privacy, hiding the origins, amounts, and destinations of all transactions. Monero on Dec. 5 announced that more than 35 artists, including Mariah Carey, Lana del Rey and Marilyn Manson, will start accepting the cryptocurrency on their online stores. Monero's price has more than quadrupled to over $420 in the past two months.
Iota
Iota is a cryptocurrency backed by a distributed ledger that's not on a blockchain. Instead the network is called a "tangle" and aims to eliminate fees by creating a decentralized peer-to-peer system. Iota's tokens have been on a rollercoaster, rallying on a statement on its blog that seemed to imply a partnership with Microsoft Corp., and then plunging after the platform clarified it's not in a formal agreement with the tech giant. Iota's price has soared from less than a dollar a month ago to more than $5, climbing to become the sixth biggest cryptocurrency by market cap, right after litecoin.
Author Camila Russo 20 December 2017, 15:37 GMT
Posted By David Ogden Entrepreneur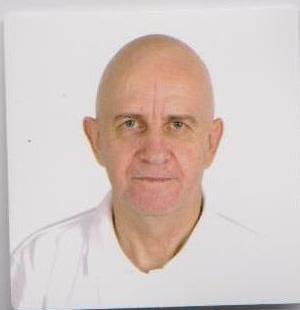 Alan Zibluk Markethive Founding Member