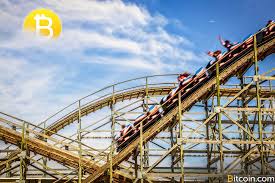 Bitcoin prices likely to continue wild ride
SAN FRANCISCO — What goes precipitously up, often comes crashing down to earth.
So it was with bitcoin on Thursday, when the price of the digital currency plunged 19% — its steepest drop in more than two years — after a record run. The volatility remained on full display late Thursday and, as of Friday evening, bitcoin rebounded to $2,484.59.
The cryptocurrency, which flirted with $3,000 on Monday, sunk as low as $2,076.16 in intraday trading early Thursday amid a confluence of bad omens. Tech stocks have recently taken a thumping over concerns about their lofty valuations. Ominous reports from Goldman Sachs and Morgan Stanley suggested bitcoin was due for a reversal in price and required government regulation. The Federal Reserve hiked interest rates Wednesday.
Compounding worries, digital currency exchange Coinbase experienced an outage Monday because of high-trading volume. Another exchange, Bitfinex, on Tuesday said it was under DDOS attack.
Meanwhile, prices for digital currencies ripple and NEM declined the past week, though Ethereum, the second-largest currency, has soared 20% on speculation it will be the top currency. At $371.36, it lags far behind bitcoin in value.
CryptoCurrency Market Capitalizations
"Bitcoin and other digital currencies are experiencing rapid growth these days," says Guy Zyskind, CEO of Enigma, a start-up in cryptocurrency investing. "For this to be sustainable over time, the market has to correct itself from time to time."
The market's wild ride this week underscores "the ebbs and flows of an entirely new asset class," says Bill Barhydt, CEO of Abra, a peer-to-peer payment service.
"While the bitcoin price will likely recover and continue to rise, what we should see in the future is bitcoin becoming a solid store of value, much like gold," says Mihir Magudia, executive director of LEOcoin Foundation. "It will be relatively easy to liquidate but will not be used to commonly pay for goods and services."
David Ogden
Entrepreneur
Author: Jon Swartz , USA TODAY
Alan Zibluk Markethive Founding Member