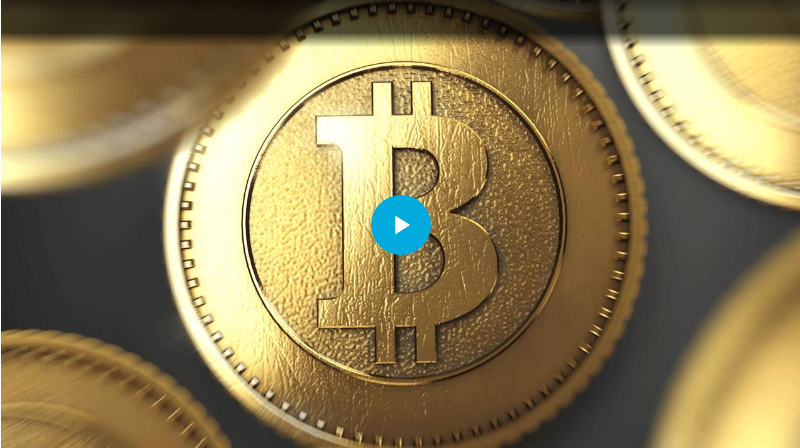 Bitcoin Just Surged Past $7,000. Here's Why
Talk about a roller coaster.
As of late Thursday, the price of Bitcoin was about $7,000, having reached the threshold for the first time just hours earlier. The upswing continued a rally that started Wednesday, when the Chicago Merchantile Exchange announced plans to offer Bitcoin futures — a move that could add even more institutional investors to Bitcoin markets and theoretically push up prices.
While Bitcoin investors cheered the rally, dubbing the CME's decision a step toward legitimizing the cryptocurrency, it was also a reminder that digital coins still have a ways to go before reaching widespread mainstream adoption.
After breaching $6,500 for the first time a day earlier, Bitcoin prices surged as high as $7,350 in trading Thursday likely thanks to traders in Asia noticing the CME's announcement.

"This is Asia waking up and FOMO," said Timothy Enneking, managing director at Crypto Asset Management, referring to the fear of missing out on a potentially lucrative rally.
But the euphoria didn't last. Over the course of the following 20 minutes or so, bitcoin prices shed $550 to hit $6,800—a 7.5% swing. While the volatility of Bitcoin has lessened since its inception, the price swings have continued to worry regulators and institutional investors—deterring widespread use.
Bitcoin's Three-Day Ride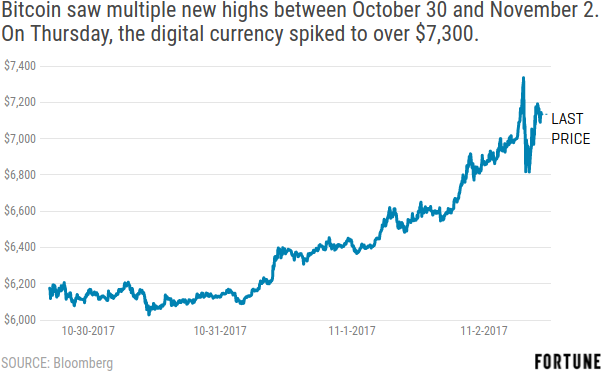 Earlier this year for example, the Securities and Exchange Commission denied a proposal that would allow for a Bitcoin exchange traded fund, or ETF. Some Bitcoin investors had hoped an ETF tied to the cryptocurrency would do what they now expect the CME's decision to do: Bring in more institutional investors.
In the filing denying the proposal, the SEC noted that Bitcoin had "fundamental flaws" that made it a "dangerous asset class to force into an exchange traded structure."
Those flaws included price volatility, low liquidity, shallow trading volumes, and oversized exposure to trading in countries with weak regulatory oversight.
Bitcoin on the Rise
The price of Bitcoin reached three milestones in the last 30 days.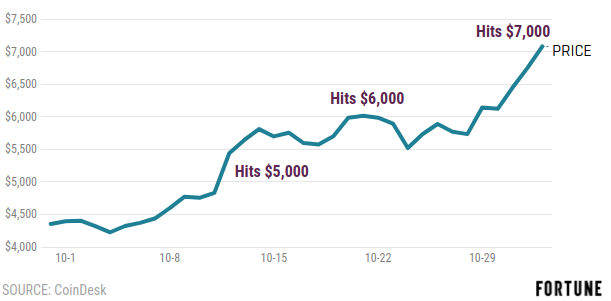 Granted, Bitcoin investors are hoping that the CME's decision, which is still pending regulatory review, will increase the number of players in the market, thereby solving some of those problems by lowering volatility and increasing liquidity.
But other issues, including building a regulatory frame for Bitcoin both in the U.S. and abroad will take time. On top of that, Bitcoin is still undergoing growing pains on the technological side. Bitcoin users are now preparing for a potential "2x hard fork" called "Segwit2x" coming later this month.
Since Bitcoin is decentralized, its users must agree to update to the same software and rules to keep the cryptocurrency running. If just some users decide not the abide by those changes, it creates a new cryptocurrency. So far, the 2x hard fork, which would in theory increase the speed of transactions by increasing the size of blocks to 2 megabytes from 1 megabyte, has been divisive. The lack of consensus has spurred worries that the Bitcoin community itself could fragment.

And despite news of the CME's decision, Thomas Lee, who is bullish on the cryptocurrency, warned Thursday owners will have to clench their teeth as bitcoin prices may still have further to fall before rebounding.
"For those tactically minded, we would be buyers of bitcoin in the $5,500 range, but such a pullback does not need to happen," Lee, a managing partner of Fundstrat Global Advisors wrote in a Thursday note. In the long-term, Lee expects Bitcoin prices to reach $25,000 by 2022.
Authors: Lucinda Shen and Grace Donnelly November 2, 2017

Posted by David Ogden Entrepreneur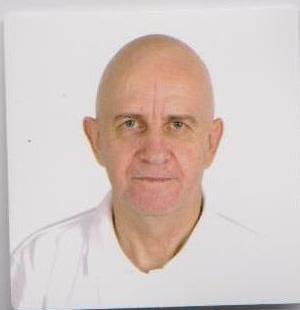 Alan Zibluk Markethive Founding Member