Golem Is 10th Most Valuable Crypto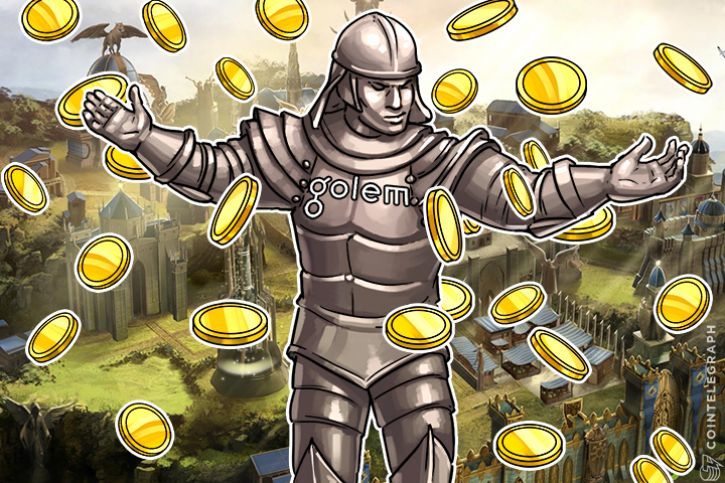 Golem, the Airbnb of computing has set yet another record
It appreciated 15.49 percentage points to dislodge MaidSafeCoin from the tenth spot on CoinMarketCap on Friday morning Eastern Time. The Ethereum Token took many people in the industry by surprise when it rose almost 100 percent in February to be at number eleven. Since then, it has not disappointed its holders and investors. It, therefore, did not flabbergast many when it made it to the first ten today.
When Cointelegraph reached out to Julian Zawistowski, CEO and founder of the Golem Project, he was elated but cautious as usual. "This is exciting. But I think we should not get too excited but keep our focus on advancing the technology. I believe that applies to the whole industry," Julian told Cointelegraph.
Sustainability of growth
This was his response when asked whether top ten statuses won't be a flash in the pan: "If you ask me about the future rationality of the crypto market and sanity/insanity of the valuations, the answer is: I do not know. If you ask me about what we are going to do within Golem project, the answer is: we are working hard." There are so many instances where altcoins made it to the elite ranks of CoinMarketCap, only for them to disappear in a short while into the lower echelons never to be seen again. However, Nick Kirk aka 'Mintegration', a veteran of IBM Research, who also holds a substantial number of Golem token believes in the case of Golem it is antithetic.
"I love what Golem is doing, and I'm genuinely interested in HPC.(High-Performance Computing) This space is ripe for disruption. I hold a good proportion of my capital in GNT. I'm going to support the network as much as I can. I'll be working on a proof of concept (PoC) very soon — using Golem for Machine Learning tasks (e.g. training my models). No-one knows how much GNT could rise, but it has tremendous potential. If you look at the other top ten coins, Golem is one of the few with real utility." Nick urged the community members to buy some GNT and support Golem since it is the coolest network in the crypto land. It is his conviction that the network's growth rate will be very significant in the coming years.
Will MaidSafeCoin succumb?
If you have observed MaidsafeCoin whom Golem displaced from the tenth position, it is one of the most resilient cryptocurrencies around. Anytime it is dislodged, it comes back strongly to takes its former position. It won't be a surprise to see the Scottish darling boy taking over number 10 again but Golem seems to mean business looking at its growth rate since the February bang that gave it recognition and respect in the ecosystem. In fact, the difference in market cap between the two cryptos is less $1 mln. As usual, only time will tell if Golem will survive as an elite digital currency. Cointelegraph will always keep you updated with the important developments.
Chuck Reynolds
Contributor
Alan Zibluk Markethive Founding Member