Bitcoin Price is Hitting Above $4,500 Again
Bitcoin price surpassed the $4,500 mark Sunday, reaching $4,614.91 Sunday, posting a market capitalization of $76.662 billion. Bitcoin posted close to a 5% gain in the last 24 hours, during which most cryptocurrencies posted losses.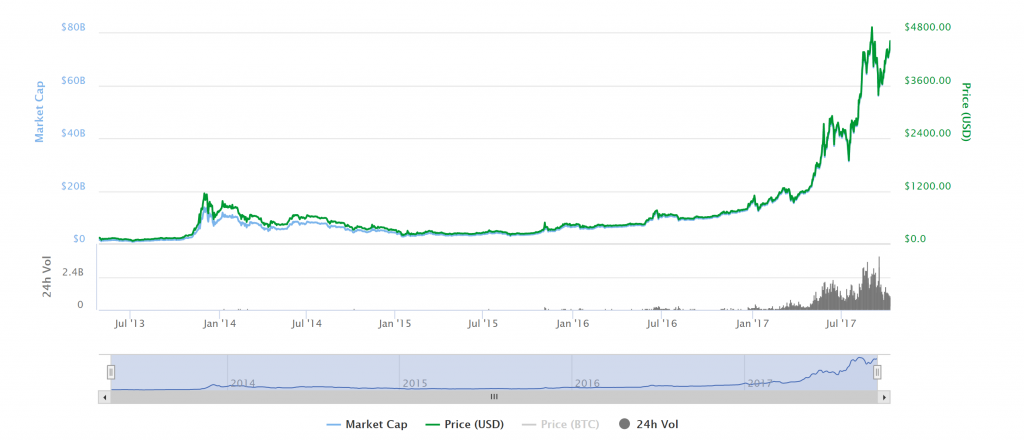 Ripple and Litecoin were the only other two of the top 10 cryptocurrencies to gain in the period, posting 15.6% and 2.02% gains, respectively. BitConnect, the number 12 crypto with a market cap just over $1 billion, was the only other crypto with more than $1 billion in market capitalization to post a gain, grabbing 4.36%.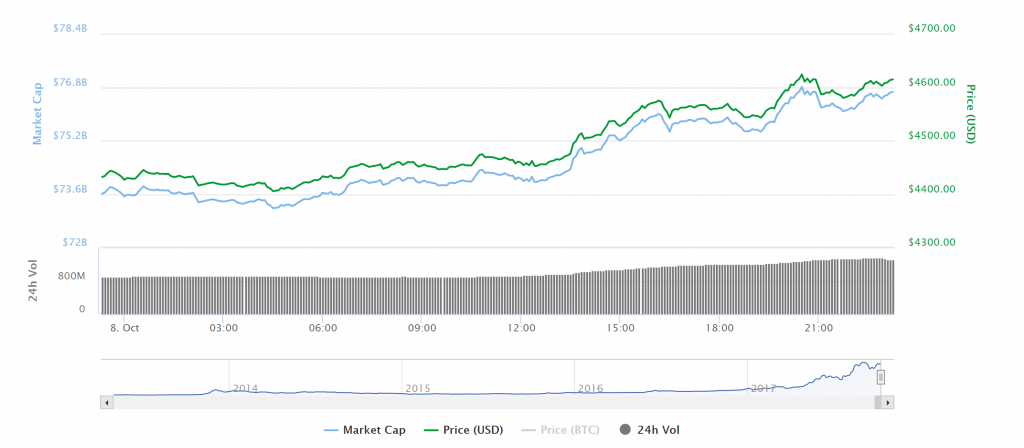 Bitcoin commanded more than half of all cryptocurrency market valuation, accounting for 50.03% of all market value. Ethereum accounted for 19.39%, the only other crypto to rank in double digits. Bitcoin had also surpassed the 50% mark earlier in the week.
Bitcoin Stabilizes Crypto Markets
In the past week, the bitcoin price provided the markets with a stabilizing force. Despite falling prey to the mid-week downtrend, the bitcoin price ended the week at $4,335, which then represented a week-over-week gain of about one-half of one percent.
Tuur Demeester, a prominent bitcoin investor, analyst, and editor in chief at Adamant Research, recently predicted the bitcoin price would surpass the $5,000 mark if support towards SegWit2x declines in the next few days. Uncertainty around SegWit2x has held back the momentum of bitcoin and its short-term rally. Several business have pulled out from the SegWit2x NYA agreement and the plan of the Digital Currency Group-led consortium of companies to carry out a hard fork in November.
Since early September, bitcoin's price has struggled to recover beyond $4,500 due to uncertainty surrounding the Chinese cryptocurrency exchange market and SegWit2x. Analysts have started to demonstrate optimism towards the possibility of the Chinese government resuming cryptocurrency trading.

Hyperinflationary Period Over?
Chris Burniske, a partner at cryptocurrency-focused venture capital firm Placeholder and former cryptocurrency investment lead at ARK Investment, recently revealed that 80 percent of the total supply of bitcoin is now outstanding and that its hyperinflationary period is behind it.
Because there will only be 21 million bitcoins and no additional bitcoin can be created after the supply achieves its cap, only a limited number of investors would be able to hold one full bitcoin.
Bitcoin's deflationary supply, however, is not an issue for investors and merchants that adopt bitcoin as a digital currency because it is divisible. Currently, many bitcoin wallets and merchants use "satoshi" as a unit, with one satoshi representing 0.00000001 bitcoin.
Investors Flock To Bitcoin
Currently, many investors and traders have invested in bitcoin as a safe haven asset and a long-term investment. But, as bitcoin evolves as a technology and a robust financial network, it will soon compete with reserve currencies, existing banking systems, and traditional assets such as gold.
For the long-term growth of bitcoin's market cap and price, its deflationary nature will be a vital factor to sustain bitcoin's upward momentum and demand for bitcoin from the global market.
Several analysts, including RT's Max Keiser, Harvard academic Dennis Porto, and Saxo Bank senior analyst Kay Van-Petersen, have predicted bitcoin price surpassing $100,000 within the next 10 years.
Author: Lester Coleman on 09/10/2017
Posted by David Ogden Entrepreneur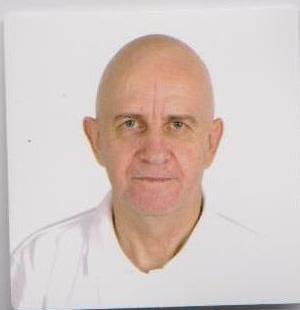 Alan Zibluk Markethive Founding Member