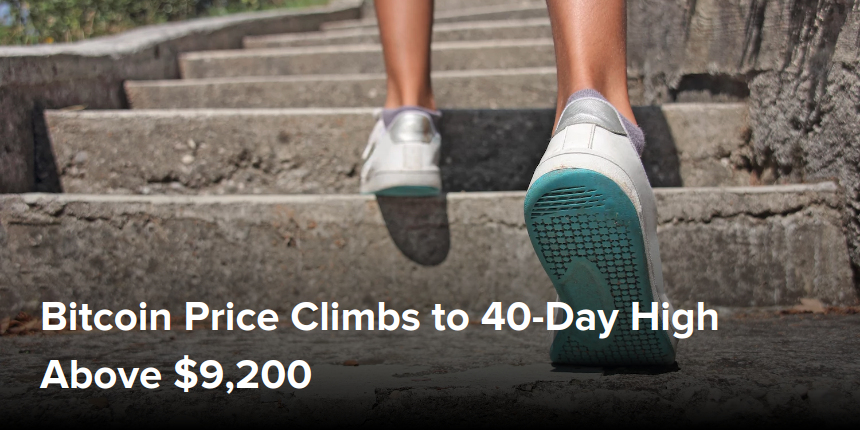 Bitcoin Price Climbs to 40-Day High Above $9,200
Bitcoin's price climbed above $9,200 on Tuesday to hit a 40-day high, according to data from CoinDesk's Bitcoin Price Index (BPI).
Following a steady increase over the past week, the price of world's largest cryptocurrency by market capitalization jumped above $9,000 soon after the morning trading session began around 00:30 UTC, after which it continued to climb up to as high as $9,220.97 at around 2:00 UTC.
The price is at its highest point since March 14, when bitcoin dropped $800 within one trading day to reach a one-month low around $8,000. Following the plunge, the cryptocurrency's price declined to as low as $6,593 on March 30, reflecting what is now a 39% gain since that market bottom.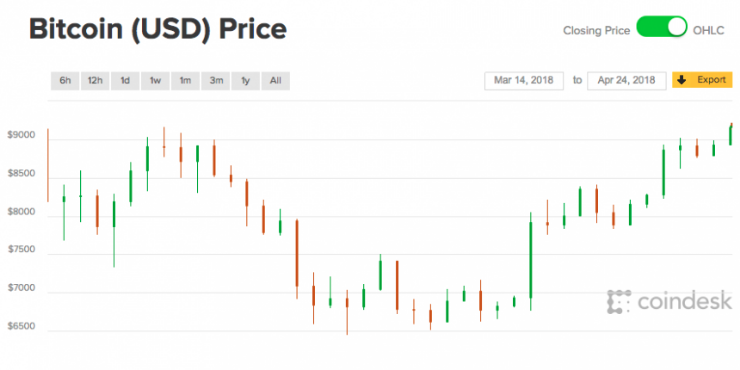 The wider cryptocurrency market has seen price growth in the past month as well, climbing above $400 billion in terms of total capitalization, according to data from CoinMarketCap. That figure has shifted between $200 billion and $300 billion since March 18.
Currently, four out of the five largest cryptocurrencies by market capitalization are all seeing their prices at one-month highs, market data shows. Ethereum, the world's second largest cryptocurrency, is now above $660 after recently dropping below $400. The price of bitcoin cash has nearly doubled in the week since April 18, climbing back above $1,500 as of press time.
Author Wolfie Zhao Apr 24, 2018 at 04:00 UTC
Posted by David Ogden Entrepreneur
Alan Zibluk Markethive Founding Member