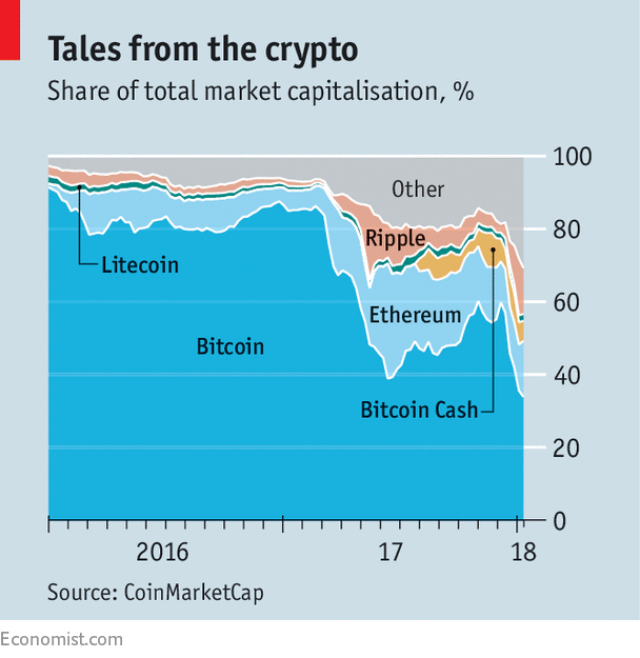 Bitcoin is no long the only game in crypto-currency town
IT STARTED as a joke. Dogecoin was launched in 2013 as a bitcoin parody, using as its mascot a Japanese shiba inu dog, a popular internet meme. The crypto-currency was never really used, except for tipping online, and one of its founders has called it quits. But recently its price has soared: on January 7th the dollar value of all Dogecoins in circulation reached $2bn, a sign of how crazy crypto-currency markets have become. It is also a reminder that, for all the focus on bitcoin, it is no longer the only game in town. Its market capitalisation now amounts to only about one-third of the crypto-market (see chart).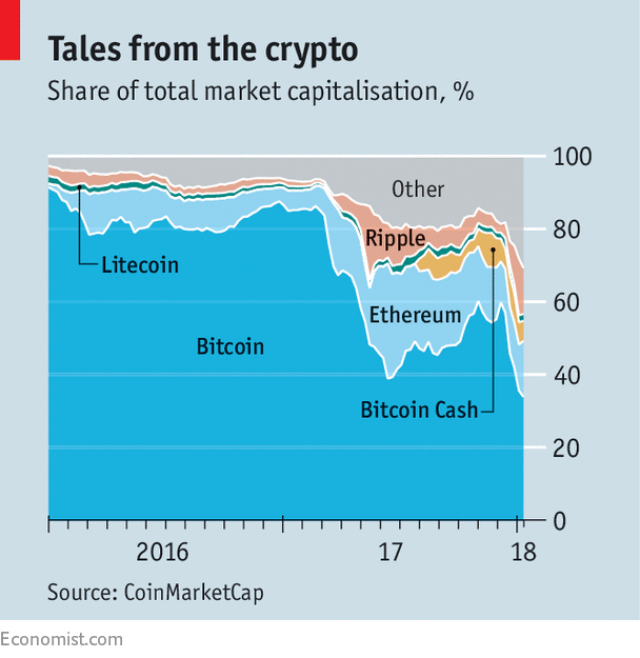 A new crypto-currency is born almost daily, often through an "initial coin offering" (ICO), a form of online crowdfunding. CoinMarketCap, a website, lists about 1,400 digital coins or tokens, including UFO Coin, PutinCoin, Sexcoin and InsaneCoin (worth $7m). Most are no more than curiosities, but by January 10th, around 40 had a market capitalisation of more than $1bn.
First on the list, after bitcoin, was Ethereum, whose coin, called ether, reached a market capitalisation of $137bn. Ethereum's claim to fame is that it is also a platform for "smart contracts"—business rules encapsulated in software. Most ICO tokens, for instance, are issued by such contracts. Its success has attracted crypto-copycats: Cardano ($20bn) and NEO ($8bn), a Chinese version.
Ripple, too, is defying gravity. It is all the rage in crypto-crazy South Korea, which this week roiled crypto-markets with plans to ban trading on exchanges. Ripple sells software to move money between countries; more than 100 banks have signed up to its technology, based on a coin called XRP. Its market capitalisation jumped by more than 40,000% in 2017, reaching nearly $149bn on January 4th, before falling back to $78bn. That still makes Chris Larsen, a Ripple co-founder, one of the world's richest people, at least on digital paper.
Less well-known coins have also taken wing. Monero ($6bn) and Zcash ($2bn) focus on privacy. Stellar ($9.8bn) has developed a system to transfer funds cheaply that is used by charities, particularly in poor countries. IOTA ($10.1bn) allows connected machines to exchange information and payments securely. And then there is Bitcoin Cash ($46bn), whose founders split from bitcoin in August 2017 because they were unhappy with how it was run.
Might any of these one day replace bitcoin as crypto-land reserve currency, something insiders call the "flippening"? Given bitcoin's governance problems (another "fork", or split, may be in the offing) and limited capacity (a transaction now costs nearly $30, on average, in fees), this cannot be excluded. But the others have problems, too. Ethereum's user fees have soared and the system has again hit technical snags. As for Ripple, some question the extent to which XRPs are actually used.
Come what may, the field will only get more crowded. Kodak, the archetypal victim of digital disruption, wants to jump on the crypto-wagon: on January 9th it announced that it will launch a coin to allow photographers to charge for their works. More ambitious will be the ICO of Telegram, a messaging service with 180m users: it aims to raise $1.2bn and issue a token called Gram that can be used to pay for a range of services from online storage to virtual private networks. Even Facebook has reportedly started looking into creating a token. Should the world's biggest social network ever make that move, bitcoin's days as the leading crypto-currency would almost certainly be numbered.

Source: The Economist
Posted by David Ogden Entrepreneur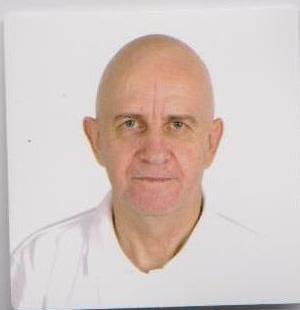 Alan Zibluk Markethive Founding Member