WebTalk — Only 1-week until we launch our new contact manager
Only 1-week until we launch our new contact manager, 3-weeks until we launch our new landing page, 5-weeks until we launch our new profile and discover service, 7-weeks until we launch our new bonus offer, and 9-weeks until we launch iOS & Android apps (estimated release timeframes)
We have a very busy and exciting couple of months ahead of us as we continue to have record growth almost daily.
In 2020, we are on pace to give away over $1MM back to our members through our rewards program.
As many of you may have noticed, the ad rewards bonus pool doubled again today from $1,000 to $2,000 for April. We estimate it will double again next month to $4,000.
The new bonus is planned to be bigger than anything we have ever launched before.
PS: We are also working diligently to launch a stock offering to allow our PRO customers to be able to purchase our stock. However, we decided if we move forward with it then we will conduct two offerings.
Both a small discounted offering for PRO customers, and a larger offering for all others, giving everyone the opportunity to invest in Webtalk.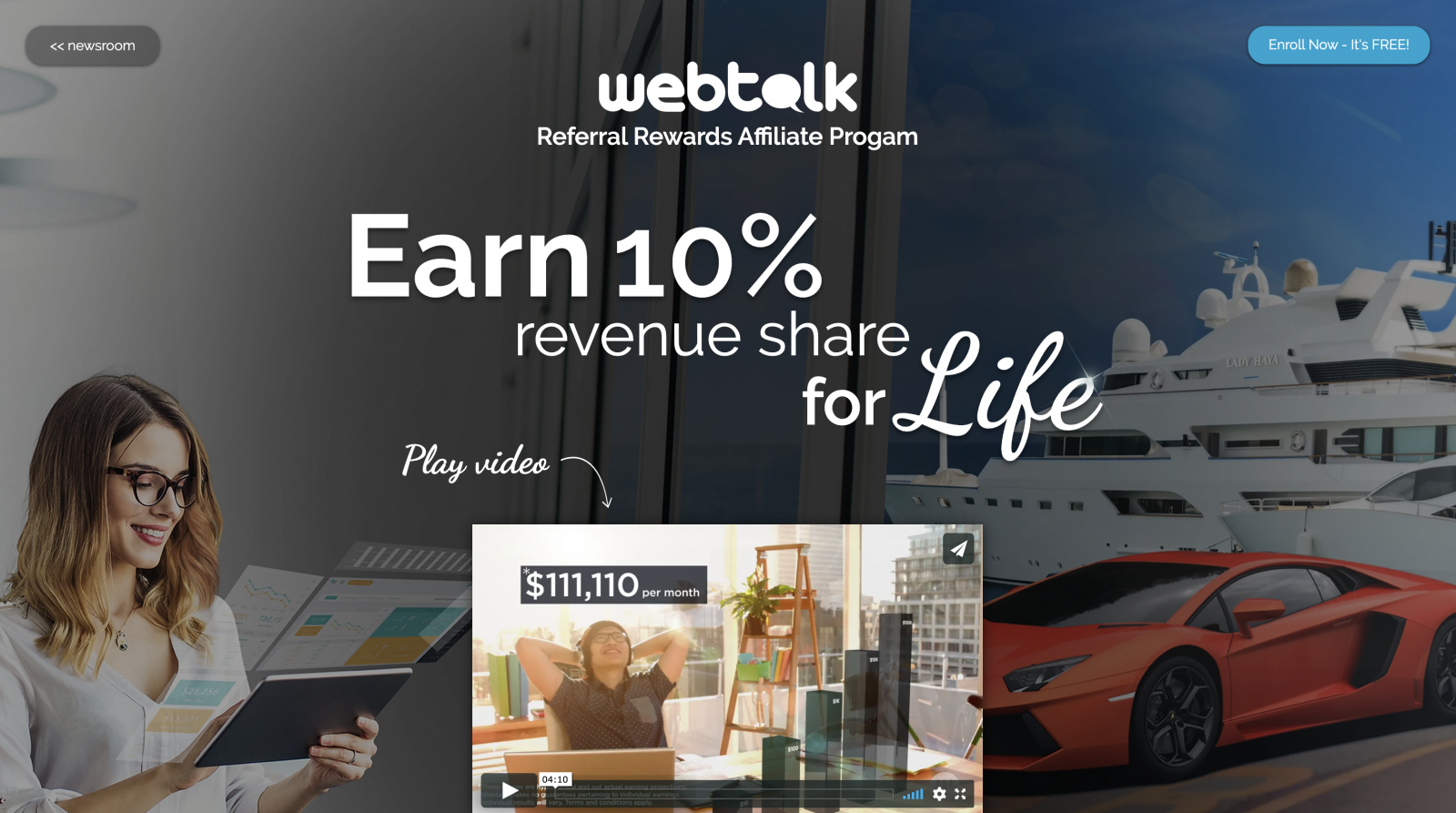 WEBTALK TIPS
Webtalk and the rewards program are free and always will be. Only optional PRO premium features on Webtalk have a cost.
Facebook generates approximately $6 billion per month from advertising revenue, and LinkedIn generates over $1 billion per month from advertising and premium feature subscription revenue.
Webtalk is the world's first hybrid personal and professional networking platform (Think Facebook meets LinkedIn), with both advertising and premium feature subscription revenue.
In addition to offering both personal and professional networking services, Webtalk also offers social content syndication to Facebook, LinkedIn, Twitter, Slack and soon Instagram (similar to Hootsuite).
Webtalk also offers patent-pending contact management and newsfeed technologies to help you manage your personal, professional, and business relationships and brands seamlessly in one place (similar to Slack and Infusionsoft).
ie. Webtalk is giving away many enterprise-level services for free to our members.
Last, but certainly not least, Webtalk's first-of-its-kind rewards program is an absolute game-changer.
We are redistributing up to 50% of our revenue for life back to our members for engagement, creating great content, and referrals.
Webtalk needs engagement, great content, and new members to be successful, and therefore we decided to partner with our members, sharing our revenue as we grow in exchange for you helping us reach our goals.
Webtalk will always pay 100% matching points and 10% revenue share for direct referrals through the rewards program. This is the standard rewards program that will be available for everyone forever.
Beyond this free offering, Webtalk also offers a free bonus. In order to launch every product on our roadmap found on
, we need to acquire 1 million PRO customers to pay for the development costs.
Therefore, we launched a bonus that pays the same 10% commissions and 100% matching ad rewards through 5-levels of referrals to…
A. The first 1M PRO customers
B. The first 1M to refer a PRO customer
This bonus shares up to 50% of our revenue for life with the first 1 million members to earn the bonus.
This means up to 50% of our revenue gets paid back to our members every month, and the other 50% goes to building the products on our roadmap for everyone to use for free.
There's not a lose scenario with our program. We have already invested $9MM in our technology, and we plan to invest much more near future.
Thank you for supporting Webtalk on its mission to help the world create more success!
We are wishing you all the best during these trying times felt across the world. God bless and stay safe.
Andries van Tonder