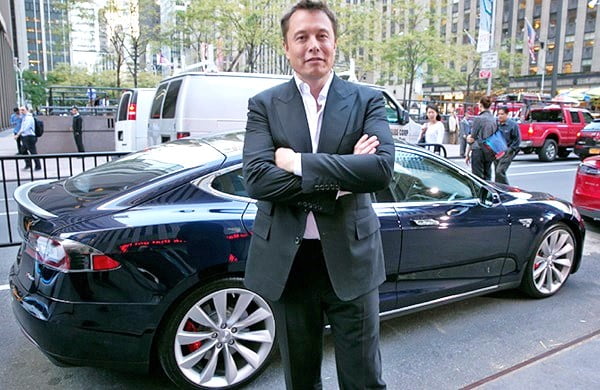 Tesla Billionaire Elon Musk Reveals How Much Bitcoin He Owns
Billionaire Elon Musk is a huge fan of cutting-edge technology and is usually ahead of the curve when it comes to finance, but he's not a bitcoin bull. The co-founder of Tesla Inc. revealed on Twitter that he owns only a tiny fraction of one bitcoin token.
"I literally own zero cryptocurrency, apart from .25 BTC that a friend sent me many years ago," Musk confessed. Using today's bitcoin price of about $10,000 a coin, that translates to $2,500.
The serial entrepreneur — whose net worth tops $20 billion — made the revelation in response to a question about a Twitter scam where random users posed as celebrities (like Musk) in a bid to steal people's cryptocurrencies.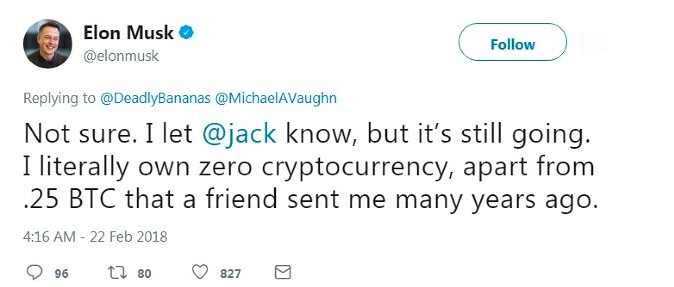 Musk's indifference to bitcoin probably wasn't a shock to his fans, since he recently told his 19.8 million Twitter followers that "a friend sent me part of a BTC a few years, but I don't know where it is." (See also: Elon Musk: Education, Success Story and Net Worth.)
In November 2017, Musk denied rumors that he was Satoshi Nakamoto, the mysterious inventor of bitcoin. The brouhaha erupted after a former SpaceX intern claimed in a blog post that the serial entrepreneur was "probably" Nakamoto.

Is Elon Musk Satoshi Nakamoto?
In a blog post on Medium, Sahil Gupta, who had interned at Musk's space company SpaceX in 2015, said "Satoshi is probably Elon."
Gupta reasoned: "Elon is a self-taught polymath. He's repeatedly innovated across fields by reading books on a subject and applying the knowledge. It's how he built rockets, invented the Hyperloop (which he released to the world as a paper), and could have invented Bitcoin."
The true identity of Satoshi Nakamoto has never been confirmed, but there has a steady stream of rampant speculation about who he really is ever since bitcoin quietly launched in 2009. (See also: Has Bitcoin Creator Satoshi Nakamoto Been Found?)
Meanwhile, Elon Musk isn't the only billionaire who's skeptical of bitcoin and the crypto phenomenon. Bitcoin cynics are put off by the virtual currency's erratic price movements, lack of regulation, and absence of a valuation guarantee because it's not backed by a central bank.
Billionaire Charlie Munger, the second-in-command at Berkshire Hathaway, slammed bitcoin as a "noxious poison" and called the media hype surrounding digital currencies "totally asinine."
Similarly, Munger's boss, mega-billionaire Warren Buffett, predicted that cryptocurrencies will almost certainly "come to a bad ending." (See more: Bitcoin Is 'Poison,' Says Berkshire Billionaire Charlie Munger.)
And in its latest letter to clients, the Paul Singer-led Elliott Management, which oversees $34 billion in assets, excoriated cryptocurrencies as a bubble, a scam and a fraud. "This is not just a bubble," Elliott wrote. "It is not just a fraud. It is perhaps the outer limit, the ultimate expression, of the ability of humans to seize upon ether and hope to ride it to the stars."
Author Samantha Chang | Updated February 23, 2018 — 6:50 PM EST
Posted by David Ogden Entrepreneur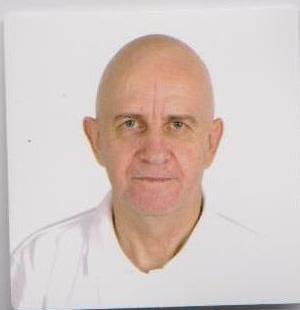 Alan Zibluk Markethive Founding Member