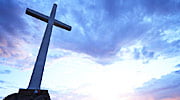 Be prepared to defend the Gospel
Written by Dan Lee on 06/11/2018
Series: Weekly Devotional
---
Do your best to present yourself to God as one approved, a worker who has no need to be ashamed, rightly handling the word of truth.

2 Timothy 2:15
Just last week, we talked about ways to avoid misinterpreting the Bible. Today, we want to conclude this two-part devotional series by pointing out something just as important — using the knowledge we gain from studying His Word to better represent the Lord.
A while ago when I was in school, my teacher would always put us in groups to research and prepare a presentation about a certain topic related to the class. I would prepare for days! My teacher was known for asking difficult questions just to make sure we all did our work. Sure enough, when question time came around, you bet I was prepared to answer all the questions! My peers, not so much.
It's the same when it comes to learning the Bible. You must always be prepared so you don't look foolish. How can you defend the Word of God when you yourself may take out of context?
Let's use the following verses as examples of how to better interpret the Bible.
Take it step, by step
Let's break down one of the most popular verses quoted by people looking for assurance of a good life. Jeremiah 29:11 says, "For I know the plans I have for you, declares the Lord, plans for welfare and not for evil, to give you a future and a hope."
You might look at this verse and think that God never intends anything bad to happen to you.
However, when we read this whole chapter in Jeremiah, we find first that something bad has already happened to Israel — they had been defeated by the Babylonians and forcibly removed from their homeland. They were living in exile, slaves to a wicked foreign empire.
Another prophet, Hananiah, had been telling the Israelites what they wanted to hear: that their captivity would last just two years. Jeremiah's answer to him? "You are a false prophet, and you're going to die." And Hananiah did die (Jeremiah 28:12-17).
Then Jeremiah sent a letter from Jerusalem to the exiles in Babylon telling them the truth: They were going to be there for a while. A LONG while:
"For thus says the Lord: When seventy years are completed for Babylon, I will visit you, and I will fulfill to you my promise and bring you back to this place. For I know the plans I have for you, declares the Lord, plans for welfare and not for evil, to give you a future and a hope. Then you will call upon me and come and pray to me, and I will hear you. You will seek me and find me, when you seek me with all your heart. I will be found by you, declares the Lord, and I will restore your fortunes and gather you from all the nations and all the places where I have driven you, declares the Lord, and I will bring you back to the place from which I sent you into exile." (Jeremiah 29:10-14)
Yes, the Lord had a plan to restore Israel to their homeland, but it would take place in 70 years — after most of the listeners had died! Not only that, but the promise was conditioned on Israel praying and seeking God with all their heart (Jeremiah 29:12-13).
Your calling
So what does Jeremiah 29:11 promise for today's believers? It does not promise peace and prosperity now, but instead promises restoration in the future. For us, the ultimate restoration comes at the return of Jesus and the establishment of His kingdom.
We don't know when the Lord will be coming back for His church. Until then, we encourage you to go deeper in your relationship with Him and be a living testimony of the truth He brings to the world. Fall in love with His truth and be ready to defend the hope that lives within you. (1 Peter 3:15)
---
Pray this week:
Lord, I ask you to give me the opportunity to use the wisdom I gain through your Word to share the truth with those around me. Amen.
---
Are you prepared to defend your faith when brought difficult questions?
Alan Zibluk Markethive Founding Member