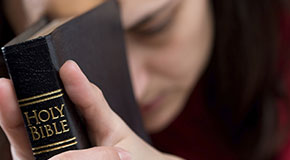 Jesus calls us to be different from the world, while making a difference in the world.
Written by Joy on 15/08/2015
Series: Weekly Devotional
"(Jesus praying) My prayer is not that you take them out of the world but that you protect them from the evil one….As you sent me into the world, I have sent them into the world.'" John 17:15,18
How can we make a difference in our culture today? Jesus says He is sending us into the world, as He himself was sent. What are we being sent to do? What was Jesus' mission?
To Seek and Save the Lost (Luke 19:10)
Jesus came for one reason: to provide salvation through His death and resurrection. He did not come to give political freedom and rights, but spiritual freedom from sin. He came to give us spiritual victory over death and the treasure of Eternal Life with God, not to give financial success or health in this life. He did not come for only those religious people who follow the rules, but he was known for spending time with "sinners." "But go and learn what this means: 'I desire mercy, not sacrifice.' For I have not come to call the righteous, but sinners." (Matthew 9:13).
This means we too must go out looking for sinners (Ecclesiastes 7:20) who need to hear about the love and mercy of Jesus.
To Save, Not to Condemn (John 3:17)
"For it is by grace you have been saved, through faith—and this is not from yourselves, it is the gift of God—not by works so that no one can boast." (Ephesians 2:8-9). When we boast, we make ourselves seem superior because of our morals. Unbelievers only see someone who is acting holy and judging them; caring only about rules and details. They don't see Jesus. Jesus commanded us to preach the Gospel, (Mark 16:15, Romans 1:16-17) not just to get sinners to change their moral behavior.
To Show God's Love (John 3:16)
"This is how God showed his love among us: He sent his one and only Son into the world that we might live through him. Dear friends, since God so loved us, we also ought to love one another." (1 John 4:9, 11).
This is the only message that has the power to change our culture: Love. Our prophecy, teaching and good works are worthless without love (1 Corinthians 13). "True love Is patient, and kind, not boastful, proud or rude…not rejoicing in wrong-doing, but rejoicing in the truth." (1 Corinthians 13:4-6). Beware, of the world's definition of love: extreme tolerance. "Instead, we speak the truth in love, growing in every way more and more like Christ…" (Ephesians 4:15)
Pray this week:
God, help me stay on your mission of love and salvation through Jesus Christ; help me to change my culture by changing lives through the Gospel. Give me chances to share your truth in love.
What kind of freedom does God wnat you to have?
Alan Zibluk Markethive Founding Member