Bitcoin Breakout — Price Jumps $1K in 60 Minutes
Bitcoin rallied over $1,000 in an hour this morning, having spent a better part of the last two weeks trading sideways in a narrow price range.
The cryptocurrency clocked a two-week high of $8,055 soon before press time and is currently trading at $7,850, according to CoinDesk's Bitcoin Price Index. The move marks a 13 percent gain from the previous day's close of $6,939.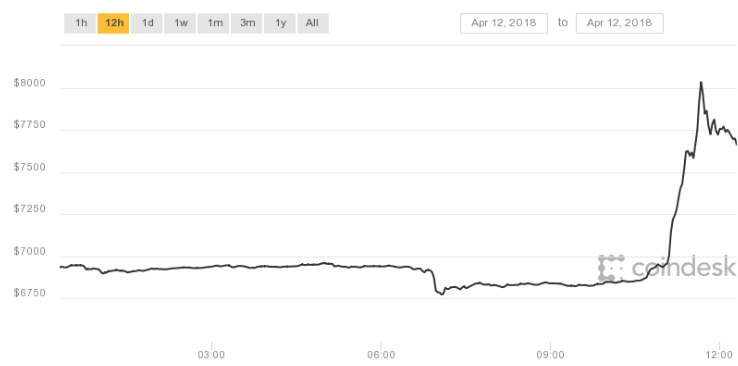 It appears short liquidation or unwinding of short (sell) BTC trades has played a big role in the sudden rally, according to some sources.
The cryptocurrency picked up bids at $6,766 at 07:00 GMT and scaled the $7,000 mark at 11:00 GMT — a move that seems to have triggered stop losses on short trades, as reported by WhaleCalls.
Further, technical buyers may have jumped in as the move above $7,000 also marked an upside break of the falling wedge pattern.
It's worth noting that, while it took two hours to move from $6,766 to $7,000, the next $1,000 jump happened in just 45 minutes.
The speed of the ascent should not come as a surprise as wider the range and the longer the duration of the consolidation zone, the more violent a breakout tends to be.
For now, it appears bitcoin's period of consolidation has ended with a notable bullish breakout. Next, a move to $8,500 cannot be ruled out if the cryptocurrency closes (as per UTC) above $7,510, confirming a bullish double bottom breakout.
Author Omkar Godbole Updated Apr 12, 2018 at 19:47 UTC
Posted by David Ogden Entrepreneur
Alan Zibluk Markethive Founding Member