For starters, let's quickly explain what Alexa rank is and why it's important.
What is Alexa Rank?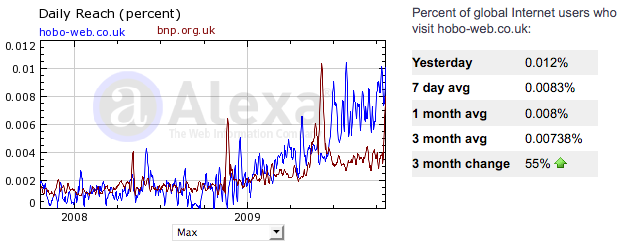 Alexa rank is a global estimation of your website's daily traffic. Alexa determines its ranking with a downloadable toolbar that tracks visits to your website. It's a rough estimate of your website's popularity online. Alexa rank is calculated using a combination of daily average visitors and pageviews over a 3 month span.
Currently, Google is the top rated Alexa website so it's a pretty good indicator of website traffic.
Why is Alexa ranking important?
Here's a couple reasons why you should pay attention to your Alexa rankings:
Increases social proof for your website.
Attracts advertisers and encourages them to spend more money buying ad slots on your website
Lists you higher up in directories and lists that rate websites based on Alexa rank
Increases your backlinks because lots of bloggers create top 100 lists based on Alexa rating
Helps you notice traffic spikes when your content goes viral
Sometimes, a high Alexa rank will open A LOT of doors for you and soon you will have people begging you to post their content, advertise their products/services or help you make more money through joint ventures.
7 Steps to Increase Your Alexa Rank
Ok, great! You probably are wondering how to improve your Alexa ratings quickly and easily. There's lots of widgets, traffic exchanges, viral techniques and tips to increase Alexa rank but some are better than others. I'm going to show you exactly step by step how to boost your Alexa rank quickly.
Step 1: Install the Alexa Toolbar on your Web Browser
The Alexa toolbar tracks visitors and pageviews for every ranked website. Download the toolbar and Alexa will start tracking every website you visit.
Your Alexa rank will increase because you must visit your website often to write new content, make changes and respond to comments. This is the quickest way to boost Alexa rank for free.
Step 2: Add the Alexa Widget to Your Website
Not every visitor to your site will have the toolbar installed, but you can overcome this by adding the Alexa widget to your website.
Simply grab the code here or install the Alexa Rank Plugin if you use WordPress.
Step 3: Update Your Website Regularly
You need lots of repeat traffic to improve Alexa rankings so update your website on a regular basis. Weekly is the bare minimum while daily or even multiple times a day is best.
Everytime you make a new webpage, it's like a new pathway to your website. The more pathways you have, the more changes someone will find your content useful and helpful.
Regular updates also increase search engine traffic, too. SEO is a great way to increase Alexa rank as well as overall visitors to your site.
Step 4: Buy Alexa Traffic
Check out this Fiverr gig for increasing Alexa rank. $5 is enough will boost your Alexa rankings fast enough to get you under the 1 million mark. If you want to improve Alexa rank even more, try a premium service like YourAlexaRank.
Step 5: Join AlexaBoostup
Next, you want a passive way to get real traffic to boost your Alexa rating over time. Sign up with Alexa Boostup and you can drive over 2,000 Alexa hits to any website for just $2.
There's also a free traffic exchange option that requires you to keep a window open on your computer. If you don't have the funds, then opt for the free option. I prefer fast results so just spend the $2.
Step 6: Create a Facebook Page and Optimize Your Website for Facebook Sharing
Facebook is the #1 social media referring website so you need to focus your efforts on driving lots of Facebook Traffic. If your content goes viral, you can get thousands of visitors for literally no cost. Add a social media plugin to your website or add the Facebook share button manually if you don't use WordPress. You will see a big increase in Alexa rank and overall traffic once you get your Facebook page setup and start sharing your content on the world's largest social network.
Step 7: Focus Your Efforts on Viral Content
After you implement these 6 steps, you will see a HUGE Alexa rank improvement in just a few days. But to go from top 100,000 to top 1,000, you need to focus your time on creating viral content or outsourcing content creation to a skilled writer or video editor.
Viral content is emotional, engaging content that you can't help but talk about and share with your friends. Videos, infographics, stories, images and How to articles are great examples of viral content.
About The AuthorTarik is an SEO expert & internet marketer who operates several websites in various online niches. Ask about his SEO Services or contact Tarik.
Get the Toolbar Here:


Alan Zibluk Markethive Founding Member