Twee
Reddit Reportedly Removes Bitcoin As Payment, Cites 'Coinbase Change'
Reddit has reportedly removed the option for users to pay for their premium membership program, Reddit Gold, in Bitcoin (BTC) citing an "upcoming Coinbase change", according to a Reddit post in subreddit /r/btc published March 23.
Reddit user BitcoinXio posted a video of the steps to give another user Reddit Gold, showing that the only payment options are PayPal and credit card.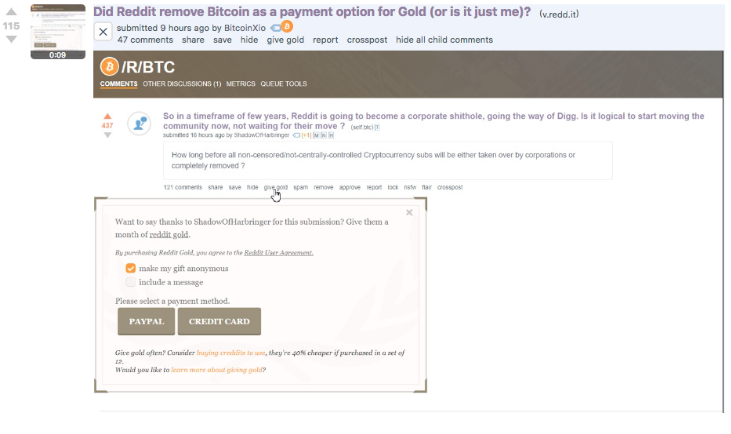 Reddit user emoney40, a moderator of several subreddits but not /r/btc, commented that the change is due to the Coinbase Commerce change:
"The upcoming Coinbase change, combined with some bugs around the Bitcoin payment option that were affecting purchases for certain users, led us to remove Bitcoin as a payment option."
Coinbase posted on its Medium page in early March 2018 about retiring Coinbase Merchant Tools in place of Coinbase Commerce, which they acknowledged "may be disruptive to Coinbase Merchant Tool customers." As of April 30, merchants that used Coinbase Merchant Tools will no longer have access to that product, with May 31 as the final date for the required switch to Coinbase Commerce.
User emoney40 also said that adding BTC back as a payment option is not a guarantee:
"We're going to take a look at demand and watch the progression of Coinbase Commerce before making a decision on whether to reenable."
Some Reddit users on the thread commented that they were not using BTC to pay for Reddit Gold anyway, due to the high transaction fees. However, in February BTC transaction fees dipped below the price of Bitcoin Cash (BCH) fees, which had been one of the main talking points of BTC's competitors.
Author Molly Jane Zuckerman
Posted by David Ogden Entrepreneur
Alan Zibluk Markethive Founding Member