Kanye West His Journey
Authenticity vs Controversy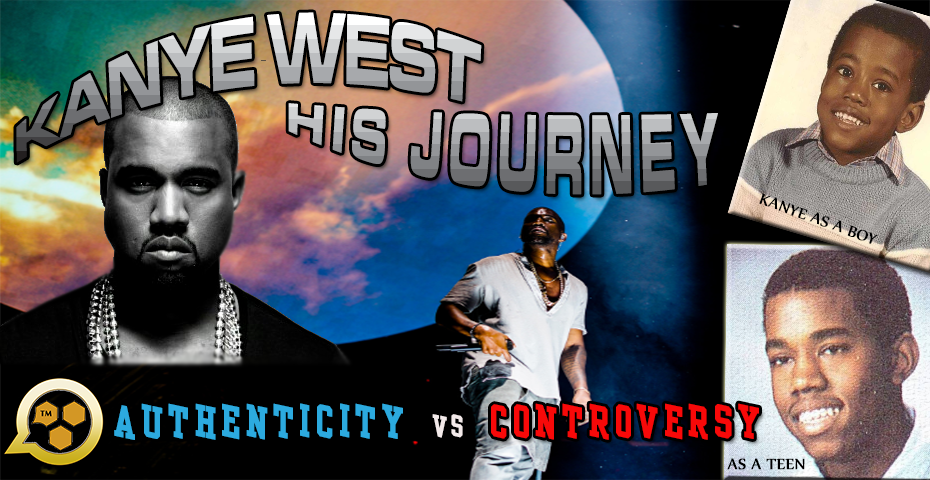 Who Is Kanye West?
Kanye West is a Grammy Award-winning Rapper, Songwriter, Record Producer, and Entrepreneur. With a keen interest in designing and fashion, he also released his fashion label "Yeezy", clothing and footwear apparel. His music has jumped from being a sensation to very much in demand in the rap industry, while his personality, his philosophies, and his willingness to speak out for what he believes in consistently land him at the center of controversy.
Because West is renowned for being outspoken on his views about life, culture, religion, and politics, these controversial topics attract widespread media attention. He is a huge cultural figure who encourages people to think freely and be their own person and is often demonized by society and media channels.
Known for his arrogance Kanye West will be the first one to tell you he is a 21st-century phenomenon. A producer turned rap superstar who has reinvented hip hop many times over in the course of his outstanding career. The creative genius that he is, is somewhat overshadowed by his ability to put his entire foot in his mouth. He says he's only human and often retracts any emotionally-based derogatory opinions and statements he blurts out publically.
His name, his style, and the way he conducts his business are unique. His thoughtful reflections in interviews reveal a complex man that few have taken the time to understand. This and subsequent articles look at that multifaceted star, exploring his career as singer and producer, but also looking at the forces that prepared him to be the man he is today, relaying his mission and his message to anyone who will listen.

Kanye West rapping in NYC at 19 Years
The Genesis Of Kanye West
Kanye Omari West was born in Atlanta, Georgia in 1977 and grew up in Chicago from the age of three after his parents, Ray West and Donda Williams divorced amicably. He was raised in South Shore, Chicago, a middle-class neighborhood, by his mother and spent the summers with his father.
Ray West (Father) was a photojournalist for the Atlanta Journal newspaper and a political activist in the Black Panthers. He later became a Christian counselor. Kanye's mother, Donda West, was a teacher who became a professor of English at Chicago State University. West admits he came from "the wrong side of the mall" rather than the wrong side of the tracks. At the age of 10, Kanye and his mother moved to China for a year where she taught as part of a university exchange program. He had a somewhat religious upbringing which reflects in his music but somewhere along the way he admits he got lost.
Talented and Determined
After the China experience and returning to Chicago, Donda, West's mother, helped a then 13-year-old Kanye and paid $25 to cut his first record in a basement studio. In 2004, Donda recalled in an interview with Red Eye, Chicago Tribune,
"The microphone was hanging from the ceiling with a wire coat hanger. But he was so excited, I couldn't say no."
Donda West told the Tribune his talent was evident even as a small boy at the age of 5, composing poems from gazing at the flora and his surroundings creatively visualizing it through the eyes of an artist and then transcribe it the way a poet would. She went on to say,
"People say Kanye and humility don't belong in the same sentence, but he had that determination since he was 3. We need more people who aren't afraid to speak their minds,
I have always encouraged him to think and to speak the truth as he sees it."
Kanye West and his mother had a very close bond, "My mother was my everything" he told TV News in 2005. Donda became his manager playing a significant part in his music career before she died from heart disease in 2007 at the age of 58. Her death profoundly impacted West musically and personally.
"Drop-Out" On The Road To Fame
West got caught up in the South Side hip-hop scene where he met his mentor DJ and producer No I.D. West graduated from Polaris High School and received a scholarship to study at Chicago's American Academy Of Art. He has a love for the visual arts but dropped out of college to pursue music where he channeled that love for the arts into his music.
He spent time working with local artists in Chicago where he realized his talent for producing and developed his own signature style dubbed "Chipmonk Soul". He got his big break when he relocated to New York in 2001, handling the production for Jay-Z's songs, a well-known New York Rapper. He then went on to produce for other major talents, including rappers, Mos Def, Talib Kweli and Ludacris, also singers Alicia Keys and Beyonce.
Music Producer Not Enough For Kanye
Although Kanye West was cementing his reputation as a brilliant producer, he was not content with that. He wanted to be upfront as a rapper, however, he was not taken seriously as a rap artist. According to Jay-Z, the co-founder of Roc-A-Fella Records,
"We all grew up street guys who had to do whatever we had to do to get by. Then there's Kanye, who to my knowledge has never hustled a day in his life. I didn't see how it could work."
West lacked the "Gangsta" credentials that were a prerequisite at that time. He was an arty middle-class kid who wore pink polo shirts and Gucci loafers. He got similar negative responses from other labels and recalled how he'd leave meetings disappointed and crying every time. West pleaded with Roc-A-Fella Records and finally in 2002, Damon Dash reluctantly signed him to record his music, but did so mainly to retain him as a producer.
Not long after in October 2002, West was involved in a head-on car collision while driving home from a recording session in California, which left him with a shattered jaw. He wrote and recorded a song about that experience "Through The Wire" while his jaw was wired shut as a result of reconstructive surgery. Nothing was going to stop him and after writing the rest of his debut album while convalescing in L.A. he revised, rewrote and refined the production adding gospel choirs and strings that he paid for out of his own pocket.
The album named "The College Dropout" was finally released in 2004 and made Kanye West a star. It sold 2.6 million copies and broke the mold of Gangsta Rap with themes that included consumerism, racism, higher education, and his religious beliefs. On the single of that album, "Jesus Walks" he rapped:
"They say you can rap about anything except for Jesus. That means guns, sex, lies, videotapes, but if I talk about God, my record won't get played."
A Young Kanye West Makes His Mark
"Jesus Walks" — The original version.
The album peaked at No. 2 on the Billboard Hot 200 chart and West received 10 Grammy nominations and winning 3 awards for the best rap song, "Jesus Walks" and best rap album. West went on to create his own record label, GOOD Music, (an acronym for Getting Out Our Dreams) in collaboration with Sony BMG.
Kanye West, being the restless bourgeoisie, brimming with creativity, wanted to see how far he could expand the hip hop genre of music and hired an orchestra. He spent $2 million and a year working with the composer John Brion, who had never worked with a rapper before. The results were prodigious, and he won another three Grammy awards. Best Rap Album again, "Late Registration" debuted at No. 1 on the Billboard Hot 200. Plus Best Rap Song for "Diamonds from Sierra Leone," and Best Rap Solo Performance for "Gold Digger." This is an achievement West would repeat with every subsequent solo album release.
Gold Digger is one of my fav songs from his newly branded genre of hip hop, which incidentally West asked Jamie Foxx (Comedian/Actor) to accompany him on this song. As Foxx relates in this interview, this took place at a party Foxx was hosting for a number of hip hop artists where he met Kanye West for the first time. Foxx had always had a hankering to get into the music business and just happened to have a music studio at his house. He agreed to do it but didn't think it would be a success. The rest is history.
Kanye West performing Gold Digger, with Jamie Foxx.
Success Story From The Suburbs
Kanye West became known as the success story from the suburbs — a hip hop artist without street cred. Kanye remains popular because he is regarded as truly one of the best rappers of all time. He has made headlines for his bizarre tweets and his grand pronouncements, his award-show stage invasions, his extravagant fashion sense and his marriage to reality TV star, Kim Kardashian.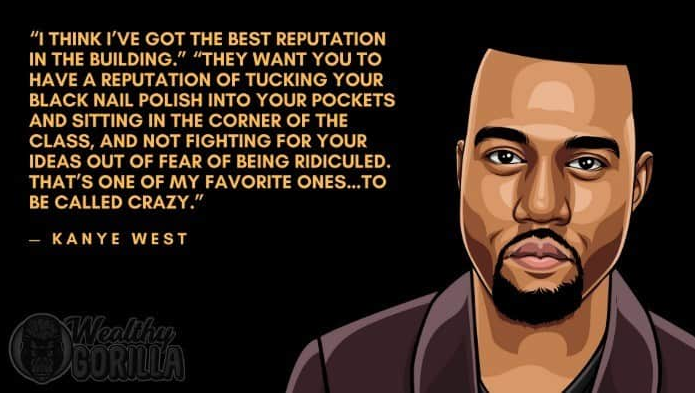 Image Courtesy of Wealthy Gorilla
But when West channels his impulsive and brash swagger into his music, the results have been stellar. Consequently, he has eight solo albums debuting at No. 1 and 21 Grammy awards. (no rapper has won more). He has been included twice in Time magazine's 100 most influential people list, also praise from Lou Reed, Prince, Elon Musk and of course from Kanye West himself. His music resonates and regardless of his antics or personal life, he remains relevant to many from all walks of life.
Next, we will look at how West is now following a different path and what led him to his life change. He along with his family have moved to Wyoming where he has taken time to reflect and move forward. So Markethive and Kanye West are practically neighbors! In a recent interview at his home in Wyoming, West passionately declared…
"Things are changing and God has the last laugh"

---
Markethive Membership is completely free — give it a try

Markethive Membership is completely free — give it a try

Deb Williams
A Crypto/Blockchain enthusiast and a strong advocate for technology, progress, and freedom of speech. I embrace "change" with a passion and my purpose in life is to help people understand, accept and move forward with enthusiasm to achieve their goals.