How the Blockchain is Being Used Beyond Bitcoin and Finance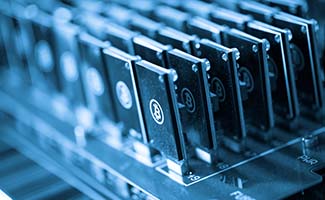 The clouds of misconception and skepticism around bitcoin were
so dark in the initial years that it hid the genius behind it. In trying to understand bitcoin, it brought into the spotlight the technology that underpins it –
the blockchain.
During the World Economic Forum at Davos, Christine Lagarde, Managing Director, International Monetary Fund spoke about virtual currencies and released a paper titled "Virtual Currencies and Beyond: Initial Considerations." The paper examines virtual currencies as well as blockchain. It reads, "VC schemes and distributed ledger technologies can strengthen financial efficiency by facilitating peer-to-peer exchange while reducing transaction times and costs, especially across borders…Beyond payments systems, distributed ledger technologies have implications for a wide range of markets and financial market infrastructures as a fast, accurate and secure record keeping system, including for stock exchanges, central securities depositories, securities settlement systems or trade repositories." While blockchain has applications beyond bitcoin, the two are intertwined. In fact, bitcoin can be called a beautiful, first application of this amazing technology.
Improving the Ledger
Throughout history, records of transactions have always been an essential part of tracking information, be it in commerce or government activities. Such recordings created ledgers, which house these records. Blockchain supports digital distributed ledgers that record and store data. The data is 'distributed' across a whole network, which can be open to everyone ("unpermissioned") or restricted in terms of participants ("permissioned").
Blockchain's distributed ledger has great potential of cost-saving especially for international remittances for the banking system. According to the IMF report on virtual currencies, "The costs of sending international remittances, however, are notoriously high: as of 2015, the global average cost of sending small remittances (for example US $200) is 7.7%, though this has declined from just below 10% in 2008. In contrast, the cost with Bitcoin is estimated to be about 1% (Goldman Sachs, 2014)." Banks are looking to act fast as blockchain-based remittance systems have already made a debut; in the Philippines and Kenya, such platforms offer transfers via bitcoin and back into fiat currency.
Besides cost advantages, the other area where banks are looking to benefit from blockchain is efficiency in operations. The use of this technology will help them get rid of 'headache work' like manual processes, middlemen, huge data entry and verifications; blockchain making all possible at a faster speed and greater accuracy. The blockchain technology is being looked at as a great invention, which has many potential uses in many other industries such as music, healthcare, diamond, real estate and more. Even governments are showing interest in the breakthrough technology.
Blockchain Moves Beyond Finance
A recent report by the UK Government Chief Scientific Adviser says, "distributed ledger technology provides the framework for the government to reduce fraud, corruption, error and the cost of paper-intensive processes. It has the potential to redefine the relationship between government and the citizen in terms of data sharing, transparency, and trust. It has similar possibilities for the private sector." The diamond industry, which is highly prone to fraud, has already embraced the blockchain technology. Everledger is a permanent ledger for diamond certification and related transaction history. It provides verification for insurance companies, claimants and law enforcement. According to Everledger, "£200 million is spent by insurers each year for tackling fraud."
Likewise, the real estate industry can benefit greatly from the blockchain technology. According to Ragnar Lifthrasir, "Putting property titles on the Bitcoin blockchain will bring the real estate industry out of its existing 18th-century technology. Title insurance is a $20 billion industry. It's estimated that the total annual cost of fighting and resolving title fraud is $1 billion."
The healthcare industry has shown interest in the blockchain technology and companies such as Facto, Tierion, DNA.Bits, BitHealth, and Gem are working on such projects. A tweet in October 2015, revealed a project for Philip Healthcare Group in collaboration with Tierion. The health care sector holds a lot of confidential information, like records of medical history, diseases, payments, and treatment. The blockchain not only provides a solution to the concern over the security and privacy of such sensitive data, it would help eliminate the huge costs incurred by hospitals and healthcare service providers in managing the patient and other such information.
Not far behind is the music industry, which has its own tailor-made blockchain. PeerTracks, a music streaming, and retail company is the first outfit to use the brand-new MUSE platform, in partnership with Danish exchange CCEDK and OpenLedger. OpenLedger, through its Danish registrar CCEDK, is now offering a fiat gateway — enabling anyone to buy MUSE for USD via the OPENMUSE/OPEN.USD market. On platforms using the MUSE network, such as PeerTracks, all the payments made by consumers, and income generated by artists, are in crypto-USD, so there is no confusion about how much a track costs — and no issues with crypto's trademark volatility.
The technology is also being put to use for creation of decentralised credit rating and KYC. "Algorythmix has been named the most transformative use of blockchain in Citi Mobile Challenge APAC 2015, for "Cetas — The decentralised KYC and Credit rating framework. Cetas is a decentralised platform which enables sharing of the KYC data using blockchain." There are many other projects working around the blockchain technology like Microsoft Corporation's (MSFT) Azure Blockchain as a Service program, and the Open Ledger Project spearheaded by IBM overseen by the not-for-profit Linux Foundation. The project involves other big names like Wells Fargo & Company (WFC), London Stock Exchange Group Plc., Accenture Plc. (ACN), Cisco Systems, Inc. (CSCO), Digital Asset, Intel Corporation (INTC) and many more.
The Final Word
This is just an overview of the multiple projects being worked around this innovative technology. The blockchain technology, still in its early years, has thrown down the gauntlet in front of the current systems, challenging them to overhaul.
Chuck Reynolds
Contributor
Alan Zibluk Markethive Founding Member