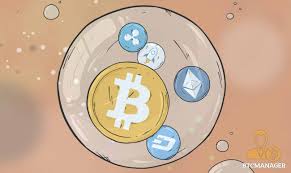 Cryptocurrency Bubble ?

Some credible sources are citing a possible "cryptocurrency bubble", as the prices of coins and tokens rocket and the fever for initial coin offerings (ICOs) continues unabated. All this stuff involves the technology known as blockchain, so it's all broadly related, but there are also certain distinct phenomena to consider.
On the one hand, we are seeing a massive increase in the price of Bitcoin, ether, Dash, Z-Cash, Monero, what have you.
Also surging is the ICO trend, which involves many new startups issuing and selling their own tokens (often oversubscribed with speculative buyers) as a way to crowdfund the building of yet another use-case focused blockchain system.
One theory behind the dramatic increase in the value of existing "altcoins", as in alternatives to Bitcoin, such as Dash or Litecoin, is that Bitcoin is approaching its limit and as a result users are now forced to pay increasingly high fees to use the Bitcoin network. Indeed, users are paying transaction processors additional Bitcoins to prioritise their transactions among the many thousands that are queued in a backlog, termed the 'mempool'.
Preston Byrne, COO of Monax and a fellow of the Adam Smith Institute, recently wrote about this: "The cryptocurrency market as a whole is interesting from an economic perspective in that it provides a perfectly transparent sandbox to see what happens when perfectly substitutable goods (Bitcoin clones) that accomplish the exact same thing (unregulated value transfer) in a fully automatic way (distributed state machines which require no human oversight) are placed in a position to compete.
"As far as an end-user of cryptocurrency software is concerned, whether a c-currency is $3000 in Dogecoin or $3000 in Bitcoin is immaterial; the shop round the corner prices its goods in USD/GBP/EUR, so as long as one coin or the other has sufficient liquidity to cash out, this means competition can occur on the basis of speed and transaction fees."
According to trading experts, the crypto ecosystem has been fleshed out lately with more cross pairs and on-ramps from the fiat world. There is a roll in roll out trade from Bitcoin to crypto and back as the markets inflate on both sides of the trade.
Charles Hayter, CEO, CryptoCompare, said: "Last year it was fairly easy to predict buying of Bitcoin through fiat and then into crypto. The cross pairs and markets have matured to offer direct Ethereum and Litecoin buying in a number of fiat pairs and this is increasing the options for traders to enter and exit positions. That said, Bitcoin is still the direct port in a storm for the entire industry.
"You are also seeing the arrival of new nations to the crypto sphere with their own bespoke approach to local regulatory issues et al — South Korea is a perfect case in point as they have taken the number three spot in terms on direct fiat to Ethereum trading.
Hayter said another interesting trend has been the dislocation of markets premia / discounts across pairs have widened. "This has been exacerbated by the Chinese regulatory issues as well as Wells Fargos hiatus on international transfers connected to Bitfinex and USDT. New markets tend to sit at premiums, as direct fiat flow spikes prices with exit routes from dead pools of money trading at a premium for exiting the exchange," he said, adding, "bubble — to an extent."
However, as far as ICOs are concerned, many prominent people in the industry believe this is fast becoming pure bubble territory and will end in tears (and probably some actions by the SEC). Someone who would go the record about token sales is angel investor and author William Mougayar, who is organising the Token Summit in New York on May 25.
He said: "In the history of technological cycles, if you follow economist Carlota Perez's thinking, nothing great happens without overshooting during the installation phase of a given technology, before moving into the adoption phase.
"We are clearly in the installation phase of cryptotech, and there is nothing we can do to prevent this overshooting from happening. It's just human nature at play.
"Of course there are ideas, protocols, start-ups and applications currently being launched that will not make it long term, but out of all this activity, some great ones will emerge."
Byrne of Monax has been as staunch a critic of ICOs as anyone ("the equivalent of selling people rows in a database"). But he concluded by saying that, amid all the froth, the way blockchains perform is truly impressive.
"Even relatively obscure systems with a fairly low level of developer input, such as Dogecoin, continue to survive and thrive under the circumstances. This is a ringing endorsement of blockchain technology as a very capable way of automating financial process flows with maximal security and minimal supervision.
"In the enterprise blockchain space we benefit directly from observing the failings and successes of public blockchain systems, which allows us to deliver more value to our clients in the permissioned/regulated applications they ask us to build. All in all, it's great," he said.
David Ogden
Entrepreneur
By Ian Allison
Alan Zibluk Markethive Founding Member