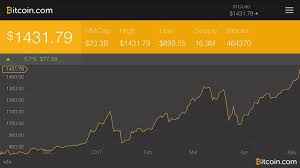 Bitcoin Soars Above $1400
The price of bitcoin has bulldozed its way to a new historic all-time high on the Bitstamp Price Index (BPI) as the trading value of the cryptocurrency scaled beyond $1,400.
Bitcoin prices are now trading at previously uncharted levels as the value of the cryptocurrency reached a high of $1,425 on Bitstamp on Monday. The previous high of $1,350 registered on March 10 amid heightened traders' interest in the lead-up to the SEC decision about a bitcoin exchange-traded fund (ETF).
Since the turn of 2017, bitcoin's value has now risen by over 42%.
The latest surge in prices is a part of a continuing bullish trend that began in last quarter of 2016. The value of the world's most prominent cryptocurrency struck a significant milestone on January 1 when prices struck $1,000. Within days, bitcoin made history and reached gold parity. That early momentum has stuck through what has been a dramatic four months since the turn of the year.
The crackdown led by the People's Bank of China, the country's central bank, remains the single largest negative driver in prices throughout January and February. Prices fell as low as $750 on January 12th, before recovering.
In March, the anticipation of the SEC's decision toward a bitcoin ETF drove prices to hit an all-time BPI high of $1,350. The federal agency's rejection sent prices tumbling below $1,000 in a sharp fall to a low of $891 before bouncing back to begin a bullish price trend in April.
April began with bitcoin gaining recognition as a legal method of payment in Japan. The legislation has led to retailers making notable moves toward accepting the cryptocurrency. As many as 260,000 Japanese storefronts will be enabled to accept bitcoin as payment by this summer. Emerging markets such as Russia and India have significantly changed their previously hardline stance with bitcoin, with authorities now talking about regulating (and acknowledging) the cryptocurrency. The last week of April also saw the SEC announce its decision to review its rejection of the bitcoin ETF application filed by the Winklevoss brothers. News of the review, it appears, has helped bitcoin's bull run step up a gear. A week later, bitcoin is now trading at historic highs.
A protocol upgrade with Litecoin is among a number of factors that have contributed to the wider cryptocurrency market also making marked gains. Ethereum, the second most prominent cryptocurrency after Bitcoin, struck a new all-time high today and is now valued at $7 billion in overall market capitalization.
Global average prices struck a high a historic high of $1,433.81, according to data from BitcoinAverage.
David Ogden
Entrepreneur

Alan Zibluk Markethive Founding Member