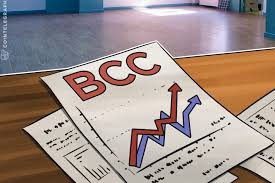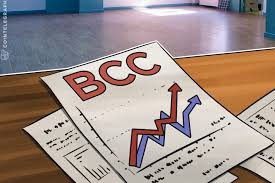 Bitcoin Cash — The New King of Cryptocurrency
Less than a month ago, a few new lines of code and a verbal agreement forked the Bitcoin blockchain, creating a newer, more nimble version called Bitcoin Cash. Since its arrival on Aug. 1, the infant cryptocurrency has more than doubled in value from $300 to a price north of $600, and investors are now wondering if its popularity poses a serious threat to the Bitcoin throne.
Bitcoin Cash is essentially a clone of the existing Bitcoin blockchain​ with one important feature: additional block size capacity (more on that later). Those who owned Bitcoin before the split now own an equal amount of Bitcoin Cash, meaning Bitcoin Cash and Bitcoin each now have 16.5 million units in circulation. Multiply Bitcoin Cash's recent price of $607 times 16.5 million units, and you arrive at a market cap of $10.8 billion, making it the third-most valuable cryptocurrency​ at around 16% of Bitcoin's $69 billion market value. An asset with the same value as streaming-music service Spotify or social media giant Twitter was born overnight.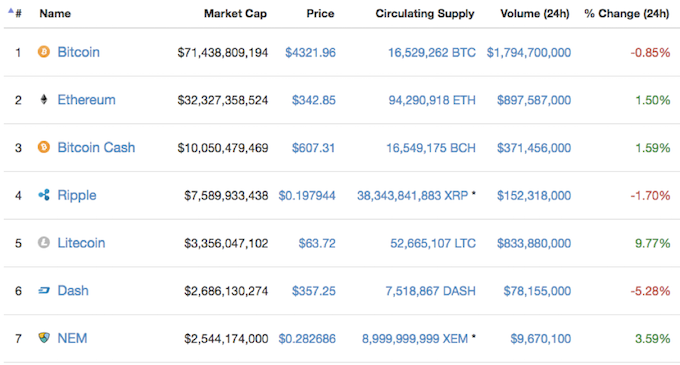 Source: Coinmarketcap.com
Bitcoin Cash got off to a slow start but sprang to life as the cryptocurrency's mining algorithm self-corrected to attract profit-seeking computers, known as miners. These super-computers are the beating heart of the blockchain responsible for verifying and embedding transactions in digital ledgers, called blocks. Once the market noticed a rise in the rate at which blocks were being produced, known as the hash rate, investors bid up the price of the resulting tokens.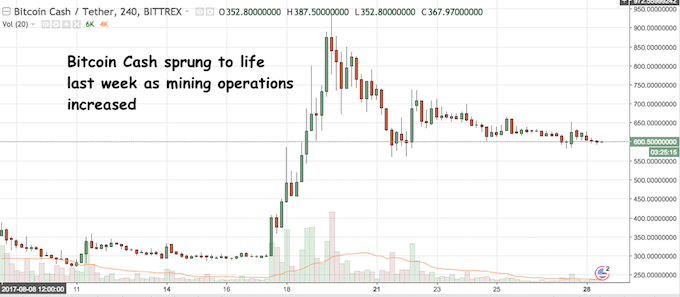 Source: Tradingview.com
An Answer to a Years-Long Dispute
When Bitcoin was first introduced in 2009, block sizes were unlimited. To buy and sell Bitcoin, wallets required users to keep a record of the entire blockchain. It was as if one had to download the entire history of Google searches to find something on the internet. This led to an abundance of Denial of Service (DOS) attacks as hackers stuffed blocks with meaningless transactions making it difficult for users with slower computers to transact. To alleviate this problem, the Bitcoin community moved to limit block size to one megabyte (MB)
Currently, the 1 MB block size limits transaction speeds to four to seven per second, which can't compete with Visa's and Paypal's 2,000 transactions per second. Newer, innovative wallets permit an increase in block sizes, and the introduction of Bitcoin Cash is necessary to scale for mass adoption as a payment platform.
The new cryptocurrency attempts to solve the scaling problem by increasing existing block sizes from 1 MB to 8 MB, thereby increasing the amount of transactions processed per day and improving transaction speed.
Critics argue that larger block sizes will lead to the centralization of mining operations, as larger blocks require professional hardware. This would run counter to the idea of a decentralized network of miners, and limit oversight of the Bitcoin network to a few large miners and nodes.
What Has Happened Recently
To run a cryptocurrency, miners must confirm and account for recent transactions and mine new blocks. Their profitability is the spread between the value of the block reward (price of the coin x # issued per block) and the amount of resources needed to mine the block (known as the "difficulty"). The hash rate is the speed at which blocks are created. Higher hash rates make mining coins more lucrative as it increases the opportunity of mining the next block and receiving the reward.
The blockchain contains an important, self-correcting mechanism that can either speed up or slow down the hash rate when necessary. Essentially, the mathematical formula at the heart of the blockchain goes through a difficulty adjustment every 2,016 blocks. The difficulty is set so that 2,016 blocks will be mined just about every two weeks. If the pace is too slow, the difficulty adjusts downwards; and if the pace is too quick, the algorithm becomes more difficult to solve.
As Bitcoin Cash struggled out of the gates to attract miners, its difficulty adjusted sharply downward, making mining an extremely lucrative proposition. Accordingly, Bitcoin miners chased the easy money and shifted capacity to Bitcoin Cash. Hash rates subsequently skyrocketed, and this caused havoc to the original Bitcoin network. In just the past few days, the Bitcoin hash rate has been halved—slowing down the network and raising transaction prices.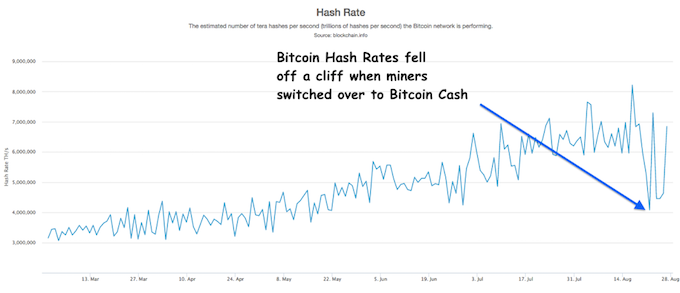 Source: Blockchain.info
Reports on social media say that Bitcoin transactions are taking hours or even days to confirm. However, the slower hash rate means that Bitcoin's difficulty adjustment will be lowered for the next cycle and lead to an increase in miners.

The Bottom Line
Blockchain miners are now shifting capacity to Bitcoin Cash's larger block-sized network, which is temporarily troublesome for the Bitcoin network. However, the difficulty adjustment for both networks will ensure that Bitcoin remains the king cryptocurrency—at least for now.
Author: Ian King August 28, 2017
Posted by David Ogden Entrepereneur
Alan Zibluk Markethive Founding Member