Twitter pages of Kanye West, Elon Musk, Jeff Bezos, and Apple share Bitcoin scam

Twitter has been ablaze over the past two hours as notable accounts within and outside of the crypto space have tweeted suspicious messages.
It began at approximately 12:00 p.m. (PST) when the accounts of a number of Bitcoin traders, cryptocurrency exchanges, and industry executives shared a scam called "CryptoForHealth."
Most Bitcoin holders were immediately able to identify it was a scam.
But the scam quickly snowballed once the Twitter account of Elon Musk, followed by nearly 37 million users, tweeted out a Bitcoin address. Attached was 'Musk' promising to multiply coins sent to the address.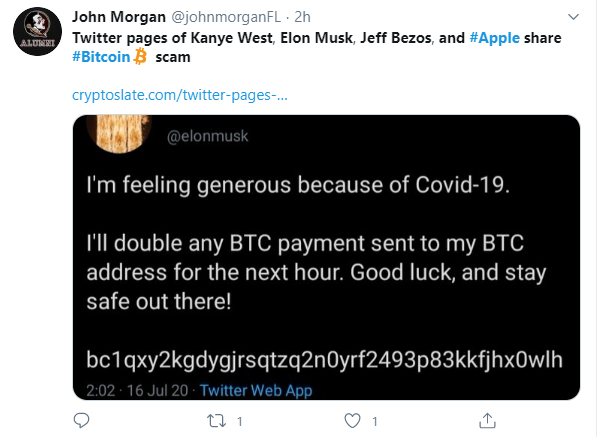 In the minutes after the account of Musk sent this tweet, the Twitter accounts of Kayne West, Apple, Uber, Jeff Bezos, and Bill Gates shared messages along the lines of the tweet above. No heads of states have been affected by this hack thus far, though Mike Bloomberg's account was just affected.
The Bitcoin address included in the tweets sent from these other prominent accounts is the same as the one above.
As of this article's writing, the primary address attached to this scam has garnered over six BTC, currently valued in excess of $56,000 according to CryptoSlate data.
The value of Twitter's stock has dipped as this hack has ravaged some of the platform's biggest accounts. TradingView data indicates that the shares are down 3.2 percent in after-hours trading.
Written by
Nick Chong
Analyst @ CryptoSlate
https://cryptoslate.com/twitter-pages-of-kanye-west-elon-musk-jeff-bezos-and-apple-share-bitcoin-scam/