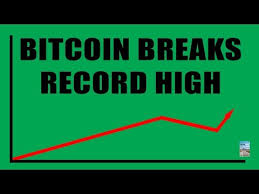 Bitcoin Cryptocurrency Breaks New Record High
FinancialBuzz.com News Commentary
NEW YORK, August 18, 2017 /PRNewswire/ —
Bitcoin hit a record high above $4,500 yesterday and now putting the market capitalization over $73 billion according to CoinDesk. William Mougayar, the Founder of Startup Management, explained to Fortune that increased interest from Korean and Japanese exchanges are increasing the value of the cryptocurrency. "Another part of it is driven by the psychology of markets, as $USD 5,000 seems to be within reach, now that the $4,000 level has been easily broken," Mougayar said. The capitalization of Bitcoin is currently higher than some S&P 500 stocks, such as Netflix and PayPal. ChineseInvestors.com, Inc. (OTC: CIIX), NVIDIA Corporation (NASDAQ: NVDA), Advances Micro Devices, Inc. (NASDAQ: AMD), First Bitcoin Capital Corp (OTC: BITCF), MGT Capital Investments, Inc. (OTC: MGTI).

"PayPal was initially created with a similar vision to bitcoin — as permission less money," said Ari Paul, Chief Investment Officer of cryptocurrency investment firm BlockTower Capital, CNBC reported. "PayPal wasn't able to fulfill that vision, but bitcoin is well on the way. Bitcoin can be usSOURCE FinancialBuzz.comed to transfer $100 million anywhere in the world in 10 minutes and for less than $2. Bitcoin rising in value above PayPal reflects its growing role as the best way to move money globally."

ChineseInvestors.com, Inc. (OTCQB: CIIX) announced on August 14th the, "Launch of its cryptocurrency education and trading subscription service on ChineseIn.com, the Company's dynamic financial website that provides real-time market commentary, analysis, and educational related services to Chinese-speaking investors. The new subscription service will cover timely news and will provide analysis regarding all aspects of the emerging digital currency world, including coverage of cryptocurrencies including bitcoin and ethereum, industry trends, price movement, sector related stocks and ETFs, etc.
Cryptocurrency has attracted a lot of attention in recent years from the creation of bitcoin, the world's first decentralized digital currency to blockchain technology, which allows cryptocurrency to transfer value across the globe without resorting to traditional intermediaries such as banks. The ability to transfer value solely through software is a huge breakthrough. The cryptocurrency market has also created new phenomena such as currency mining, trading, tender, and storage. At the same time, it has significantly impacted industries such as cybersecurity, cloud computing and storage, and semiconductors."
"Cryptocurrencies like bitcoin have become a global phenomenon," says Warren Wang, Founder and CEO of CIIX. "Since January 2015, the price of Bitcoin has increased 500% from $200 to $1,000 in January 2017, and just spiked to a record high over $4,000 as US-North Korea tensions escalated. Likewise, ethereum has surged from less than $10 to more than $300 this year.
With the use and trading of cryptocurrencies on the rise in Asia, it appears that a much wider adoption of digital assets may be right around the corner. With an estimated 85% market share, China is one of the dominant players controlling bitcoin volume, along with Japan (which recently legalized bitcoin as a form of payment) and the United States. While many see the unique opportunity that cryptocurrency poses for investors and desire to capitalize on this market opportunity, they may not have a full understanding of the concept of digital currency or how the system works. CIIX intends to provide fundamental knowledge to Chinese speaking newcomers to cryptocurrency, including straightforward explanations of the basics of cryptocurrency, how to buy it and straightforward trading guidelines. For those with cryptocurrency experience, the Company will provide more detailed information regarding currency mining, blockchain technology, stock trends and ETFs. Through its innovative cryptocurrency education and trading subscription service, the Company endeavors to be the leading Chinese educational site providing up to date news and information on digital currencies."
NVIDIA Corporation (NASDAQ: NVDA) sparked the growth of the PC gaming market with the invention of the GPU in 1999. The company redefined modern computer graphics and revolutionized parallel computing. On August 10th, the company announced second quarter financial results for fiscal 2018. According to the CFO's commentary, "Our PC OEM revenue includes GPUs designed for mainstream desktops, notebooks, and cryptocurrency mining. The recent rise in crypto coin prices resulted in increased demand in OEM GPU sales." GPU business revenue was $1.90 billion, up 59 percent from a year earlier and up 21 percent sequentially, led by strength across all platforms, including datacenter, gaming, and professional visualization platforms, along with PC OEM sales.
Advances Micro Devices, Inc. (NASDAQ: AMD) has driven innovation in high-performance computing, graphics, and visualization technologies, the building blocks for gaming, immersive platforms, and the datacenter. AMD announced its financial results for the second quarter on July 25th. On the earnings call, CEO of AMD, Lisa T. Su said, "In Graphics, GPU revenue increased by a strong double-digit percentage from year ago, with higher unit shipments and ASPs driving growth across our desktop and mobile GPU products. Demand for Radeon RX GPUs was strong in the quarter, driven by gaming and cryptocurrency mining."
First Bitcoin Capital Corp (OTC: BITCF) is engaged in developing digital currencies, proprietary Blockchain technologies, and the digital currency exchange — http://www.CoinQX.com . The company provides shareholders with diversified exposure to digital cryptocurrencies and blockchain technologies. On July 9th, invested its primary wallet owning dozens of cryptocurrencies into AlphaBIT in exchange for controlling interest, e.g. 200,000,000 ABCs. AlphaBIT is a closed-end crypto-exchange traded fund (CETF).
MGT Capital Investments, Inc. (OTC: MGTI) focus' on an expansion model to grow its crypto assets materially. The Company is also developing a portfolio of cyber security technologies, with industry pioneer John McAfee as its visionary leader, creating advanced protection technologies for mobile and personal tech devices, as well as corporate networks. On Thursday, MGT announced the deployment of 650 new Bitmain S9 Bitcoin mining rigs. These units are located at a new multi MegaWatt facility in central Washington state. Robert Ladd, Chief Executive Officer of MGT commented, "We are committed to this sector and look forward to updating stockholders on our continuing growth."
SOURCE FinancialBuzz.com
Posted By David Ogden
Entrepereneur
Alan Zibluk Markethive Founding Member