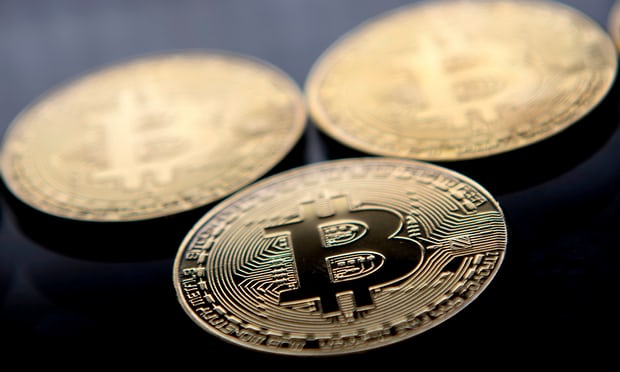 Bitcoin nears $10,000 mark as hedge funds plough in
Cryptocurrency now worth seven times an ounce of gold, with market cap higher than IBM, McDonald's or Disney — but analysts warn of 'a huge bubble'
Bitcoin mining consumes more electricity than Ireland
Bitcoin has hit a record high after passing $9,000 (£6,700) and is close to reaching five figures as investors in the cryptocurrency shrug off warnings of a bubble.
The cryptocurrency rose to an all-time high of $9,721 on Monday. It is now worth more than seven times an ounce of gold, which is seen as a haven in times of turmoil.
In a remarkable rally, bitcoin started the year at $1,000 and smashed through $5,000 in October.
Analysts said the decision by the Chicago Mercantile Exchange (CME) to launch bitcoin futures in December had fuelled buying, but also warned of the dangers of a speculative bubble building. The digital currency has gained more than 50% since the CME announced its decision on 31 October.
Neil Wilson, senior market analyst at ETX Capital, said: "The legitimacy this gives bitcoin as a tradeable asset is very important. The market cap of bitcoin now exceeds that of IBM, Disney [or] McDonald's."
The value of the 16.7m bitcoin units in circulation has exceeded $160bn.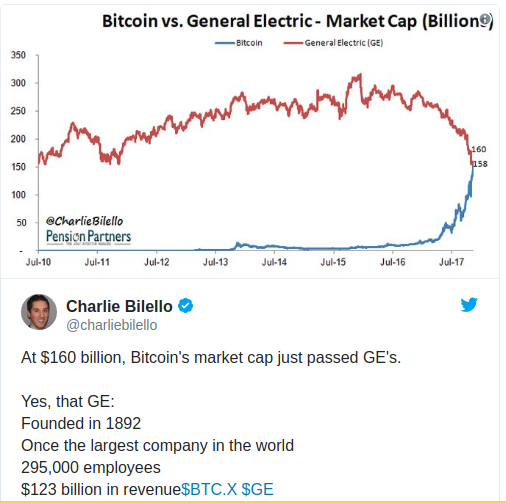 Warning of looming pain for bitcoin buyers, Wilson added: "But for traditionalists, it's hard to fathom. Rather than a commodity or currency, bitcoin is like owning stock in a company that will only ever issue 21m shares and never pay a penny in dividends.
"The only way it has value is if the next guy is willing to pay you more for it — the greater fool. With no intrinsic value to bitcoin, it's hard to see this as anything other than a giant speculative bubble."
Bitcoin is a virtual currency that emerged in the aftermath of the financial crisis. It allows people to bypass banks and traditional payment processes to pay for goods and services.
Banks and other financial institutions have been concerned about bitcoin's early associations with money laundering and online crime, and it has not been adopted by any government.
The price has been volatile. Bitcoin plunged below $3,000 in mid-September after the Chinese authorities announced a crackdown. To help rein in some of that volatility, CME will not allow the trading of bitcoin futures at prices 20% above or below the settlement price from the previous day.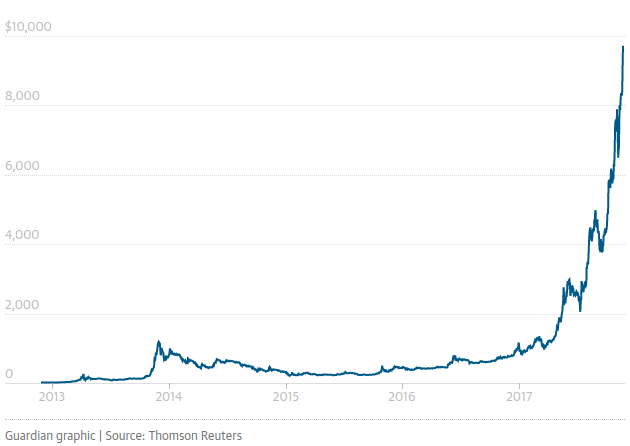 Hussein Sayed, chief market strategist at the online foreign exchange broker FXTM, said bitcoin was showing no signs of slowing.
It is not just retail investors buying the cryptocurrency. Many hedge funds have also decided to include it in their portfolios and, according to CNBC, the financial news service, there are more than 120 funds investment devoted to cryptocurrencies.
Sayed said it was almost impossible to give the cryptocurrency a fair value based on fundamentals, but added that there had been a strong correlation between the price of bitcoin and number of users opening new wallets.
He added: "Given that number of users haven't exceeded 0.1% of the global population, there's still more potential for this momentum trade to continue. Whether the price will be justified in the foreseeable future, depends on the adoption and the application of the new currency, but so far it still looks unstoppable."
The starkest warning has come from the JP Morgan chief executive, Jamie Dimon, who said bitcoin was a fraud that would ultimately blow up.
There has been a boom in initial coin offerings (ICOs), in which new cryptocurrencies are launched into the market — often backed by a celebrity, such as the American socialite Paris Hilton and the boxing champion Floyd Mayweather.
ICOs have come under increased scrutiny from regulators, owing to fears that investors are not properly protected. David Futter, a partner in the digital economy at the law firm Ashurst, predicts that scrutiny will intensify.
Source Gaurdian Business UK
Posted by David Ogden Entrepreneur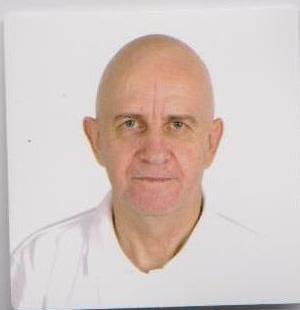 Alan Zibluk Markethive Founding Member