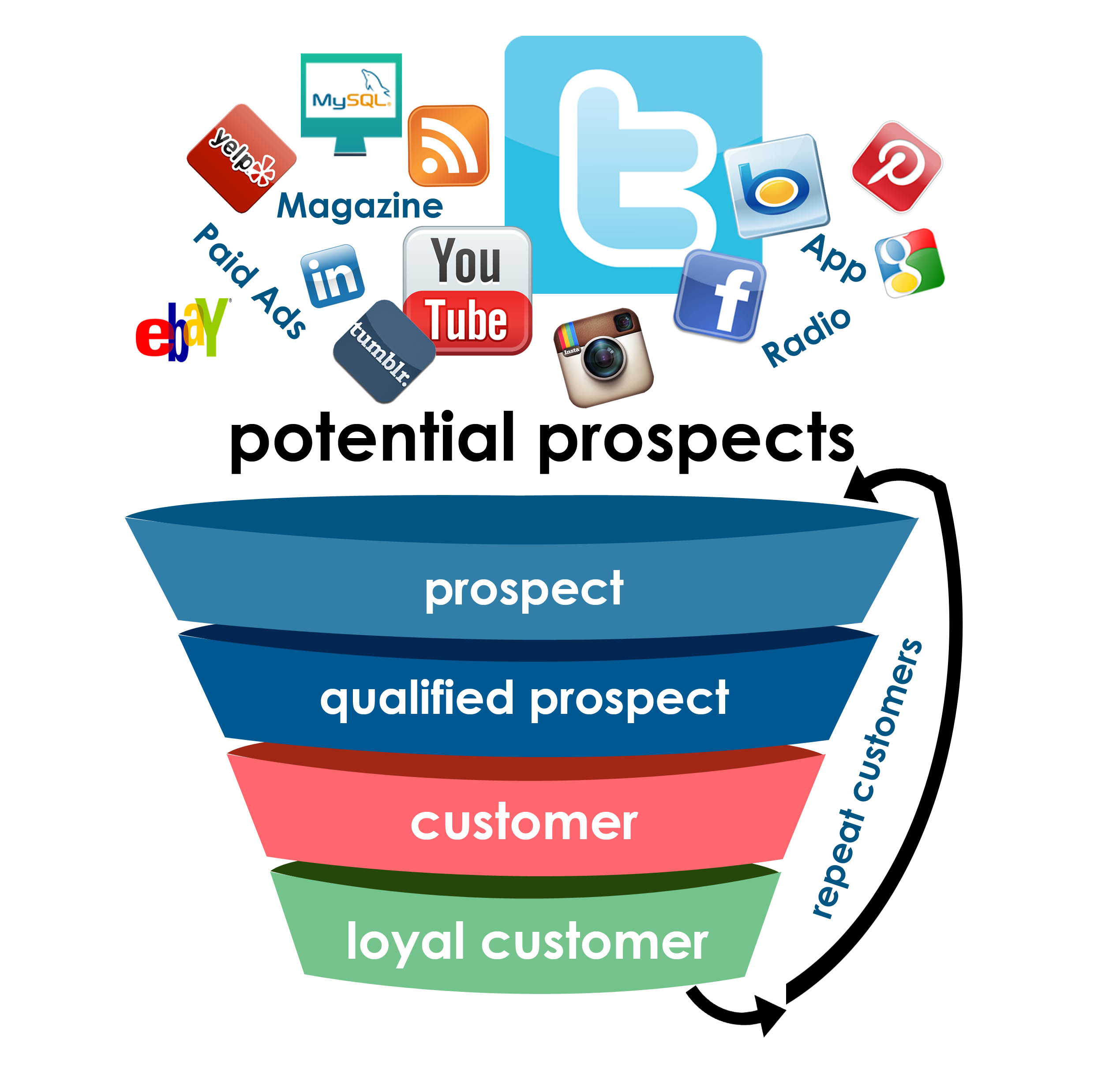 What is this thing called a sales funnel, and why is everyone going crazy over it? There is always talk on the Internet about sales funnels, but who really understands what a sales funnel is and how to correctly implement one?
Well, perhaps there is a considerable amount of confusion about sales funnels because it is one of the distinguishing factors that separates the successful marketer / business person from the unsuccessful one. Have you ever bought something online or over the telephone from a TV advertisement?
The kind of funnel that most of these TV ad-men design more closely resembles a black hole. The realize that they probably have one shot and one shot only to sell to a customer calling on an 800 number. After you have made one purchase, you will usually be given a chance to double the order, for only the (inflated) cost of shipping and handling. Then one product after another will be offered in an attempt to squeeze every last dollar out of the call. This is distasteful to the consumer, but this kind of sales funnel is common in that industry. You really do feel like sucker if you let yourself get caught in their "black hole", and buy product after product.
Just ask any typical business person, what do you do with the people who do not buy your products or services? Most would say, well, nothing. Well, you probably have what is called a leaky sales funnel. This is not so easy to set up for a brick and mortar type of business, but every online business should pay attention to their sales funnel. There almost always is a significant impact on your bottom line.
Everyone knows that taking care of customers is a priority. If any business is to survive, it is a well-established fact that you have to take good care of your customers.
Say what you will about the Internet Marketing Industry, one thing that good Internet Marketing Professionals have going for them is that they understand very well that it is not only the quality of the product you promote, but the specific design of your sales funnel that can often make the difference between a mediocre success and big success. To rephrase, a well-designed sales funnel could be the difference between losing money, merely breaking even, and making a significant profit.
Let's try to clear up some basic confusion about sales funnels using the above graphic. Most businesses think that everyone in America, or everyone in their hometown of business is a prospect. In reality, until someone walks into your store, they are only a potential prospect. In the case of online business, until someone signs up for your email newletter, free product download, webinar, or other offer, there are no prospects, only potential prospects.
Everyone outside of your sales funnel is the audience you are trying to reach. This nearly limitless pool contains all of the potential prospects for your business. They have not walked into your store. They have not signed up to be contacted by you in any way. You don't know who they are, although you might have some idea where they hang out. They are only potential prospects because you have no way of contacting them, until they take the first step into your sales funnel.
Once they walk into your store, or provide their email address, then they actually qualify as a prospect. Now you can contact them and work with them to help them become a customer. Everyone wants to do more than just survive. If you want to thrive, you need to find a way to quickly determine who is ready, willing, and able to buy right now. That should be the first step.
I have to give Steve Rosenbaum credit for identifying this as such an important step. He also talks extensively about leak-proof sales funnels. This is a guy who really knows the sales process, both online and offline. As you can see from the graphic above you can see there is a step-by-step process until a prospect becomes a customer.
Also, there should be a clear method to allow customers to become what I would call loyal customers, by making repeat purchases. As shown by the arrow on the right side of the funnel, they should easily be able to become repeat customers. It may be because the product is renewable, or relies on a subscription model, or they simply like your product or service enough to purchase additional products or services from you.
There is obviously a great deal more to discuss about funnels, but I think the fundamentals discussed here are important enough to warrant this kind of post.
Related articles
Al Zibluk