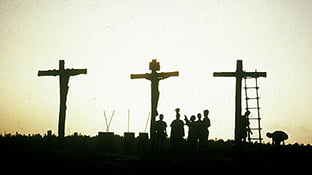 Who is Jesus?
Series: Jesus Booklet
Who is Jesus Christ?
He is the founder of the largest religion — Christianity — with over two billion followers. Those two billion believe that Jesus Christ is the Savior of the world and the Son of God. He is completely unique. The Bible says, "God so loved the world that He gave His one and only Son, that whoever believes in Him shall not perish but have eternal life." (John 3:16). The most important decision you will make in your entire life is whether to believe in Jesus Christ or not — on that rests your eternal destiny.
Are you willing to learn about Jesus Christ today?
What makes it possible to study Jesus is that His life was one of the most well documented of any in ancient times. Three of His followers, Peter, Matthew, and John, wrote books about Jesus in the New Testament. The apostle Paul wrote extensively about Jesus within the first thirty years after His death. Two other Gospels, Luke and Mark, were written by people who traveled and spoke extensively with Peter and Paul.
Jesus can change your life today, even as He has changed others' lives throughout history.
Come on a journey as we learn about Jesus Christ — who He really was and is today. You will find out why He is the most important Person in the world — and what He can mean to your life today.
Who did you think Jesus is? Do you believe that Jesus really was the Son of God? If you're not sure, talk to a caring Christian about it!
Alan Zibluk Markethive Founding Member