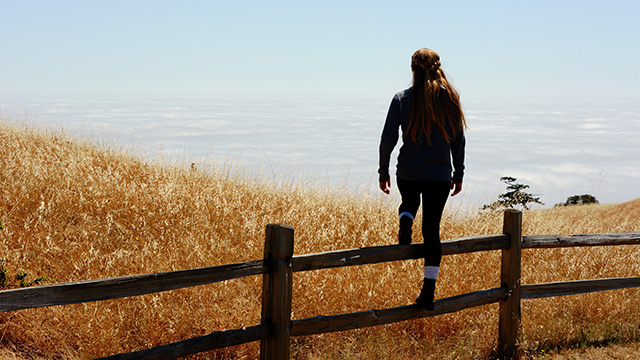 Doing the very thing that makes you afraid can be God's way of helping you overcome that fear.
Written by Gary Fleetwood on 16/07/2018
Series: Weekly Devotional
---
The Lord is my light and my salvation; whom shall I fear? The Lord is the stronghold of my life; of whom shall I be afraid?

Psalm 27:1
I remember the first time that I went to Zimbabwe to evangelize out in the rural areas of the country. That first day was a little scary (to say the least). The person driving me around dropped me off in the middle of nowhere! I was with a young teenage boy who had been in the area before, but there was nothing familiar in sight. We could not see any villages, there were no roads except the one we were on, and we were very near the Zambezi River where all the wild animals go for water during the day.
I would be lying if I said that I was not a little bit anxious and fearful. I didn't even know where I would be at the end of the day or who was coming to pick us up. As the day got later and began to cool off, the wild animals started to move around more and my anxiety increased all the more.
You can probably imagine why I was not optimistic about my evangelism trip at this point. I did not even speak the language of the people that I was there to evangelize. However, after a week of walking in 100-degree heat every day, nearly 200 people had come to Christ. The next week I stayed with them and discipled them every day for about eight hours and a church was started.
So, what did I learn through that experience?
This trip was one of the greatest lessons of my life. I learned that I could trust God completely to help me reach people that needed Christ and that He was my protection at all times — even in a very dangerous setting. It strengthened me that I could trust God — especially when I was afraid. By the end of the first couple of days in the country I found that I no longer felt afraid, and eagerly wanted to return to the rural areas and start evangelizing the next day. It was great. No wonder David could say in Psalm 27:1 "Whom (or what) shall I fear?"
Learning how to overcome fear is one of God's spiritual tools.
Everyone has certain things in their life that make them afraid. However, doing the very thing that makes you afraid can be God's way of helping you overcome that fear.
I remember the first time that I ever flew. I was very nervous, and every time the plane encountered turbulence, I would become anxious. I would immediately think "Are we going to crash?" However, I have been flying for many years now, and I rarely even notice the turbulence, and I certainly am not afraid or anxious about flying.
Many people seem so fearful to share their faith that they never talk to anyone about Christ. They wonder what someone will think of them, or they think that they cannot answer all of their questions. The best way, though, to overcome that fear is to talk to someone about Christ. Your faith in God's power and presence in your life will give you the help to overcome your fears of witnessing to someone. Listen to what God told Joshua in Joshua 1:9:
"Have I not commanded you? Be strong and courageous. Do not be frightened, and do not be dismayed, for the LORD your God is with you wherever you go."
What a great promise! In difficult times that make us afraid, God's truth becomes our comfort and our strength. His truth gives us all of the reasons to have hope because our God is a great God, an all-powerful God.
Is there anything else that can help me trust God through my fears?
Any time that we are facing fears that seem to cripple us and paralyze our life, they are always harder to face when we face them alone. Sometimes we have to face them alone, but other times we need someone else in our life to encourage us and give us hope as we face our fears. Recently I had to speak to a group of people who were going on their first ever mission trip to Madagascar. It was a very long trip, and most of them had never been on a mission trip.
They knew nothing, and it frightened some of them. However, simply listening to me sharing with them about the many times I have gone to new places to minister Christ to people became a great encouragement to them. The encouragement that we can find from sharing our fears and anxieties with other believers can be a great source of strength in our life.
---
Pray this week:
Father, in those areas of my life that make me afraid, will you please bring someone into my life that can help me face those fears? I know that I need a spiritual helper that can be there to encourage me when I feel those fears coming on me.
---
Are you willing to open your life up to someone else to let them know about your personal fears that you are trying to hide from everyone else?
Alan Zibluk Markethive Founding Member