What Does The Future of the Ad-Supported
Revenue Model Mean to the Internet and Technology?
An advertising-supported revenue model is a business approach that emphasizes the sale of advertising as a major source of revenue. This structure is most prominent in traditional broadcast and print media, as well as online media. Media businesses generally earn revenue from advertising, customer subscriptions or a combination of the two.
Traditional Media
TV and radio shows, along with newspapers and magazines, generally serve to entertain or inform viewers or readers. TV and radio have traditionally been largely advertising-supported. While networks and TV stations do often earn revenue through subscriptions to satellite or cable television, much of their income is earned from advertisers trying to appeal to viewers. Similarly, magazines and newspapers charge subscription or purchase fees, but advertisers pay to place ads within these print media.
E-Commerce
The emergence of the Internet in the mid-1990s has affected the advertising-supported revenue model. Newspapers, for instance, have tried to adjust to increased demand for online content and limited growth in print publications. Thousands of media websites have been born online, which often offer free access to content for users. This attracts users and enables the publishes to sell banner ads and advertorial ad spaces. Traditional newspapers have offered free content as well, but many are trying to figure out how to combine ad revenue with subscription fees as of 2013.
Benefits
The benefit of an advertising-supported revenue model is that if you have an audience, you can almost always find companies that want to pay to reach it. This is especially true when you can provide specific details about the nature of your audience. When you operate with a 100 percent ad-supported model, you can more easily attract users with free content. Newspapers have long given away hundreds of copies to businesses and organizations in communities to drive up their circulation and readership, and subsequently, ad revenue potential.
Drawbacks
The major drawback of an entirely ad-supported revenue model is the inherent lack of diversification. Businesses generally prefer multiple revenue streams when possible. In a down economy, advertisers might back off their investments, which can more negatively affect a medium that has no subscription revenue. Plus, print publications, and even some websites, have high costs. Even a small subscription rate can help cover some of these costs. Local newspapers charging, say, 35 cents per issue can't use that to cover all production costs, but the fees do help offset costs and allow revenue to build.
Facebook Reports Soaring Revenue, Buoyed by Mobile Ads
On Wednesday, Mr. Zuckerberg's social-networking company, Facebook, reported another quarter of soaring revenue. The company said sales in the fourth quarter rose 52 percent from a year ago, to $5.84 billion, while profit increased to $1.56 billion, more than doubling from $701 million a year ago. For the full year, the company reported $3.69 billion in profit on $17.93 billion in revenue, an increase of 44 percent from 2014.
The numbers far surpassed Wall Street's fourth-quarter expectations of $1.2 billion in profit on $5.37 billion in revenue. Investors welcomed the performance by pushing up Facebook's stock more than 12 percent in after-hours trading.
The results were largely a result of Facebook's enormous success in selling advertising on mobile devices, a business that the company was not even in just a few years ago. Mobile ads made up 80 percent of the company's total ad business in the fourth quarter, compared with 23 percent in the same quarter of 2012.
"We have a Super Bowl on mobile in the U.S. every single day," Sheryl Sandberg, chief operating officer of Facebook, said in an interview.
The results offer a bright spot in a tumultuous climate for many American technology stocks. Shares of Twitter, Facebook's most visible social networking competitor in the United States, have tumbled more than 55 percent during the last year. Yelp, the local-review service, is down about 60 percent. LinkedIn, the professional social networking service, is off more than 15 percent.
Facebook is a much larger company than many of its peers, yet it is able to keep its growth rate high. The company has notched double-digit jumps in ad revenue and in the expansion of its user base. Facebook now has 1.59 billion monthly visitors, up 14 percent from a year ago. About 1.44 billion of those people visit the site on a mobile device; 1.04 billion visit Facebook every day.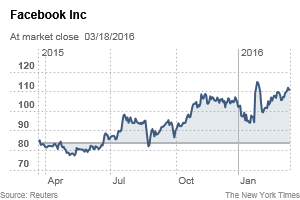 That growth engine has given Facebook lots of room to play in different areas — like virtual reality, messaging and even building drones capable of delivering Internet service to far-flung places around the world — that seem to have little to do with Facebook's core business of advertising.
Facebook is spending billions of dollars developing those projects, and Mr. Zuckerberg has repeatedly said the company has no plans to make money on them in the near term. In an earnings call with investors, David Wehner, Facebook's chief financial officer, said the company projected that expenses would increase roughly 30 to 40 percent over the course of 2016 compared with last year.
One example of the spending is on Oculus, Facebook's $2 billion bet on bringing virtual reality to the mainstream. The unit will begin selling its first headsets to consumers in March. Facebook has said it plans to sell the hardware, called the Rift, at a loss to help the technology catch on with a large audience.
"These are long-term bets, but we don't think they're particularly large bets relative to the size of Facebook," said Ben Schachter, an Internet analyst at Macquarie Securities. "They've gone out of their way to say they're not Google and going after health care, for instance."
Other analysts said they also saw potential for profit in the hundreds of millions of people who regularly use Facebook Messenger and WhatsApp, a messaging service also owned by Facebook.
They are also bullish on the potential for Instagram, the photo-sharing service that has more than 400 million regular monthly users, to become a significant source of revenue in the future. The company does not disclose what portion of revenue Instagram accounts for in Facebook's overall sales. Ms. Sandberg said 98 of the top 100 advertisers on Facebook also advertised on Instagram in the last quarter.
As for Mr. Zuckerberg, he spent a portion of the investor call on Wednesday talking about his new role as a father to his daughter, Max.
"With a new addition to my family, I've been reflecting a lot on the legacy we want to pass on to the next generation," he said, adding that he wanted Facebook to "continue to focus on solving the fundamental challenges facing the world, and bringing the world closer together."
If you believe that my message is worth spreading, please use the share buttons if they show at the top of the page.
Stephen Hodgkiss
Chief Engineer at MarketHive
markethive.com
---
Al Zibluk