Typically Sundays are the days where I plan out my week. I prefer to make my own lunch instead of going out where I am not always sure what I am getting. There is a certain satisfaction of making something yourself. I should also mention I am saving money by only going out to lunch on Fridays and Saturdays.
My Brother Jack noticed some of the different things I was making and bought me a Crock-Pot. That was the perfect early Christmas present. I like experimenting with Brown Rice, Lentils, Quinoa and Chickpeas as they are all healthy.
This past Sunday I made a recipe that came with the Crock-Pot called "Chunky Vegetable Chili". The ingredient list and instructions are below.
Chunky Vegetable Chili
2 15 oz. cans Great Northern beans, rinsed and drained
1 cup frozen corn
1 onion, chopped
2 ribs celery, chopped
1 6 oz. can tomato paste
1 4 oz. can diced green chilies, undrained
1 carrot, diced
3 cloves garlic, minced
1 tbs. chili powder
2 tsp. dried oregano
1 tsp. salt
1 cup water
In the Crock-Pot Slow cooker, combine the beans, corn, onion, celery, tomato paste, green chilies, carrot, garlic, chili powder, oregano and salt. Stir in the water. Cover; cook on Low for 5½ to 6 hours, or until the vegetables are tender.
Below is a picture of what it looked like before I turned on the power. I should mention I use Himalayan Pink salt anytime a recipe calls for salt.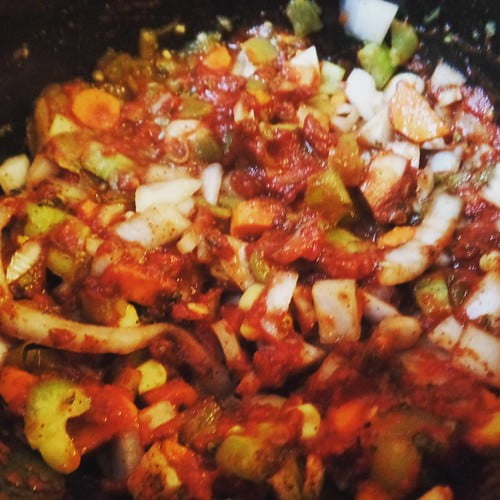 The picture below is my "6 hours later" photo. I threw in an avocado in the middle of the cooking time. The recipe didn't need it but I wanted to use it up and I am a big fan of avocados. I also threw in some shredded cheddar cheese the last ten minutes of it. This made four meals.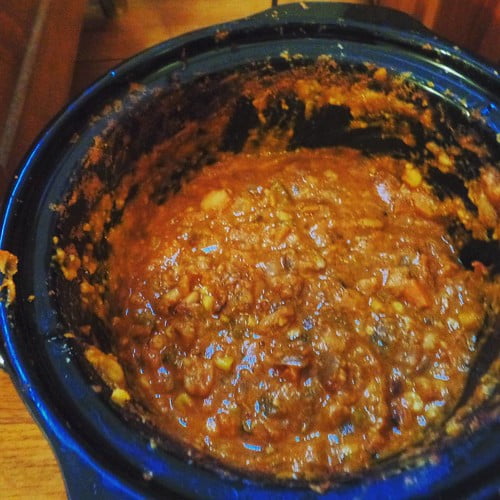 As mentioned in this blog post I experiment. During this week I would cut up pieces of eggplant, mushrooms and tomatoes and put them in a saucepan with coconut oil in it. I would cook them on medium heat for 15 to 20 minutes. I wanted them cooked. I then added some of the Chunky Vegetable Chili into it for another 5 to 10 minutes.
My favorite combination was adding Sriracha sauce, olives and blue cheese crumbs to it. I was satisfied on a taste bud level of it. It wasn't the best tasting chili ever but I thought it was pretty good and as I mentioned earlier, it is satisfying making something yourself. Below is a picture of that combination.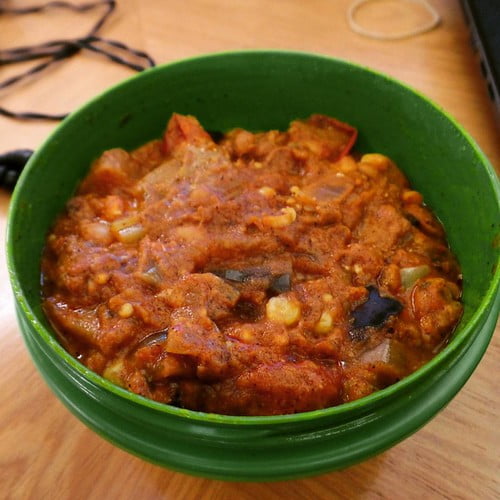 All the best,
Alan
Alan Zibluk
http://alanzibluk.com
e-mail: alan@internetguy.ws
Al Zibluk