America Cross Roads: Despair or Prosperity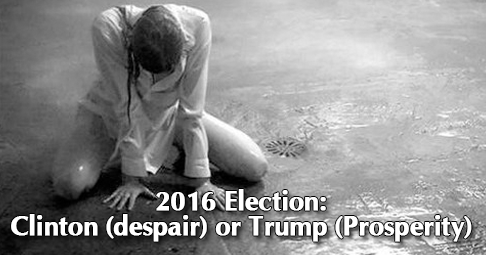 I pray that the majority of Americans have common sense, good sense, curiosity, empathy and self respect. This machine, this matrix, this system we live in has usually been subtle in controlling us.
Remember 911 (2001) just a terrorist attack folks, go back to work and keep shopping? But as well as that deception was done, it began to unravel. And continued to do so. At first we (including myself) rejected the notion it was a false flag, but even I came around to see it as such.
That was 2001, 15 years ago. A lot has transpired and I believe we have all had our "take the red pill" moments. The majority of us, know something is wrong.
And here is the sweetness of Trump. He is the "outsider", he beat 16 other Republicans, all of them puppets of the system. Even Ted Cruz with his hand tucked under his coat (AKA Glenn Beck Illuminati meltdown drama queen).
As this machine consorts and thrashes and screams ever louder with more frantic and obvious desperate attempts to destroy Trump, The huge revealed cheating (ie: the polls) the obvious gamed debates, the false accusations and manufactured witnesses, it is becoming so very clear, that a vote for Trump is a knife in the systems heart.
I ultimately trust the American people, that they have and are waking up, that this election is the beginning of a huge revolution. This election's outcome will have two stark paths; An America where WW3, ruin and civil war, despair, will be our reward, or an America were the people's unity is restored, the Rise of the Entrepreneur will lead America into a innovation and new wealth for all renaissance making America the greatest nation on earth (again). The choice has never been more clear.
Vote carefully, as this time your life depends on it.
The choices have never been more black and white, good vs evil, prosperity vs disparity, honesty vs deception, life vs death.
Alan Zibluk Markethive Founding Member