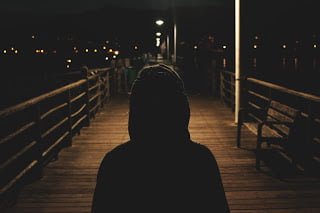 Learn how to face your fears and live in peace
Written by June Hunt on 01/05/2018
Series: Weekly Devotional
---
Fear not, for I am with you; be not dismayed, for I am your God; I will strengthen you, I will help you, I will uphold you with my righteous right hand.

Isaiah 41:10
If I am walking down a path, and spot a rattlesnake at my feet, I should feel fear. But, reacting rashly could cause me to be bitten. If a bee were to land on me, I must not react to it to avoid being stung. The bee sting and the snakebite are defense mechanisms designed for their own self-protection.
Fear is a God-given response to danger. Sometimes it's clear where the fear is from, but other times, it is hidden—causing a deeper emotional impact. God created us to react to fear in a protective way with a fight, flight, or freeze response. While fear is a natural, God-given emotion, fearfulness is not. Fearfulness causes us to live as prisoners, in constant worry over a threat that may or may not exist. We can live in a state of fearfulness when we feel threatened—either physically or emotionally—in these three areas: love, significance, and security.
Your love from others feels in danger.
Do you ever fear losing someone important in your life? Maybe you've thought, "If I lose the dearest person in my life, I won't know what to do or how I can go on living." You might fear losing relationships if your performance, talents, or abilities are not "good enough." Or maybe it's about declining physical attractiveness, fearing that if you start looking older or put on weight, you will lose the affection of others. The solution to the fear of losing love is to know that the Lord loves you beyond measure. "As high as the heavens are above the earth, so great is his love for those who fear him…" (Psalm 103:11).
Your significance feels in danger.
Do you find yourself fearing that you might lose your sense of identity? Perhaps you've thought, "If I lose my job, I'll lose all I've worked to achieve." You fear losing a sense of fulfillment, thinking that you are a failure if you don't reach your goals. Or you're concerned about your reputation, fearing that others will lose respect for you if they get to know the real you. The solution to overcoming the fear of losing significance is to understand your value to God. He chose to save you and has planned a future for you. … "'For I know the plans I have for you,' declares the LORD, 'plans for welfare and not for evil, to give you a future and a hope'" (Jeremiah 29:11).
Your security feels in danger.
Do you worry about financial security? Perhaps you've thought, "If I don't do well on this project, I might lose my job. Then I won't be able to support myself or my family." Maybe you fear losing your home and having nowhere to live, no means for survival. Or perhaps you have fear about your declining physical health; maybe you constantly worry about getting sick or dying. The solution is in knowing that true and lasting security is found in a personal relationship with the Lord. … "In God I trust; I shall not be afraid. What can man do to me?" (Psalm 56:11).
God can help when we experience fear and danger. Turn to God and take this verse to heart … "When I am afraid, I put my trust in you" (Psalm 56:3).
---
Pray this week:
Dear God, I thank You that You are my Shepherd. You guide me … You protect me … and You give me Your peace. You are the One who restores my soul. You know my weaknesses and the times I've caved in to fear. Now, in my weakness, I choose to rely on Your strength. By Your power, move me from fear to faith. As I turn my fear over to You, use it for good in my life to remind me of my need for You. In Jesus' name, Amen.

---
What in your life is currently causing you to fear? What would it look like to trust God and move in faith in your situation?
Alan Zibluk Markethive Founding Member