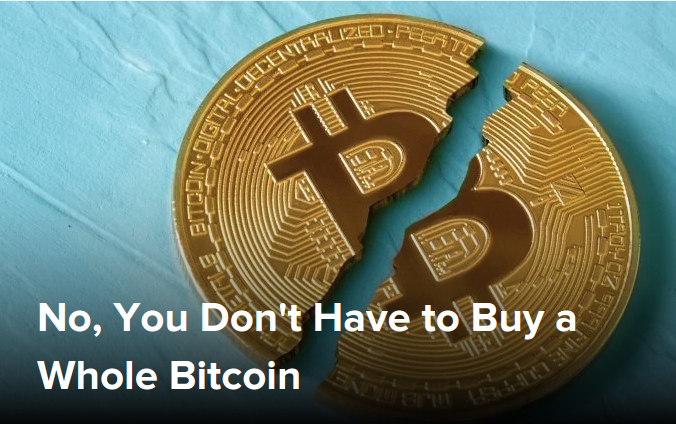 No, You Don't Have to Buy a Whole Bitcoin
"How much is bitcoin?"
"Around $14,000."
"Well, that's too expensive. I can't afford that."

It's a conversation that has surely happened thousands of times over the past several months as a new swarm of people find themselves enchanted by the cryptocurrency space and its tremendous gains.
And it reveals not only a misunderstanding, but also a psychological barrier that many face stepping into the scene for their first time.
Since so much emphasis is placed on how much "one" bitcoin is worth across the industry, new users often come in thinking that if they want to participate, they'll have to fork over tens of thousands of dollars to buy a whole bitcoin.
But actually, that isn't the case — it's possible to buy a half of a bitcoin, a quarter of a bitcoin or even a fraction of a percent of a bitcoin.
Yet, that's not always clear to new people entering the market, and many believe that's why a handful of altcoins — including dogecoin and dentacoin, both of which recently reached market caps of more than $1 billion — are seeing a pump in their price, as they offer an affordable way to get into the cryptocurrency markets in whole units.
And this confusion is (partly) why developer Jimmy Song argues some standardization should occur in what the industry calls smaller units of bitcoin.
Toward this goal, Song released a standards proposal that seeks to express one one-millionth of a bitcoin (about one cent at today's prices) as a "bit." And he's nudging wallet providers, exchanges and other bitcoin businesses to support the proposal.
If widely adopted, he hopes it will put an end to this confusion, and make new crypto users more apt to purchase bitcoin, if even in tiny amounts, instead of cryptocurrencies that he thinks might come back to bite them, since many of the cheap altcoins don't have much technical merit to back them up.

Rise of the 'bits'
The problem now is that more traditional dollar units, such as $5, when converted to bitcoin look daunting and messy — at 0.000345 bitcoin.
But with Song's proposal — which he's released in the form of a bitcoin improvement proposal, or BIP — that dollar value would instead be 345 bits, still a mental juggle, but arguably less confusing, since it's in whole numbers and not decimals.
"For whatever psychological reason, normal people have trouble understanding decimals and fractions. $0.002 is weirder than $200.00," said Erik Voorhees, co-founder and CEO of ShapeShift, which supports Song's proposal, adding:
"For bitcoin to be a global, commonly used currency, it would certainly be helpful to have a denomination that allows people to express prices in integers (2,000 bits for a coffee) rather than a decimal."
Adding to the mental benefits, Song also said the standardizing "bit" would remove what he calls "unit bias."
According to Song, people don't like having what looks like such a small amount of bitcoin, or money in general for that matter. Bitcoin's price rise at the end of 2017, only exacerbated that problem, adding even more zeros in between the positive numbers and the decimal.
Poking fun at all the recent bitcoin forks, Song said, a group of people could have success enticing a new wave of crypto buyers by splitting off bitcoin with the goal of moving bitcoin's decimal system six positions.
While others have proposed similar unit changes in the past, Song's proposal seems to be gaining transaction with exchanges and other companies, which is all the proposal needs to succeed — getting businesses to use the unit to display not only how much bitcoin is in an individual's wallet but also, within merchants stores, how much things cost.
And even though, Song's proposal is targeted at bitcoin, it could serve as an outline for how other cryptocurrencies, such as ethereum, could update their units to be more user-friendly.

Still confused?
Although the idea of the proposal is to limit confusion, it's garnered its fair share of criticism, with those against claiming it could add to the confusion instead.
The critics say, for instance, that if not all companies roll out the standard at the same time — and ShapeShift uses "bits," while Coinbase sticks with "bitcoin" — when sending bitcoin from one wallet to another, they could either think they somehow earned money or lost money.
Voorhees, for one, even agreed this was a concern, but argued that it shouldn't stop bitcoin companies from eventually adopting the standard.
"There will undoubtedly be some mistakes and friction as the new term gains usage, but for the purpose of language and mathematical simplification, the net result should be beneficial to bitcoin's adoption," he said.
Meanwhile, Song stressed that even though he thinks it would be a move in the right direction, like most things in the cryptocurrency world, it's up to the community to decide if they want to adopt the system or not.
Still, many more exchanges and businesses would need to adopt the change to get the ball rolling. Song has been tweeting at various exchanges and companies — including CoinMarketCap, one of the most popular sites for checking cryptocurrency prices — suggesting they move to "bits."

Song concluded:

"This is meant to be a community-driven initiative and the benefits will hopefully be obvious to businesses."
Author: Alyssa Hertig Jan 15, 2018 at 05:00 UTC
Posted by David Ogden Entrepreneur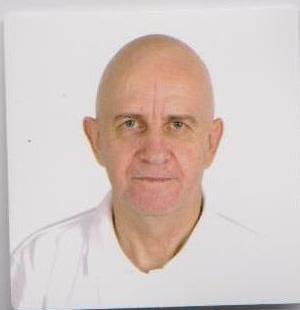 Alan Zibluk Markethive Founding Member