Our Lead Nurturing System
is the only system that does not violate good email practices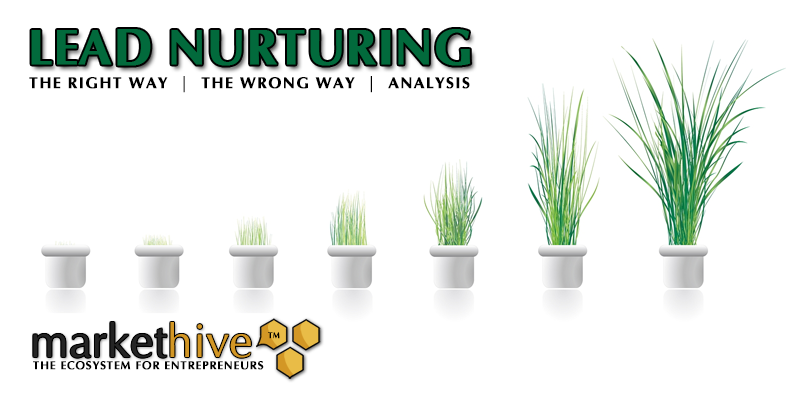 Companies that excel at lead nurturing generate 50% more sales-ready leads at 33% lower cost. (Forrester Research)
(Or, how to build an effective email auto responder campaign primarily attracting your outside leads via capture pages, to join through you in Markethive's Social Network. Then we, as a team, continue to turn your leads into raving advocates and your best friends. Remember, Markethive is your partner)
What we are not and never will be
Let me explain what the traditional nurturing systems do and how we do not utilize their spying bad email practices. First, let me illustrate how traditional email nurturing works. A typical corporate inbound marketing email system uses hidden image pixels within their email that reports back to the server, the IP address, email address, geo location and when that email is opened and how many times it is opened and the dates and times it is opened.
Now what Lead Nurturing is really all about according to Markethive
Selling in today's market isn't for the timid or inexperienced marketer. Today's prospects are researching according to their needs and on their terms, and they expect treatment accordingly and with respect. They are drawn towards companies and services that are personalized, friendly and timely. As marketers we must be ready to meet each prospective customer on their terms their way.
How can you make sure you are sharing the right information at the right time, and getting it to the right person? Markethive's lead systems automate this process for you. As an entrepreneur seeking to attract likeminded entrepreneurs, Markethive's Alpha Workshop systems, gently coach your leads (your children) through a learning and awareness program. This program rewards your "leads" (your children) to expand their profiles (IE: Phone numbers, Skype address, multiple Social Networks, keeping the email current, etc.) This process wields you to your leads, prospects (now you know why we call them children) for life.
Unlike the "other" traditional vertical systems, Markethive's workshops, tools, and social networks, develop your prospects into well educated, integrated members of your own social network within the Markethive overall system.
When your "campaigns" bring in "leads" at the core of your custom Markethive auto responders, should always include an invite into the Markethive environment via your automatically "dripping" relevant messages to your leads over time.
The Markethive system can address various products of interest, pain points, common objections during the sales cycle, and more, depending upon your targets and goals, the number of campaigns you build the crossover of these campaigns and your eventual goal being to turn prospects into subscribers, subscribers into customers and those customers into lifelong friends.
With Markethive's campaign systems, your system's customers are placed on a track based on what we know about them. You're learning more about your customers every day — as they learn more about you — so the nurturing process is a two pronged arena, both from your customized systems and the Markethive Social Network. Eventually all your leads become associated with you becoming your "children" or family for life, obviously you becoming the "parent".
Stop wasting time.
If you engage a "child "lead too early, you have to spend a lot of time explaining what your solution does and pitching the value. Nurturing has the power to significantly speed up your connected cycle by taking care of some of that education before a lead even becomes active within the Markethive Network. It's effective for both those actively evaluating your brand, and those who aren't quite there yet — just make sure you use data to deliver the right message.
Markethive sees to it your leads are raised up effectively preparing them to embrace working with you and appreciating the power of the Markethive system and the incredible ease of the learning venture.
No longer deal with Dormant Leads
Today we are strapped for time and resources. If you're balancing multiple priorities and doing everything manually, it's easy to go too long without checking up on your leads. Markethive fills the gap with our constant offering and rewards for our automated and live marketing workshops. These workshops address all the power of the Markethive platform, turning your "lead"" (children" into virtual marketing warriors.
When you add your own flavor to this process, your "children" become loyal lifetime clients, friends and associates for life.
So it makes sense to add the invite to join your Markethive family to all your autoresponder campaigns with Markethive capture pages and widgets.
Building your own Campaigns to nurture your array of leads
Markethive's core focus is building your portfolio of Markethive "children" leads into powerful allies joining you to improve your overall marketing effectiveness and reach.
Depending on the type of capture lead you develop; here are a few examples to build your capture page leads into members of your business, team, agenda, etc.
Welcome Campaign
Welcome emails in response to a particular offer are highly anticipated, frequently opened, and simple to automate. By turning your welcome emails into a nurturing campaign, you can begin to establish a lasting relationship. In the initial email, remember to remind them why they converted, confirm their opt-in, and let them know what to expect from your program. Then, start providing them with light, educational content to build awareness and keep them interested. Be sure to keep it targeted based on the offer they converted on and especially invite them to join Markethive as your special member offering them the many incentives Markethive offers. Invite them to your Markethive blogs and Groups to join and experience the power and family of the Markethive experience.
Top-of-Mind Campaign
The top-of-mind drip is designed to engage with your leads at regular intervals, preventing leads from forgetting about your company and getting swooped up by your competitors. This drip takes place over a longer period of time, providing sales with consistent touch points, and uses content primarily focused on value to the prospect. For early-stage leads, make sure to choose the right content. Start engaging them with interesting Markethive blog posts, helpful third-party content, and other content around related topics, and watch for key activities that indicate they are interested in learning more about your actual offering. Engaging in your blogs or joining your groups signals your leads are ready to upgrade to the culture of the Entrepreneur and join you in Markethive as a premium lead (we call them childen).
Re-engagement Campaign
Have an old list on Aweber or another email service? Here is an idea. Not all of your prospects will make it through this process. But by consistently inviting your lead databases on the other email systems, to engage in your Markethive blogs, join your Markethive groups or come subscribe and experience the difference with the first Market Network called Markethive. Markethive's workshops make your leads become family. And that makes for a loyalty program that lasts a lifetime.
Product-focused Campaign
As prospects progress through the sales process and begin to seek out more product-focused content, you'll want to make sure they're getting the right product information from your series of auto responders, instead of a competitor or biased third party. Focus on your prospects' pain points, how your product can address them, and the key features and benefits that will help along the way. For this type of drip, you'll want to invite them to Markethive Groups regarding the case studies, customer testimonials, data sheets, and more in-depth white papers found there. Be sure you have visibility into all touchpoints with your customers so that you can tailor your conversations based on activity history. Remember; produce auto responders that engage your leads to continue the reading via your Markethive blogs (In other words, do not tell the whole story in your email). This is where you will be able to convert many of your leads into raving maniacs!
Competitive Drips
This type of campaign focuses on differentiating your product or service from your competitors by highlighting the advantages of using your product, as well as the disadvantages of not using it (note: you'll want to refrain from harping on the disadvantages of your competitors' products, since this can come off as distasteful). Focus your content on the priorities of your prospects and the competitors that come up in deals with your company. A general differentiator campaign can be effective, but if you know that a customer is currently using or evaluating a particular competitor, you can really position your product to win. Invite them to a special Group that is being set up to evaluate the different products and reporting within that Markethive Group. Access to the Groups does require Markethive (free) subscription and this is exactly what you want with all your contacts. To work within the Market Network of Markehive.
Industry Expertise Drips
As prospects move closer to the middle of the funnel (register for a Markethive account), it becomes important to reinforce that your company is the right choice. Pass on any helpful press releases, industry reports, or high-traffic content as part of this drip to establish your company's authority. For example, if your company was recently covered by an analyst report, be sure to share it with your prospects and put your own spin on the review. Make sure all relevant information is available in Markethive Blogs and Groups.
Promotional Drips
As your prospects near the purchase stage of the sales funnel, a well-timed promotion or special discount can be just the catalyst they need. (Markethive has numerous services to offer for this) Consider offering special pricing or additional features based on their individual needs, especially if you're working with bigger accounts where closing the deal is critical to growing your business. This also works well for companies that use a free trial model. The right offer near the end of the trial can help encourage customers to commit. (Like I keep saying, with Markethive's Hive Portals and other powerful services for free, building a huge organization of customers, clients, friends and advocates, is real easy)
Onboarding Campaign
Onboarding a new client will always be a high-touch and manual process, and rightly so. However, nurturing campaigns allow you to automate some of the more repetitive tasks involved in onboarding, like providing introductory training resources, a list of next steps after close, timelines for product kickoffs, and frequently asked questions. These helpful resources can help your new clients get started on their own, without having to wait on a customer service rep for assistance.
Upsell Drip
The upsell (or cross-sell) campaign is designed to capitalize on your existing clients. By providing your clients with information and incentives to expand the list of products they are using, you can drive more revenue with little effort. Just be sure to focus your message around the benefits of the new offering, and remember to use a tone that feels friendly and approachable to your customers.
Renewal Campaign
Renewal nurtures can be a convenient way to remind your existing customers that it is time to renew their contracts. This drip can be triggered a month (or more) before the renewal date, send multiple reminder emails over a specified period of time, and notify the assigned account manager if no action takes place. This makes it far less likely that your clients will miss the renewals on their contracts, and takes the tedium out of the process for your service reps.
How Lead Nurturing Usually Works
The benefits of implementing a lead nurturing program are pretty self-explanatory, but how does nurturing actually work? Let's take a look at some of the mechanics behind nurturing to see the steps involved in setting up a successful nurturing program.
1. Choose the type of campaign you would like to run. As discussed in the previous chapter, there are several different types of programs you can run based on what you want to accomplish. Are you hoping to revive inactive leads? Remind your current clients that renewals are fast approaching? Your next steps will hinge on this initial decision.
2. Choose the list you would like to nurture. Lists and segmentations are the reason that drip emails can be so highly targeted. If you want to nurture a specific segment of your database, sort these prospects or clients onto the same list. Need some inspiration to get your wheels turning? Try segmenting by specific locations, certain product segments, new users, or leads who have been cold for longer than six months. You can use logic rules to filter your prospects accordingly; this will also ensure any new prospects entering your database are evaluated and added to the campaign automatically.
3. Build up your flow and decide on your content.
Once you've decided which list to target with your campaign, you're ready to develop your drip campaign and choose your content. There are several items to consider here:
• How often will you be sending drip emails to this list? This will depend on the type of campaign you're running. If you have a long sales cycle and are targeting a list of inactive leads, consider spacing emails further apart. Other emails, like training emails or time-sensitive renewals, might be spaced closer together. As a general rule of thumb, we recommend sending emails between six and 30 days apart (to prevent sending more than one email in one week, or going more than a month between touch points).
• How complex do you want your drip campaigns to be? Your nurturing tracks can be as simple or as complicated as you want — it all depends on the drip logic that you create. Nurturing campaigns can be set up linearly, where prospects will progress through them in straight lines, offering different action points to different capture pages, groups, blogs, profile page to eventually bring them all into the social environment of Markethive where the ultimate nurturing occurs.
• Don't forget Markethive. With capture widgets that can be embedded into blogs, capture pages, landing pages, etc. any auto responder can easily branch but should always lead to your leads (that are not Markethive Members) to become Markethive Members, where the extreme nurturing takes place.
• What will trigger each prospect to move to the next stage of the drip program? Lead nurturing is a type of trigger-based marketing, a technique that allows marketers to deliver highly relevant messaging based on a prospect's response or reaction to an offer. Marketers can use many differing incentives to pull from your flat leads list (limited to a name, email), whether in Markethive, Aweber, Get Response, Mail Chimp, etc. to come into the extreme nurture environment of Markethive.
Markethive the ultimate Lead Nurturing environment:
You invite a list of customers to register for an upcoming webinar. Those who register are thanked and sent a related blog post. Those who do not open their email or respond are undetected. Markethive uses only good email practices. Put spying agents into an email to determine if it gets opened goes against our privacy policies and good email practices.
A prospect on an early-stage education nurture accesses your latest e-book offer, views several key pages on your Markethive blog, or registers into your Markethive capture page to view a video. Their value shoots up quickly as they finally enter into the Markethive environment! Email drips should always include invites to join Markethive Membership. You get the upgrade notification, and quickly connect with her, seeing her activity history so you understand exactly what she's interested in.
Markethive invented Inbound Marketing. We did this back in the 1990s with a company called Veretekk. Our primary drive was we found spam, telemarketer calls and email violation (bad email practices) wrong, distasteful and not effective. Back then the standard procedure was to buy a database, spam them, cold call them and beat them over the head. This did not work, violated my "Do Good" policies in general.
In building the first Inbound Marketing, I focused on attracting traffic and offering them valuable services for free in return for their contact information. Once subscribed to a traffic portal we nurtured them to subscribe to the "whole enchilada" the Veretekk membership, where we trained and empowered them and most upgraded there to become paying subscribers and advocating zealots.
That was 20 years ago. A lot has evolved, but the underlying principles of integrity and good practices still remains foundational to Markethive.
Thus we built the Inbound Marketing platform (Markethive) to always result in the "lead, prospect" to ultimately enter into the Markethive community where true nurturing can occur in the social environment. We offer this alternative so we can avoid utilizing email sniffing techniques that in the opinion of email security companies like SORBs and IronPort are violations of privacy and considered bad email practices.
How does an email sniffer work? When an email is sent it will have a 1 pixel coded image that alerts a script on the mother server when it displays. All image displays draw upon the server and live a log footprint, IP address, date stamp as well as other information transferred that is found in that image name string.
This is akin to spying and is why email clients like Gmail default your email to NOT display images. The only thing an email sender should tract in an email is its deliverability or if it bounced and why. (ie: Spam, Mail Box Full. No such client "server to server codes"). And we do report that data in our system.

This is an example tracking image link:

Enough said? Markethive offers Good Practices and a better Lead Nurturing environment and solution. There are no shortcuts with Markethive. We always do it right.
Thomas Prendergast
CEO Markethive Inc.
Alan Zibluk Markethive Founding Member