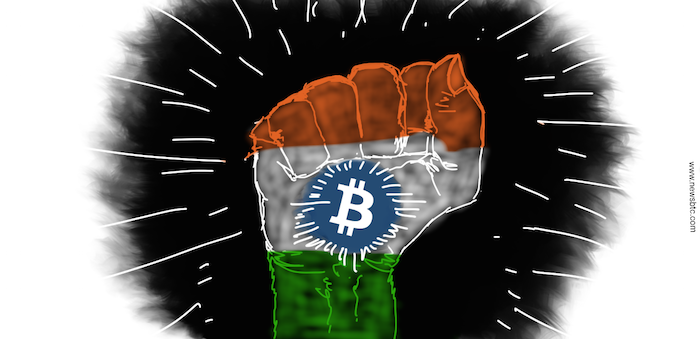 Indians Petition Government Demanding Legal Status for Cryptocurrencies
The Indian cryptocurrency ecosystem recently woke up to a shocking news on leading media outlets. It was reported that the use of Bitcoin in the country is illegal and could attract penalties under anti-money laundering laws. However, the report was not entirely accurate, and the news platforms were quoting a Member of Parliament seeking the implementation of cryptocurrency regulations by calling Bitcoin a "Ponzi scheme".
While the confusion was eventually cleared, the incident has sown the seeds of mistrust about the government's stance on the digital currency. Going by the example of few drastic decisions taken by the government in the past, they have come together to demand some clarity from the government regarding its stance on cryptocurrency. They have started an online signature campaign, petitioning the government to award a legal status for Bitcoin and other cryptocurrencies in the country.
The petition is probably the first strong public campaign organized by the recently formed Digital Asset and Blockchain Foundation of India. Addressed to Arun Jaitley — India's Finance Minister, Urjit Patel — Governor of the Reserve Bank of India and S Selvakumar — the Joint Secretary of the Department of Economics Affairs Room, the petition makes a mention of various benefits offered by Bitcoin and cryptocurrencies and how it can be used for the betterment of the country. Also, it asks the government to take steps towards stopping bad actors who misuse the cryptocurrency than banning the technology and its use.
The petition on Change.org also says,
"Cryptocurrencies will be available irrespective and the illegal users do not care about its legal status. Please do not take hasty steps and prevent innovation, economic activity and jobs. This will only stop good uses of cryptocurrencies."
In a country which has a considerable percentage of the unbanked population and ranks at the top for receiving the highest remittance, Bitcoin can offer an efficient and inexpensive solution. The use of cryptocurrencies and their underlying technology will not only speed up the financial services sector but also a range of other industries. With the adoption of distributed ledger technology, the government can also combat rampant corruption and red tape. But strict cryptocurrency regulations will stifle progress in this regard, preventing the country from keeping up with the global trend.
Author: Gautham
Alan Zibluk Markethive Founding Member