Slow Cooker Red Lentil Cauliflower Curry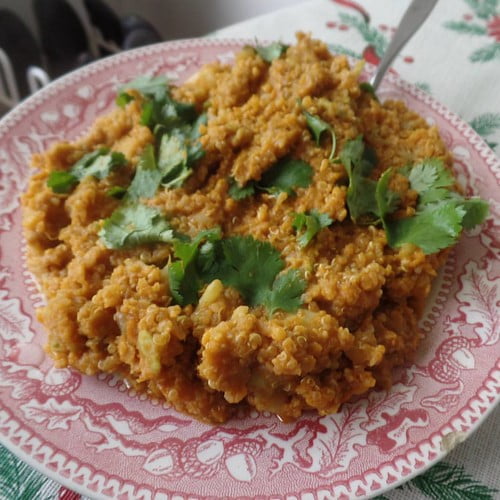 I have been experimenting with cauliflower lately as it is so versatile. I do like curry. I did a search for "curry cauliflower crockpot" and found "Slow Cooker Red Lentil Cauliflower Curry" by Erin.
Below is the link to her site. This is her recipe. I added a few more cloves of garlic and one avocado to it but that was it. I pretty much put avocado in everything.
http://www.wellplated.com/cauliflower-curry/
Below are the ingredients and directions from her site. I just copied and pasted.
Ingredients:
2 cups Bob's Red Mill Red Lentils

1 yellow onion, diced

2 cloves garlic, minced

1 head cauliflower, chopped

1 tablespoon minced ginger

2 tablespoons red curry paste

1 1/2 teaspoons salt

1 teaspoon ground turmeric

1/2 teaspoon ground coriander

1/2 teaspoon ground cumin

1/2 teaspoon ground cayenne pepper

1/4 teaspoon ground cardamom

1 (29 ounce) can tomato puree (not tomato sauce)

1/2 cup coconut milk (use full fat—it's worth it)

Freshly chopped cilantro, for serving

Brown rice, cooked quinoa, farro, or similar for serving
Directions:
Place the lentils in the bottom of a 4-quart or larger slow cooker. Add the onions, garlic, cauliflower, ginger, curry paste, salt, turmeric, coriander, cumin, cayenne, and cardamom, then stir to combine.

Pour the tomato puree over the top of the cauliflower and lentils. Refill the tomato puree can halfway with water, then pour it over the top of the slow cooker ingredients so that they are covered with liquid. Cover and cook on high for 4-5 hours or low for 7-8 hours, until the lentils are soft.

Just before serving, stir in the coconut milk. Serve over brown rice, quinoa, or farro, topped with fresh cilantro.
Below is the picture before I turned the power on to high.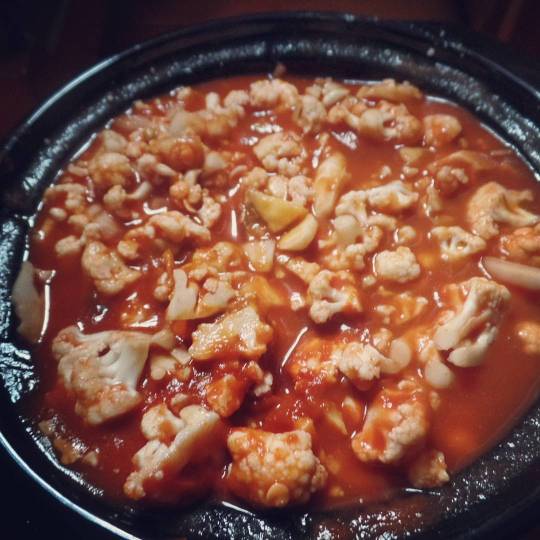 Below is the picture after 5 hours in the high position. I added this to cooked quinoa.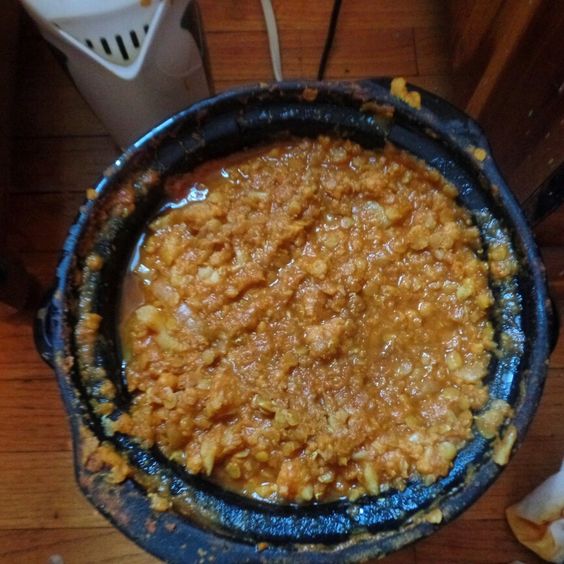 I am glad my local grocery store carries Bob's Red Mill Red Lentils. Fooducate gave it a grade of A-.
I am a huge cilantro fan. Besides taste, it possesses good amounts of antioxidants, vitamins, essentials oils, etc. Cilantro is our friend.
I will make this again as I believe it is healthy.
All the best,
Alan
Alan Zibluk
http://alanzibluk.com
e-mail: alan@internetguy.ws
PS: Antioxidants are our friends.
Alan Zibluk Markethive Founding Member