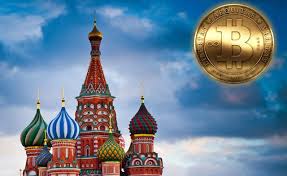 Russia is looking to regulate bitcoin but still doesn't see it as a currency
Russia is exploring ways to regulate bitcoin, the country's central bank governor has told CNBC, but sees "doubts" over the benefits of the cryptocurrency and even questions whether it should be considered a virtual currency at all.
In an interview with CNBC, Elvira Nabiullina, governor of the Russian Central Bank, explained that she views bitcoin as a digital asset rather than a currency, and this is the way it should be thought about with regards to regulation.
When asked whether the Russian Central Bank is looking to regulate bitcoin, Nabiullina said that the authority is "analyzing" the possibility and needs to "understand more about this internalization of bitcoin and our regulatory systems." She added that there are "risks" with the cryptocurrency.
"We don't consider that bitcoin can be considered as a virtual currency. It's more digital assets with the regulation of assets," Nabiullina told CNBC in a TV interview.
The central banker did not elaborate on what specific regulation would look like and said she is in no rush to put any policy into place. The governor said that the central bank does have doubts about bitcoin.
"We have some doubts, we don't see some huge benefits from introducing digital assets in our economy," Nabiullina said.
Bitcoin recently hit a record high of $2,791, according to data from industry website CoinDesk, marking around a 180 percent rally year-to-date. There's bullishness in the market with some predicting the price could go as high as $6,000 this year and even $100,000 in a decade.
With surging prices and a market capitalization of around $38 billion, governments are becoming increasingly interested in ways to regulate the digital currency, especially as more retail investors are getting involved in the market.
Japan recently passed a law to legalize payments in bitcoin which helped boost the price, with major trading volumes now coming from the country.
The stance of Nabiullina marks a changed view from Russian authorities who have been trying over the years to ban bitcoin. If Russia somehow regulates bitcoin, this could potentially affect the price, especially if more investors get involved in the asset.
Sean Walsh, a partner at Redwood City Ventures which invests in bitcoin and blockchain companies, said that further regulation could boost the price of the cryptocurrency and get rid of the handful of "bad actors" using it for illegal things.
"I agree with the view that for retail and professional investors greater regulatory structure is very supportive because it adds to the legitimacy of the whole network," Walsh told CNBC in a phone interview.
Taxation plan?
Still, it's unclear where Russia plans to go with bitcoin regulation. The country's Deputy Finance Minister Alexey Moiseev recently said the authorities hope to recognize bitcoin and other cryptocurrencies as a legal financial instrument in 2018 in a bid to tackle money laundering.
"The state needs to know who at every moment of time stands on both sides of the financial chain," Moiseev told Bloomberg in an interview.
"If there's a transaction, the people who facilitate it should understand from whom they bought and to whom they were selling, just like with bank operations."
The Russian Central Bank's Deputy Chairwoman Olga Skorobogatova has also reportedly revealed plans to tax the cryptocurrency.
"(Digital currencies already circulating in Russia will see) certain regulations with regard to taxes, monitoring and reporting, as a digital commodity," Skorobogatova said, according to news agency Interfax.
Blockchain in focus
Bitcoin has traditionally been known to allow users to make payments and money transfers anonymously. So it may seem that any taxation policy from the authorities could be difficult. But Walsh said some developments in the bitcoin community could make this policy feasible.
Firstly, bitcoin transactions have become slower and more expensive. This makes the practice of trying to split up transactions to cover your tracks very difficult. Secondly, several start-ups have emerged that are able to use algorithms to track transactions on the blockchain — the public ledger of bitcoin activity. This could allow authorities to see who owns bitcoin.
While Nabiullina admitted there were still risks with bitcoin, she expressed the Russian Central Bank's interest in blockchain technology. Because of the way blockchain technology can create a tamper-proof ledger of activity, many major banks are looking into how it can be used for tasks such as trading.
"I think it's more important to understand (the) benefits of new technologies … like blockchain which is on the basis of bitcoin," Nabiullina told CNBC.
David Ogden
Entrepreneur
Authors :
Arjun Kharpal Technology Correspondent
Geoff Cutmore Anchor, CNBC
Alan Zibluk Markethive Founding Member