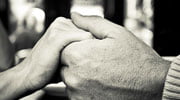 God's plan for sex
Written by Joy on 14/06/2016
Series: Weekly Devotional
Tags: Lust, Marriage, Sex, Sin
Carefully determine what pleases the Lord.
Ephesians 5:10
God created sex to be a beautiful gift. In Genesis 2, God says it was not good for man to be alone so God created the perfect partner, a woman, so they could become one flesh. The chapter closes with the statement, "they were both naked and felt no shame." Sex creates a unique relationship that involves physical, emotional and mental unity and completion.
If sex is blessed by God, what makes it immoral?
Blessings Lost
When we forget God has authority to set limits, blessings are lost. "Yes, they knew God, but they wouldn't worship him as God or even give him thanks. And they began to think up foolish ideas of what God was like. As a result, their minds became dark and confused." (Romans 1:28). Your phone works best when you use it the way it was designed. In the same way, God designed sex to work a certain way. Rejecting His design leads to darkness, confusion, secrecy, shame, and judgement.
Blessed Design
God used His infinite wisdom to design sex in the beginning. God does not need to "evolve." He does not change his mind based on our opinions. Scriptures from Genesis to Revelation give a very clear picture of the kind of sex that pleases God. "This explains why a man leaves his father and mother and bonds with his wife, and they become one flesh." (Genesis 2:24). God approves of sex when it is between one man and one woman who have made a lifelong commitment to marriage. Jesus confirmed this to be an unchanging truth in Matthew 19.
Are you willing to trust God's wisdom and love and follow his guidelines?
Blessing Restored
"He has rescued us from the domain of darkness and transferred us into the kingdom of the Son He loves. We have redemption, the forgiveness of sins, in Him." (Colossians 1:13-14). We no longer have to sit in the darkness of shame and confusion. Jesus has made us children of light! (Ephesians 5:8-11)
"You cannot say that our bodies were made for sexual immorality. They were made for the Lord, and the Lord cares about our bodies…If we belong to Christ our body is not our own but a temple of the Holy Spirit and therefore we should honor God with our body." (1 Corinthians 6:13, 19-20). Obedience to God's plan for sex is a choice we make when we want to please God, not ourselves (Colossians 3:1-17). God has given every Christian the Holy Spirit to teach us truth and empower us to obey it.
Are you going to find out what pleases the Lord and choose to live by it?
Pray this week:
Show me, Lord, where I am not pleasing you in my attitudes and actions regarding sex.
Alan Zibluk Markethive Founding Member