Inbound Marketing Strategies for Your WordPress Directory Website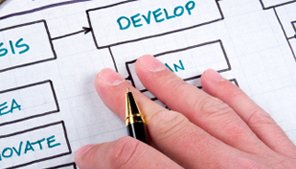 Once you've installed WordPress,
purchased a theme and spent some time getting things set up just the way you like, it's time to start thinking about marketing. We both know that generating income from your website will require traffic. The question is: What is the easiest way to attract visitors to your website? While there is no tried and true perfect answer, inbound marketing is a great place to start. The ideal inbound marketing tactics will be different for every website. If you understand the different options that are available, you can start putting together some specific ideas — experimenting until you figure out what works best for your business.
Outbound Marketing versus Inbound Marketing
If you've been in business long enough, you might remember the days of telemarketing, door knocking, cold email or even delivering thousands of flyers. For the most part, these types of marketing are referred to as outbound or "push" marketing. In essence, you identify your ideal customers and then make every reasonable effort to get in front of them. Right away, you can probably see the challenges created by this type of marketing. Not to say it's ineffective, but when compared to inbound marketing, outbound definitely feels inferior.
Inbound marketing, on the other hand, is a strategy that focusses on making it easy for people to find your website and learn about what you offer. Inbound marketing sounds appealing, doesn't it? Who wouldn't want an endless stream of potential visitors and customers seeking them out? It almost sounds passive. But don't mistake inbound marketing as a passive strategy. It still requires a lot of work and ongoing testing if you're hoping to experience a reasonable level of success.
Typically, inbound marketing focuses on strategies like blogging, search engine optimization, social media, webinars and video — to name a few. The objective being to draw people into your website and eventually convert them into repeat visitors or long terms customers. In this post we're going to outline 4 specific techniques you can use to build an effective inbound strategy designed to grow your website traffic. Keep in mind that not every one of these techniques will work for everyone. You'll have to experiment with a variety of different ideas before you find the ones that are most effective for your business.
Content Marketing
Not surprisingly, creating an authoritative and well-trafficked blog is the first strategy that many businesses think of when it comes to inbound marketing. Your directory website should be no different. It doesn't matter whether you're creating a local business directory, a travel destination directory or an event directory — content can and should play a key role in your marketing process. We published an article on the importance of creating engaging content which explains how to define your audience and their needs. HubSpot defines content marketing as "a marketing program that centers on creating, publishing and distributing content for your target audience".
For many businesses, the objective is to attract customers or to sell a product or service. However, when creating content for your directory website, your goal is often to provide engaging content and to create repeat visitors — not necessarily to sell something. With a steady and growing stream of traffic and visitor, you'll have a lot of options at your fingertips. But without traffic, you'll find your opportunities extremely limited.
Search Engine Optimization
Now, before you start telling me how SEO is dead (I hear people say all the time), understand that I'm not suggesting anything shady. When it comes to search engine optimization, one of the areas you need to focus on is making sure you on-page SEO is in order — something that is often overlooked or passed over. Yes, keyword research is important for your directory site (we'll have a post on that coming soon) but when it comes to on-page SEO here are a few of the items that should be in order everytime you click publish:
A keyword specific URL
Your title should be wrapped in H1 tags
Use your keyword in the title
Use your keyword in the body of your content
Link your content both internally and externally
Create a user-friendly meta description
Make sure you page loads quickly
Social Media
If you've spent any time sitting in a waiting room or riding public transportation lately, you probably already understand why social media is important. Everywhere you look people are attached to their mobile devices and more often than not, they're spending time on social media platforms. No matter how you slice it, social marketing is a powerful tool. Now, you might be thinking that social platforms are simply a great place to post your content and then move on but it's more than that. Building an audience on a platform like Facebook gives you an opportunity to interact, engage, share and listen.
As with any inbound strategy, success lies in a targeted approach. If you think you'll be able to dominate, Facebook, Pinterest, Instagram, Twitter, Linkedin and YouTube at the same time, think again. You're much better off choosing the platform where your target audience spends the most time. Over on Moz as part of their Beginners Guide to Social Media, there is a great chapter that discusses the process of choosing the right social network. Done properly, you'll find that being active on social platforms is a great way to build a loyal audience as well as drive more traffic to your website.
Video
Video is already playing a huge role in many inbound marketing campaigns and it's growing quickly. 55% of people watch videos online every day and video accounts for 50% of all mobile traffic (You'll find more eye-opening statistics over on HighQ). With statistics like these, it shouldn't take long for you to realize that finding a way to integrate video should be high on your priority list. How about some specific examples of how you could achieve this?
Jobs Directory –
Create a series of whiteboard videos that teach people how to put together effective video resumes which increase their odds of landing a dream job. You could even offer a done-for-you video resume service — "send us your raw files. We'll cut, edit and deliver a seamless video that'll help you find your dream position".
Business Directory –
Interview the founders of local businesses. Post them "as is" or make the videos part of a detailed business profile.
Vacation Rental Directory –
Hire local videographers to film and edit local attractions, hotels, B&B's and events then post the videos on your youtube channel and on your website.
Inbound Marketing is Critical to the Success of Your WordPress Directory Website
We've touched on 4 different ways that you can use inbound marketing to grow the audience for your directory website. As you get started with your inbound marketing, it's important to realize that not every technique will work well for your business. You might also find that your personality or skillset is more suited to one particular area. Don't try to master more than one technique at a time, unless you have adequate resources. For example, once you've put together a repeatable and scalable plan for content creation, move on to social media. If you find along the way that something isn't working, either adjust or move on to a different strategy.
Building any successful directory website will require a growing source of traffic and ideally an audience that returns to your site over and over again. The best way to achieve this is by providing valuable content that keeps people engaged and entertained.
Chuck Reynolds
Contributor
Please click either Link to Learn more about –Inbound Marketing.
Alan Zibluk Markethive Founding Member