Inbound Marketing for Startups:
The All-Star Playbook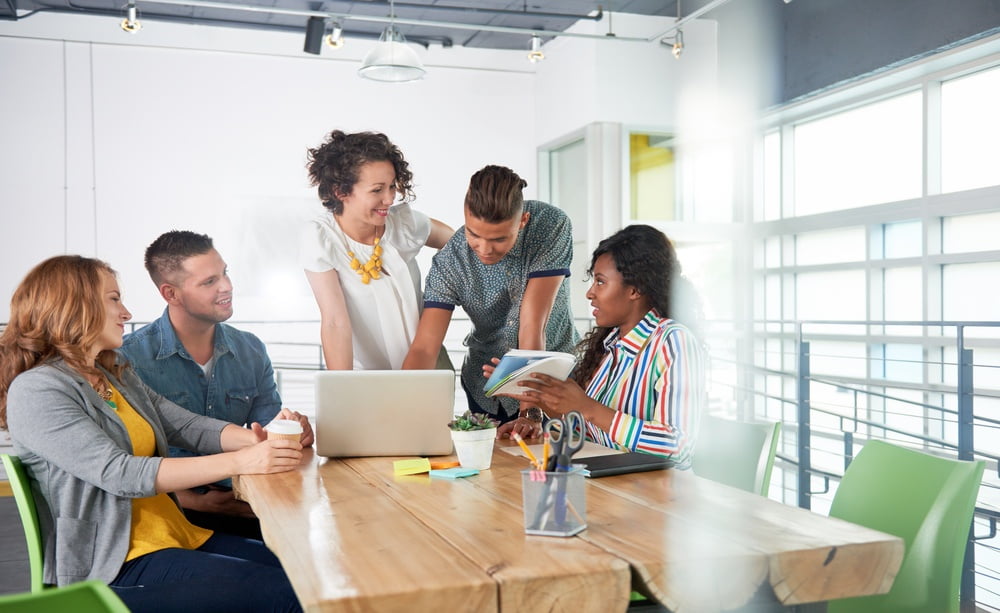 Helping Build an Audience
It's often hard for startups to get their name out there and build an audience, especially when they are starting from scratch, sometimes with a lean team and an even leaner budget. However, inbound marketing for startups can help bring customers to you through relevant and valuable content.
What is Inbound Marketing for Startups?
The inbound marketing approach focuses on attracting customers through relevant and valuable content and interactions, rather than interruptive methods. HubSpot describes inbound marketing methodology in four stages: Attract, Convert, Close, and Delight. This is how you take strangers and turn them into brand advocates.Inbound marketing focuses on reaching prospective customers during each stage of the buyer's journey through targeted content. By developing compelling and useful content tailored to top, middle, and bottom of the funnel prospects, you can give consumers the information they need when they need it to guide them through the purchasing process.
This approach to marketing works for startups because the expense is typically low with a potential for high ROI, allowing companies to maximize marketing spend. Inbound marketing is also all about connecting with consumers and educating them, which is important for startups that typically work in niche markets.
How Can Startups Use Inbound Marketing to Begin Generating Leads?
The ultimate goal of inbound marketing for startups is to bring in more interested and qualified leads. There are a variety of inbound marketing tactics that startups can start using to get the lead-generation process started:
Content Marketing
Content marketing is an essential part of the inbound marketing method. This is how you attract, convert, close, and delight your ideal buyers. With content marketing you are creating and sharing interesting, relevant, and consistent content that adds value for your leads and customers. This content should not be purely promotional, but rather informative and compelling.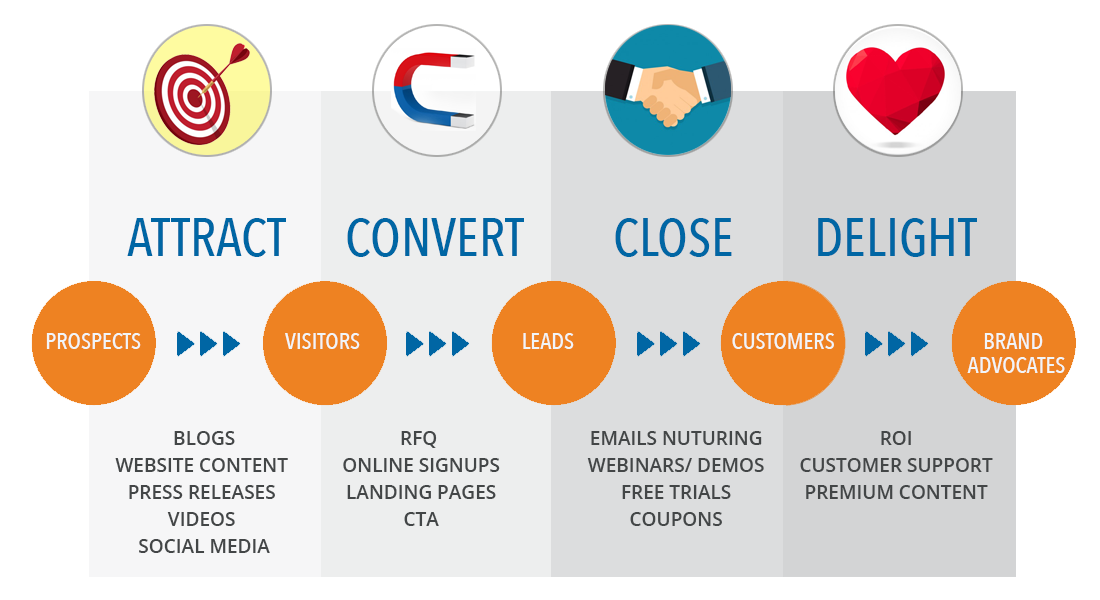 Here are some examples of content you can start creating today to help you bring in more leads:
Blogs
Images and Infographics
Videos
Podcasts
Presentations
E-books
Whitepapers
Case Studies
… and the list goes on! Consistency also important when it comes to content marketing. You need to maintain a consistent voice across content and publish often to hold your audience's interest. Once you have content assets, you also need to have a plan for promoting them, whether that is through your website, social media, paid ads, or through some other promotional channel. If you want to continue to improve your content to maximize impact, you will also need to have a plan in place for monitoring content marketing success.
Search Engine Optimization
Search engine optimization is another important part of inbound marketing. If you want to bring more leads and consumers straight to you then you're going to have to go through the search engines. In fact, 93% of all online experiences begin with a search engine. You cannot afford to miss out on that many opportunities to bring in new leads, so you need to optimize your content and website for search engines like Google.
The single most effective SEO technique is content creation. Though there are many intricacies involved with search engine optimization, one thing remains true — the more consistent and quality content you produce and promote, the better you will rank in the search engines. Though it is worthwhile for startups to work with an SEO expert to ensure that their site and content is optimized for search engines, you don't have to have a complex SEO strategy in place to start creating the type of content that will help you generate more leads. Focus on creating quality content that emphasizes keywords and phrases in your industry. By creating content that addresses your consumers' biggest challenges, you are already working toward content that adds value.
Email
Email marketing is another popular inbound marketing strategy that works well for startups. Here are just a few reasons why email marketing works:
It's an easy way to stay connected and keep leads and customers informed.
You can drive sales with coupons and special promotions.
It's an effective way to reach mobile users who are on-the-go.
Email integrates well with many other inbound marketing tactics.
Email marketing is inexpensive, which is great for startups with lean budgets.
It's easy to deliver personalized and highly-targeted content through email.
Not only does email help you improve lead generation, but it is also a great tool for nurturing leads and current customers. Again, it's important to provide your leads and customers with valuable and relevant content if you want to hold their interest.
Social Media
Startups can use social media to reach out to consumers who may be interested in their product or service. Social media channels like Facebook, Twitter, and Instagram are great places to promote your content and reach new audiences that you may not have been able to access through search engines alone. The key to effective social media marketing is to be social — respond to visitor questions, comments, and feedback. Don't be afraid to spend some time in the comments section talking to your leads and customers. Not only will this help you establish better relationships with your followers, but it may also help you gain important insight into their needs, wants, and motivations.
When it comes to social media, do not try to be everywhere at once. Most startups have minimal time and resources to dedicate to tasks outside of their core business, so it's not worthwhile to spend time on channels where very few of your ideal buyers spend time. Instead, focus on the social media platforms where you can have the biggest impact. Research which channels your target market frequents and which types of content are most popular and effective on these channels. Targeting your social media efforts will help you save time and money while maximizing lead generation success.
Landing Page And CTAs
Landing pages play an important role in guiding your leads toward conversion. Landing pages are web pages that help you capture a lead's contact information through a lead-capture or conversion form. You can send leads to a landing page to redeem an offer or download unique content. Since landing pages allow you to target your audience and offer them something that they will find valuable, they often convert a higher percentage of your leads while allowing you to get important lead contact and demographic information.
Calls-to-Action also play an important role in lead generation and conversion. A CTA is just what it sounds like — it calls on your audience to take a specific action. CTAs can be used on your website and across content offerings to help drive visitors to the next step in the conversion process. The key to developing effective CTAs is ensuring that they are clear and specific so that there is no question about where you want your visitor to go next.
Combining Inbound Marketing with Paid Ads for Immediate Impact
There is no question that inbound marketing for startups can help you effectively generate more leads over time. However, some startups need to start seeing results sooner rather than later. Paid advertising campaigns can help amplify your inbound marketing efforts. By combining inbound campaigns with paid ads, startups can maximize their marketing spend and start seeing results much sooner.
Inbound Marketing + Social Media Ads = Winning Combination
Social media ads are one type of ad platform that can help you amplify your inbound marketing efforts. For example, let's say that you have spent time and resources creating an interesting and valuable e-book that your target audience will really love. You've put the e-book up on your website and shared it across social, but you aren't seeing the kind of traffic that you've hoped for with the e-book. It is most likely because you've just gotten started and your SEO and social media efforts haven't had time to work their magic just yet.
Here comes paid advertising to the rescue! You know that many of your target buyers are on Facebook, so you can use Facebook advertising to target your ideal customers with an ad for your e-book. The ad takes them to a landing page where you gather their contact information in exchange for the e-book. Next thing you know, the leads are rolling in. Though these buyers were always interested in the type of content that you were providing, it just wasn't visible to them until you invested in the paid advertising.
When Paid Search and Inbound Marketing Efforts Work Together Best
You have many paid ad platforms at your disposal, but one of the most effective digital marketing ad channels is paid search or pay-per-click (PPC) advertising. Here are just a few ways that paid search ads can support your inbound marketing strategy:
Boost traffic to inbound marketing materials. You can create a paid search campaign with keywords that center around your content offerings to increase traffic to these lead-generating inbound materials.
Fill in the gaps in your SEO. Search is highly competitive, and it sometimes benefits you to bid on keywords that your competitors are bidding on in order to let their audience know that you are providing an alternative.
Test new landing pages and keywords. When you develop new landing pages or consider new keywords that you'd like to rank for organically, you can use paid search ads for testing. Create paid search campaigns targeting your new keywords and direct them to the landing pages that you're trying to test. Then, review the data to see where you stand.
The key to maximizing impact and spending your marketing budget wisely is being strategic in your approach to paid ads. Though you can work on developing PPC ad campaigns on your own, many startups will outsource PPC management to an agency. That is because there are many intricacies involved with paid search ads, and if you don't know how to navigate the world of PPC, you may end up wasting a lot of time and money. It is often more cost-effective and efficient for startups to entrust a PPC agency with their paid campaigns.
The Common Challenges Start-Ups Face
When it comes to inbound marketing for startups, there are some common challenges that many entrepreneurs and startup marketers will face in getting their inbound campaigns up and going successfully:
Building a Conversation-Focused Website
It's important for startups to create a website that encourages conversation while also clearly explaining your offering. Not to mention, you will need to optimize your website for SEO so that more consumers can find you in the search engines. There are a lot of moving parts to your website, and it takes time, expertise, and complete focus to ensure that all these pieces come together to create an effective website. Creating Good Content
Developing strong content is one of the most important parts of inbound marketing for startups. Creating a data-driven content strategy and consistently crafting informative, interesting, and useful content takes time. This is something that most startups just don't have. Not only do many startups not have the time to research and write effective content, some also may not have a person on their team who is a talented and dedicated writer or content creator.
Building Effective Nurturing Campaigns
Once people are interested in your brand, you need to keep them interested. This is where nurturing campaigns come in. However, nurturing your prospects and encouraging repeat business from customers requires knowledge of things like email frequency, subject line optimization, and other marketing expertise that some startups may not have. Not to mention, nurturing campaigns require you to already have an established body of work to offer, which many startups don't have either.
The Waiting Game
The truth is that inbound marketing for startups takes time. A lot of inbound tactics like SEO and social media need to be established early and given time to take root before a company can really start to see results. Most startups need to focus on their core business, and they may not be able to dedicate time to establishing and nurturing these inbound marketing strategies.
Conclusion
To overcome these challenges, entrepreneurs and startup owners can look to partner with an established inbound marketing company that has the time and resources to dedicate to their marketing efforts. Even those startups that have a lean marketing budget can work with an inbound marketing agency in the initial stages to ensure that they are on the right track for inbound success. In the end, inbound marketing will help bring more consumers to your brand through targeted content, which saves you the hassle and cost of finding new leads. Whether you hire an inbound marketing agency to handle all your marketing efforts or just get help with a few aspects, your startup with ultimately benefit from a team of dedicated professionals focused on your inbound marketing efforts.
Chuck Reynolds
Alan Zibluk Markethive Founding Member