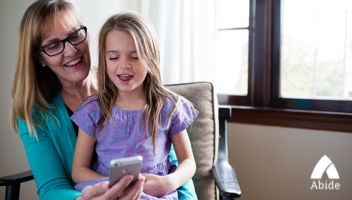 Are you unsure of how to talk to God? Let this five-step starter guide help you begin your prayer life!
Written by Abide
---
A common definition of prayer is "talking to God." But how often do you take time to stop and listen to His response to you?
Our prayers include asking, begging and requesting something of God. Scripture tells us He loves the sweet smell of those prayers. However, if all we do in prayer is spend time asking, what space, time or margin is left to listen to the Lord's response?
Only by God's grace through faith in Christ does He allow our broken lives the experience of communing with Him. Seeing our transformed minds connect more deeply with the peace of God. The result is peace, stillness, renewal, centeredness, and alignment with God.
When we are mindful with our prayers, we allow God to bring our future hope into our present reality. This series will help you unlock the secrets of living in a state of calm, peaceful, active attention on the present with God through the spiritual practice of prayer.
Have you already cried out to God today with worry about whether He is present and aware of your problems?
Listen HERE for guidance on learning how to draw closer to the presence of God in prayer.
This series was written by Julie Thomas.
https://abide.co/prayer/1y6jig?ref=gmo
Alan Zibluk Markethive Founding Member