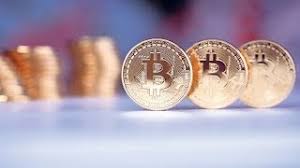 How to get started in the cryptocurrency game
As bitcoin reaches for $2,500 again, I thought this would be a good time to let readers know exactly how digital currencies work and how to get more information if you wish to partake in this alternative investment.
There will be only 21 million bitcoins created, and as of last month, roughly 16.8 million or 80 percent of all the bitcoins have been "mined," or created. So unlike the paper currencies in the world today, no governing body can print more bitcoin to dilute its value.
To get started, the first thing you will need is a digital wallet.
The wallet can be thought of more like a bank account, which can reside on your computer, phone or other smart device. It is always advisable to have your wallet backed up in another location so that a crashed hard drive does not wipe out your bitcoins.
There are many wallets out there to choose from, depending on your security needs and whether you wish to be an active trader or a more passive buy-and-hold investor.
Once you have set up your wallet, then you can go to one of the many digital currency exchanges to purchase a bitcoin.
Many exchanges now allow you to buy bitcoin with a credit card over the Web. Coinbase.com and Coindesk.com are two of the largest, and offer tutorials on digital currencies.
However, if you do not wish to use your bank account, there is one site called LocalBitcoins.com that allows face-to-face purchases.
Bitcoins are mined, or searched for, by using computing processing power in a distributed network to locate and solve mathematical problems to acquire the code for the "coin."
This distributed network also provides the backbone to use bitcoin to purchase items or identify the bitcoin you hold.
There are a growing number of outlets that are accepting bitcoin for payment, including an Acura dealership in Valley Stream, LI, which offers pricing using bitcoin.
Bitpremier.com has an entire Web site dedicated to high-end Brooklyn real estate listing for $1.975 million or 809 bitcoin and other luxury items including a Peter Max print for $5,000 or 2.05 bitcoin all just a mouse click away.
As the value of bitcoin has skyrocketed, most bitcoin holders are investors, however, not consumers.
One year ago, bitcoin was trading at $525. It is now nearing $2,500, so at this point it does not make sense to purchase items using bitcoin until the price finds its level.
Like any other investment, there's no guarantee that bitcoin will continue this rapid rise, but there are some aspects of bitcoin that point in that direction.

A bullish marker for bitcoin is that a vast majority of the planet does not know of, or is yet involved in, digital currencies, so as this news moves into the mainstream, more investors may jump in.
There are some very outlandish predictions for bitcoin's value over the next three years due to its scarcity and a growing number of investors becoming aware. But as I said, no investment goes straight up.
As the value rises, a very important aspect to bitcoin is it can be divided into smaller parts. The smallest divisible amount is one hundred millionth of a bitcoin, and is called a "Satoshi," after Satoshi Nakamoto, the software developer who founded bitcoin.
Remember, this is just a primer, and there are many resources out there to help you to study up on this new form of currency.
By Michael Gray
Once you have purchased you first bitcoin there is a way to continue to grow your number of bitcoin and that is to invest in Trade Coin Club which will help to continue to grow your wealth even if the price goes up or down.
David Ogden
Entrepreneur
Alan Zibluk Markethive Founding Member