Deciphering China's Central Bank Regulation on ICOs
In typical fashion, a Chinese news outlet reported something, no one who could translate it reported on it in the west, and a panic ensued, demonstrating just how much influence governments still have over cryptocurrencies. The Chinese central bank allowed this chaos to reign all week, not issuing an official English notice until Friday afternoon. Our editor Samburaj Das was on the case early in the week, writing:
As CCN reported in late August, Chinese authorities held a meeting to discuss regulations of ICOs on August 18 where the possibility of a complete ban on all ICOs was discussed. Last week, the National Internet Finance Association of China issued an ICO warning to members, deeming ICO platforms a threat to the stability of China's financial sector.
At the time, Das was victimized by the opacity of information. The author's own words ring truer on points like this, as regards Red Pulse, which are building a product (ICO funded) which aims to cut through the vaguenesses and opacity of news from China and surrounding regions:
Ironically, one of the ICOs greatly affected by the news of Chinese regulation is the Red Pulse ICO, which aims to put an end to Chinese rumor mills among other problems of opacity that investors face with the Asian market. For their part, Red Pulse have limited participants from both the US and China, and are requiring KYC regulations be met before investing.
Das referenced an official URL:
http://www.pbc.gov.cn/goutongjiaoliu/113456/113469/3374222/index.html
However, this link is now dead. We tried pulling up the original Chinese article from Archive.org, but it appears the document has already slipped out of the memory hole.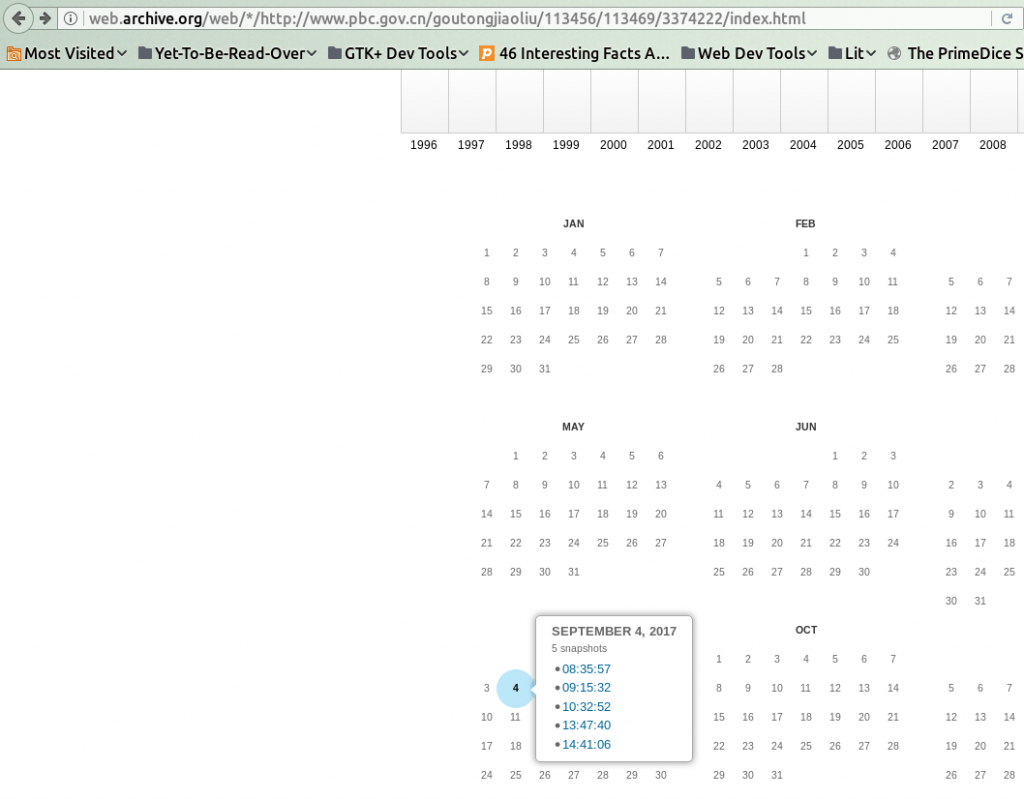 Nonetheless, an unaltered document used in this piece, that was published on the PBOC website, is now available. The author is serving an unaltered copy of this document here with a sha256sum of 072eb59a9fb4f3901eb2a9d3ecfeda05fa1ea9a2e9623455b0c72ca9d780e76b.
Public Notice by PBOC On Preventing Risks of Fundraising through Coin Offering
The document released by the Chinese central bank and its associated bodies has five instructions, which are as follows.
No Organizations or Individuals Shall Engage in Illegal Fundraising through Coin Offering
From a high level, this seems obvious, but they're not talking about raising funds for illegal activities. They mean that the ICOs themselves were illegal, and they explain this in pretty clear terms:
From the date of release of this Notice, fundraising through coin offering shall be banned immediately. Any individuals or organizations that have completed fundraising through coin offering shall make arrangements to return the funds raised, and to ensure that the legitimate rights and interests of the investors are protected and the risks involved are properly managed. The government departments concerned will strictly investigate and address the coin offering activities that have continued despite the ban and the illegal activities in the projects that had completed fundraising.
Now here is the interesting part of this part of the edict: it specifically says "from the date of release of this notice." This can literally be interpreted to mean that previously operated ICOs are not in the crosshairs of government guns so long as they comply with the next part of the edict: that they arrange to refund all the monies raised.
NEO's approach to this part of the dictate is that they are offering yet another refund round. Unfortunately, it seems clear that only a few of the token holders would actually be interested in selling their NEO back at a loss. It seems the actual loophole for this legislation is to just have a token that hasn't gone to total crap — thus we can assert that for those who operated badly in the grey area, without creating legitimate projects, the government may be breathing down their necks.
Management of Related Platforms Shall be Strengthened
By this, the PBOC means that the screws need to be tightened on Chinese exchanges. In no uncertain terms they have banned the trade of cryptocurrencies for fiat currencies in China. It's one of those rare moments where the puppet master really reveals his hand:
From the date of release of this Notice, any so-called platform that provide trading and exchange services for coin offering shall not engage in exchange businesses between legal tender and token or "virtual currency"; or engage in proprietary trading activities or trading as an central counterparty of tokens or "virtual currencies"; or provide pricing services or act as information intermediary for tokens or "virtual currencies".
The ban really gets draconian when you read every implication. A Chinese citizen is now banned from even relaying the price of Bitcoin as a service or even telling someone about Ethereum — although the author is uneducated as to what a Chinese court would consider an "information intermediary." They go on to hint that several Chinese exchanges will soon be no more:
As for the trading platforms with activities that have violated laws or regulations, the financial regulatory authorities will notify the administrative department in charge of telecommunications to adopt measures such as shutting down its website platform and mobile APP, notify the administrative departments in charge of cyberspace to remove its mobile APP from the APP store, and notify the business administration department to revoke its business license.
Jihan Wu seems to interpret the information differently:
Bitcoin is still legal in China. But ICO is illegal now.
Yet it ishard to get around the broad language here. Unless "Bitcoin" falls under some classification besides "virtual currency" there. It's Jihan's business, not our problem.
Financial Institutions and Non-Bank Payment Institutions Shall Not Conduct Businesses Related to Coin Offering Fundraising and Trading
Once clues of illegal coin offering fundraising and trading is identified, financial institutions and non-bank payment institutions shall promptly report to the departments concerned.
In Chinese law, now, ICO stands for "illegal coin offering." In essence. This part of the edict banishes other businesses from providing insurance or other services to ICO-related companies. Again, it seems obvious that this blanket ban can easily apply to Bitcoin and other cryptocurrencies. What is not obvious is how enforceable such large-scale bans even are in a country with a population exceeding 1 billion.
The Public Need to Stay Aware of the Risks of Coin Offering Fundraising and Trading
The obligatory tattle tale clause, which orders that Chinese are to report any shifty cryptocurrency people they might notice:
The public shall be aware of the risks and learn to identify the illegal financial activities in the name of "currency" ("bi" in Chinese), and report clues of illegal activities in a timely manner.
Self-regulatory Organizations Shall Exercise Industry Self-Regulation
As a westerner, the author is afraid for the "self-regulatory organizations" so commanded in this last clause, because they are ordered to interpret its orders "properly." Thus, it seems pretty easy for one to do it improperly and be implicated without even trying:
To keep financial activities in order, all kinds of self-regulatory financial organizations shall interpret policy properly, urge members to consciously resist illegal financial activities related to coin offering fundraising and trading or "virtual currencies", and to stay away from market irregularities and improve investor education.
Status of Chinese Exchanges, Time of Writing
The top Chinese Bitcoin exchanges were still posting current information at time of writing. This website is a good jumping point.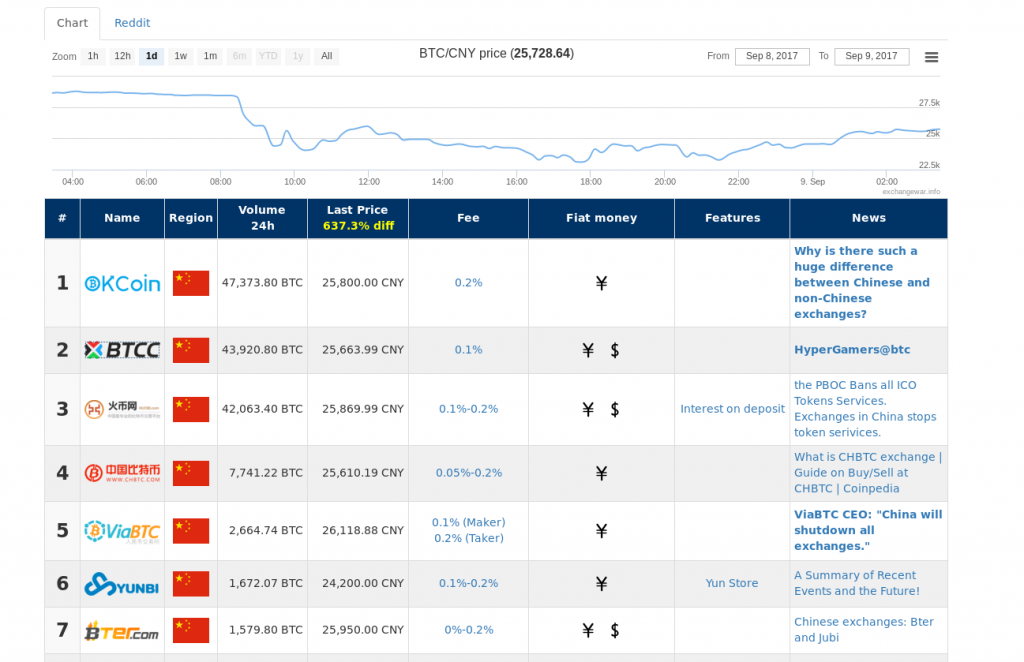 More Rumors Unconfirmed
A document allegedly listing 60 ICO-related projects targeted by the Chinese government has allegedly surfaced. We at CCN are still trying to verify the text and legitimacy of this document. Here is the original source. We note the author's name:

Native speakers are welcome to help us out in the comments.
Best Practice for Crypto Traders
The author has never recommended anyone leave anything on exchanges. All the same, now is a time more important than ever to not be keeping any funds on Chinese exchanges or service providers. They have the ability and authority to pull the plug whenever they wish, and most exchanges have some form of user agreement that makes them blameless in such events, giving you almost no recourse. Take this one, for instance, from newer exchange Binance.
In case of any of the following events, BINANCE shall have the right to directly terminate this agreement by cancelling your account, and shall have the right to permanently freeze (cancel) the authorizations of your account on BINANCE and withdraw the corresponding BINANCE account thereof: after BINANCE terminates services to you, you allegedly register or register in any other person's name as BINANCE user again, directly or indirectly; the main content of user's information that you have provided is untruthful, inaccurate, outdated or incomplete; when this agreement (including the rules) is amended, you expressly state and notify BINANCE of your unwillingness to accept the amended service agreement; any other circumstances where BINANCE deems it should terminate the services. After the account service is terminated or the authorizations of your account on BINANCE is permanently froze (cancelled), BINANCE shall not have any duty to keep or disclose to you any information in your account or forward any information you have not read or sent to you or any third party. You agree that, after the termination of agreement between you and BINANCE, BINANCE shall still have the rights to: keep your user's information and all the transaction information during your use of BINANCE Service. Claim against you according to this agreement if you have violated any laws, this agreement or the rules during your use of BINANCE Service. After BINANCE suspends or terminates BINANCE Service to you, your transaction activities prior to such suspension or termination will be dealt with according to the following principles and you shall will take care of on your own efforts and fully undertake any disputes, losses or extra expenses caused thereby and keep BINANCE harmless from any losses or expenses: BINANCE shall have the right to delete, at the same time of suspension or termination of services, information related to any un-traded coin tokens that you have uploaded to BINANCE prior to the suspension or termination. If you have reached any purchase agreement with any other member prior to the suspension or termination but such agreement has not been actually performed, BINANCE shall have the right to delete information related to such purchase agreement and the coins in question. If you have reached any purchase agreement with any other member prior to the suspension or termination and such agreement has been partially performed, BINANCE may elect not to delete the transaction; provided, however, BINANCE shall have the right to notify your counterparty of the situation at the same time of the suspension or termination.
After reading this, the author gets no confidence that in the event of government interference from PBOC or any other wing of the Chinese government, his funds would be safe. Nothing here explicitly states he would get his funds back, just that the exchange has the "right to withdraw" them. Destination unknown. Most legal agreements are like this, and clearly it's bad business to steal deposits — but what would that matter to an exchange under government duress?
The author will just have to be more precise in his NEO trading going forward. Additionally, everyone dealing with Chinese cryptocurrency services should take careful notice: the real regulatory wave might finally be here. It would be in the exchange's economic worst interest to undutifully inform you of changes, even if they suspect them. If expecting to hear news of closure from them, you will hear it last.
China has unkowingly, probably without irony, dubbed the term "illegal coin offering" in their Friday move, and they let the market sweat the issue for a full five business days before actually laying words out in English. So let's not kid ourselves: they have power over the cryptonaughts and their beloved honey badger(s), just perhaps not as much or of the nature they previously believed.
Collated by P. H. Madore on 09/09/2017
Posted by David Ogden Entrepreneur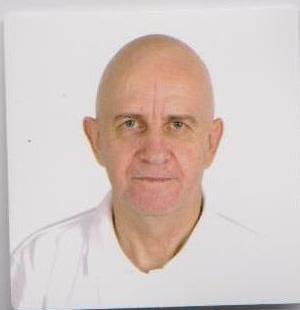 Alan Zibluk Markethive Founding Member