Blockchain Innovation Means Greater Financial Inclusion in the Middle East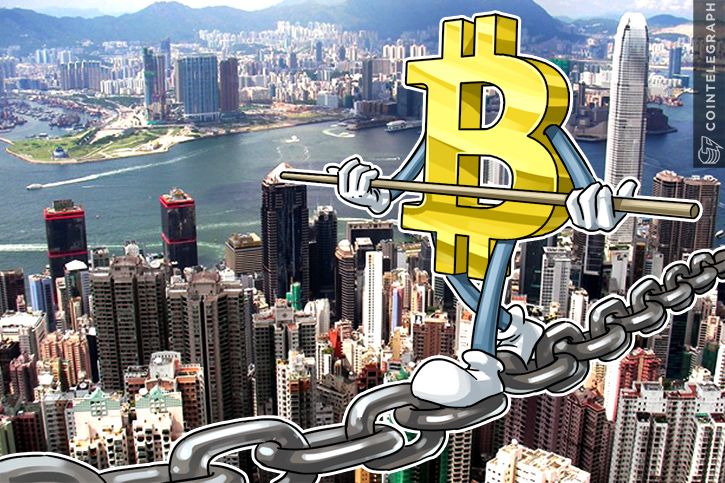 Financial inclusion,
something as simple as possessing a basic chequing account is significantly lacking in the Middle East, especially when compared on a global scale. Digital innovation, coupled with high mobile penetration rates, especially those aged 25 and under, can, however, open the door to reshaping the fate of the region's estimated 85 million unbanked adults. According to the 2014 World Bank Global Findex Database, a report that measures global financial inclusion, account penetration in the Middle East, that is, individuals without access to even the most basic financial services sat at just 14 percent.
Last month, Dr. Nasser Saidi, a leading economist for the Middle East and North Africa region who served as the Minister of Economy and Industry and as the Vice Governor for the Lebanese central banks, reiterated the 14 percent figure in an interview. Saidi added, however, that the situation is even more dismal for women.He claimed that only 9 percent of women in the Middle East region owned an account. This is a stunning figure, especially when placed alongside the global average which sits at around 50 percent, according to World Bank data.
Furthermore, account ownership is at near-universal levels in high-income Organisation for Economic Co-operation and Development (OECD) economies, with 94 percent of adults from OECD nations having reported owning an account. Financial inclusion is critical for employment creation, for raising income levels and to consequently reduce poverty. To achieve inclusive economic growth, of course, requires the easing of barriers to accessing the broader financial system. The key to easing the barrier to financial access in today's online environment is digital innovation, more specifically, advancement in financial technology and mobile banking.
The United Arab Emirates, one of the richest Gulf nations, has an internal battle amongst its top two cities. "There is a rivalry between Abu Dhabi and Dubai to become the fintech hub in UAE," said Omar Soudodi, managing director of Dubai-based payments processor PayFort, as reported by Kadhim Shubber of the Financial Times, in December. Companies in the financial technology sector, including within the rapidly emerging space of blockchain technology, see the critical opportunity that exists for banking innovation. "More and more of the Arab millennials are getting into the banked world before they even graduate," said Soudodi. "Before the trend was, 'I graduate, I get a job, I get my first paycheck and think, oh my God, I need a bank account'." There is potential to capitalise on the shifting demographic trends.
Changing Demographics
The UAE was cited by Google amongst the highest in smartphone penetration rates per capita as of September 2015. The UAE was in fact listed among global leaders with an overall smartphone penetration rate of around 75 percent. The mobile phone user base in the Middle East and North Africa region was second only to that in Asia-Pacific. "Just over 606 million people in the Middle East and Africa [region] have at least one mobile phone this year, and the total will pass 789 million in 2019," reported eMarketer, an independent market research firm, in tandem with Starcom Mediavest Group as part of their 2016 Global Media Intelligence report.
The UAE has retained its regional standing as the highest per capita country for mobile phone penetration with an estimated 80.6 percent of the population reported to possess a mobile device. Further, this number is projected to inch up to 82.8 percent by 2019, as per the Global Media Intelligence report. From a usage perspective, the trend is similarly moving toward complete saturation. In 2012, only 54 percent of UAE users under the age of 25 went online using a smartphone at least as often as on a computer. This rocketed to 90 percent by 2015.
Fast-forward to data obtained in January 2017 and the trend upward continues, with the Internet and mobile use remaining high in the Middle East, according to We Are Social's and Hootsuite's Digital in 2017 Global Overview. Of an estimated total regional population of 246 million there are 147 million Internet users in the Middle East — a 60 percent penetration rate. Furthermore, there are 312 million mobile subscriptions, which amounts to a 127 percent rate against the overall population.
"You have a very young population, using modern technologies. Yet, the financial and banking side is lagging. Fintech therefore, can play a very important role in financial access and inclusion," said Saidi. Top digital users are of course the youth segment, according to economist Saidi, who added, 60 percent of the population in the Middle East are aged under 30, which highlights the ripe opportunity to mobilise the current and upcoming generations.
Blockchain-Based Innovation
"The Arabian world is ripe for innovation," said Mohammed Alsehli, chief executive officer at ArabianChain Technology, a Dubai-based software developer. "Blockchain technology is at the center of innovation in the region that is made possible by the direction and the vision of some of the countries here. In Saudi Arabia and the UAE it's all about the digital revolution and how to digitally transform these countries in the future." ArabianChain Technology, based in the Dubai Technology Entrepreneurship Center, recently launched its own public blockchain.
In addition to the blockchain, ArabianChain is developing a suite of blockchain-based features and products, including its own digital currency called DubaiCoin-DBIX (previously, DubaiCoin-DBIC), an exchange, and a regionally-focused marketplace. "DBIX is a secure and economical means to conduct payments and asset transfers," Alsehli said. But ArabianChain is just a single player amidst a growing base of fintech ventures, blockchain-based and otherwise. Last September, the Dubai Future Foundation launched its inaugural Dubai Future Accelerators, a 12-week program connected international technology startups with government entities for the purpose of creating prototypes and pilots for the City of Dubai.
According to Bitcoin Magazine reporter Diana Ngo, The program "enlisted 30 companies with seven of Dubai's public services: Health, Energy, Knowledge, Municipality, Police, Transport and the investment portfolio, Dubai Holding." In fact, the United Arab Emirates is moving to adopt sweepingly adopt blockchain technology with aims "to become, by 2020, a leading centre for innovation and the first government in the world to execute all of its transactions on a blockchain."
The power of this, from a financial inclusion and digital innovation standpoint, will be unmitigated access for a population that lives online, connected via a computer or mobile phone, with the latter's penetration rate at a nearly universal level. Further, integration and adoption of a regionally-focused, feature-filled public blockchain has the capacity to heighten interaction and connectivity from business-to-business, business-to-consumer, and peer-to-peer positions.
Daniel Diemers, a consultant with the strategy and consulting arm of PricewaterhouseCoopers, pointed to another reality in the region, that of disconnection, stating, "If you're a payments fintech start-up in the UAE and you've gone through all the approvals, it [still] doesn't give you passports in other Gulf countries." ArabianChain and other public blockchains like Bitcoin have the potential to alter this dissociative relationship, allowing businesses and people to interact without thought of border, according to Alsehli.
Mobile banking and the advancement and adoption of financial technology applications can also shatter the often insurmountable barrier physical access predicates while alleviating costs to the account owner and the banking institution. In short, Blockchain-based innovation could mean significant progress by way of financial inclusion through digital. This guest article is authored by Brandon Kostinuk, communications lead at Vanbex Group, a Vancouver, Canada-based professional services firm and consultancy that specialises in the digital currency and blockchain technology sector.
Chuck Reynolds
Contributor
Alan Zibluk Markethive Founding Member