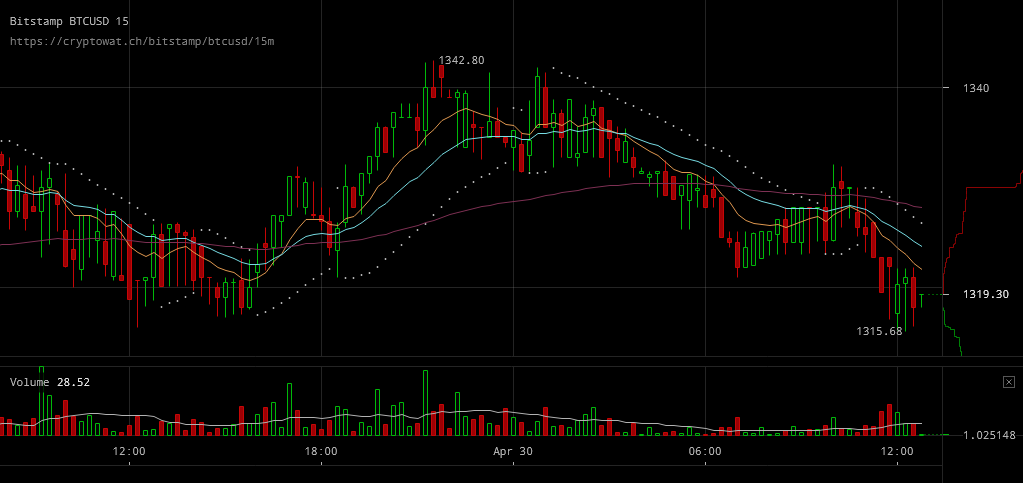 Bitcoin Price Keeps Above $1300
The fact that trading volumes went down from the peak that was reached in preceding trading sessions lately didn't stop price levels above $1300 from being maintained. BTC/USD rates might have peaked above $1340 through the last trading session, but in spite of the continuous selling pressure after that point, prices didn't drop below $1315 levels.
Major Signals Bitcoin markets maintain support levels above $1300 in spite of volatility caused by the return of selling pressure's effect. Resistance at $1330 after the price fall has been strengthened, making a return after the decline in trading volumes seem harder. Bitfinex's premium remains and the spread is still looming around a $100 difference between prices of the two BTC/USD markets.
Bitstamp BTC/USD charts make the effect of the returning selling pressure seem apparent. In what almost seems like an overturn, bitcoin prices dropped from a peak above $1340 down to 1315 in the recent hours thanks to the still ongoing pressure. Resistance, on the other hand, has also come to affect the market's sentiment right at the time that volumes dropped. Whilst the market's sentiment hasn't allowed for any significant breaches on established support levels so far, it's still actively changing.
OKCoin BTC/USD weekly futures charts indicate that futures traders were quite vigilant in following upward price swings through the last trading session, yet the recent wave of negativity has left futures markets back in their previous state of a bearish mood. What's worth noting about future's markets though, is that the spread remains smaller as futures traders don't seem to be following through the latest price drop through completely.
Finalizing, it's important to mention that in spite of what could be a shift in the market's sentiment, support remains unbreached. If markets are to break through from the recently
By George Krash
David Ogden
Entrepreneur
Alan Zibluk Markethive Founding Member